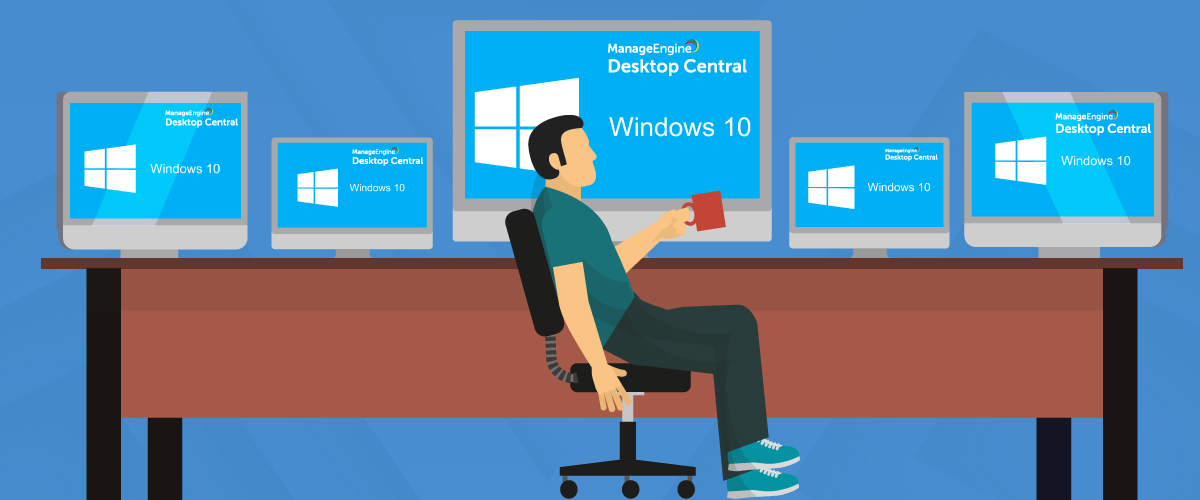 In this blog series, we've looked at the consequences of using Windows 7 at its end-of-life, and the complexities of and best practices for migrating network computers to Windows 10. In the last part of this blog series, we'll discuss the one solution that an IT admin needs to resolve all their worries about the entire Windows 7 to 10 migration process: ManageEngine Desktop Central.
Desktop Central is a 360-degree enterprise management and security solution that enables you to sit back, relax, and simultaneously upgrade all your computers to the latest operating system. Recognized in the Gartner Magic Quadrant for Unifed Endpoint Management Tools for two consecutive years, listed as a "major player" in IDC MarketScape Worldwide Unified Endpoint Management software, and recognized by customers as on April 2019 Gartner Peer Insights Customer's Choice Award for Unified Endpoint Management tool, Desktop Central proudly stands on top of the endpoint management and security tools ladder.
By installing Desktop Central and deploying its agents to all your enterprise computers, you can eliminate the aforementioned complexities involved in migrating to Windows 10. With one simple click initiating the inventory scan, you can obtain the hardware and software data needed to filter and classify which devices require the Windows 10 upgrade. There are two ways to deploy Windows 10 to your computers using Desktop Central: Software Deployment and OS Deployment.
Using Software Deployment to upgrade
To upgrade without losing any data on the target machines, choose the simple Software Deployment feature available in Desktop Central. As an IT admin, you just need to create a package containing the Windows 10 OS and customize all the pre and post-deployment activities.
You can choose whether to check for registry keys or boot the machine after deployment, all within a minute or two. The final step is to choose your target computers from the list obtained through inventory scan. Once you schedule the deployment, a process that normally takes hours is automated and completed in a matter of minutes.
Using OS Deployment to upgrade
Alternatively, if the OS needs to be installed in new machines, there are hardware issues in your old machines, or even when the devices are not connected to your network, Desktop Central's OS Deployment feature can overcome these issues and perfectly secure user data if there is any before deploying the OS.
With OS Deployment, the first step is to image the OS and customize it by creating templates. Complete driver partition, the number of users in the machine, bootable media, and so on can be specified in the templates. Schedule the deployment by creating a task (capturing an image and customizing the disk partition details) and deploy it to your target machines. In less than half the time it takes for manual OS deployment, you'll find all your target machines upgraded and running on Windows 10.
The ideal UEM solution for your business
Desktop Central doesn't just stop with upgrading OSs. With features from deploying patches and desktop security policies to management tasks like deploying software, managing assets, and enabling remote desktop sharing for troubleshooting, Desktop Central is a must-have for all IT admins. For those looking only for an OS deployment tool, ManageEngine also offers a standalone product, OS Deployer.
Check out the 30-day, free trial of both Desktop Central and OS Deployer to see why our products are among the best in the endpoint management tool market. 
Click here to register for our webinar and learn exclusive details about the Windows 7 to Windows 10 migration process.