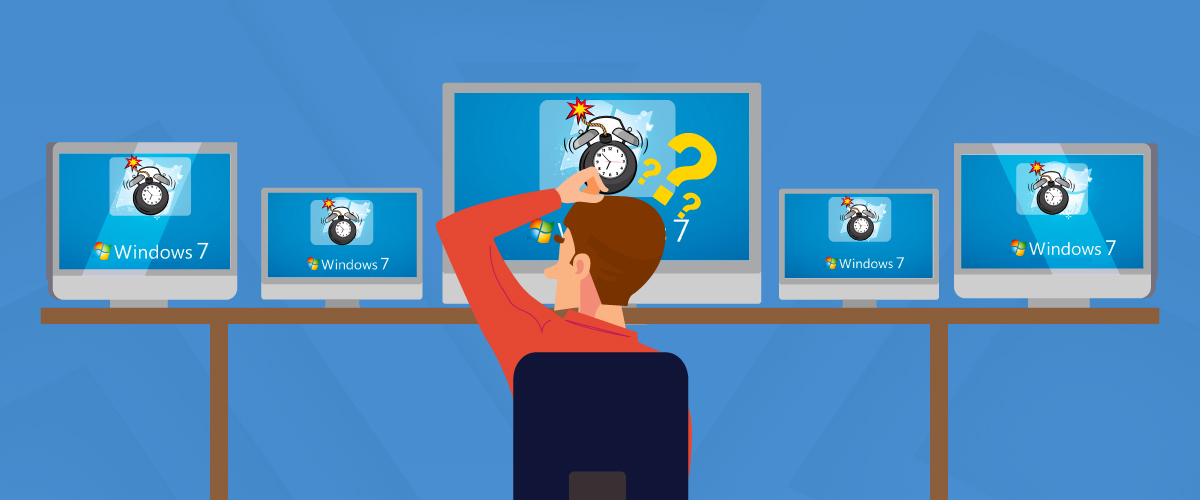 Over 26 percent of the world's computers are at risk of exposing themselves to critical vulnerabilities; this is how many computers that are still running on the Windows 7 operating system. Are you among this 26 percent? Are you compromising on network security? Is your enterprise ready to counter potential security breaches?
With Windows 7 end of life being less than 50 days from now, it's time to prepare your Windows 7 devices in the battle against cyberattacks. In the first part of this blog series, we'll cover the complete details of the issue on hand along with the solutions available.
Windows 7 end of life: An inside look
After January 14, 2020, Microsoft will no longer provide free security updates and support for computers running Windows 7. If you continue to use the Windows 7 operating system after support has ended and you opt out of purchasing Extended Security Updates, your computer will still work, but it will be more vulnerable to security risks since technical assistance and software updates from Windows Update will no longer be available.
You can choose to continue utilizing Windows 7 by extending security updates for up to 3 years; until January 2023, but these patches and bug fixes will only be provided by Microsoft for a fee. Let's take a look at how the lack of product support with no security extensions will impact our network computers.
The risks of running Windows 7 without support
The biggest issue with Windows 7 after the end-of-life date is that it won't be patched for any security problems or bugs, such as those that Microsoft patched in November, leaving you vulnerable to any emerging threats. Windows 7 was the version of Windows most widely affected by the WannaCry ransomware discovered in 2017, and let's not forget about Bluekeep and EternalBlue, each of which widely affected outdated Windows operating systems.
Outdated software makes your computers vulnerable to system failure, which could result in enormous data loss, and even potential security lapses and compliance issues with mandates like the GDPR.
Another major concern that drives people to upgrade their operating systems is the chance of running into compatibility issues. When the applications in network computers are updated, they could become incompatible with operating systems like Windows 7 after the end of life. Most software manufacturers assume that customer assets are up to date, including security and functionality fixes. Using outdated operating systems, you may end up with non-functional apps and programs.
Upgrading to Windows 10 costs $199.99 per device, while the fee to retain Windows 7 with extended security updates is $25 per device in the first year, and could increase annually up to $200 per device. In the long run, the cheapest (and incidentally, the most secure) option is to simply upgrade to Windows 10.
One of the easiest ways to reduce vulnerabilities in a system's security and keep your IT department one step ahead of cybercriminals is to stay aware and upgrade outdated operating systems. Stay tuned for our next blog where we'll analyze the complexities of the Windows 7 to Windows 10 migration process.