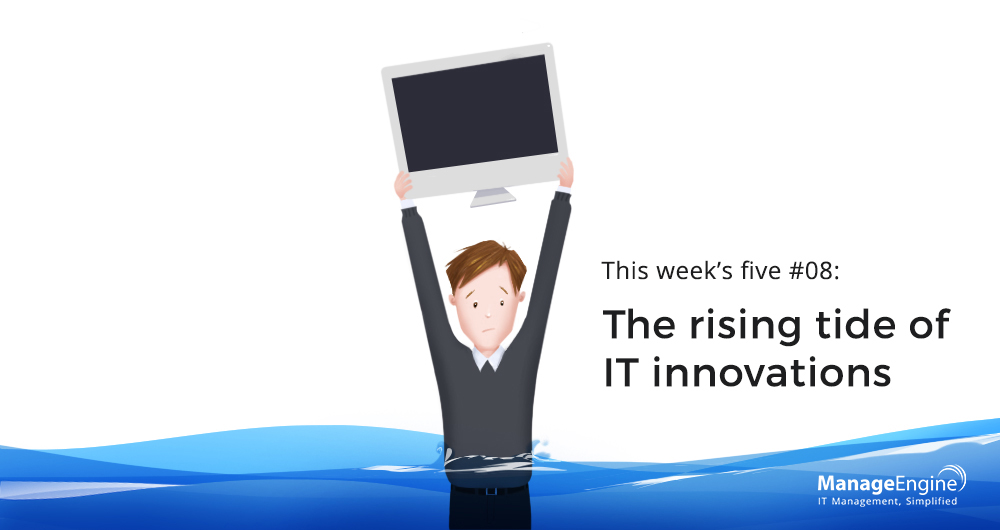 This week's five
is a weekly column on five recent reads from all over the web. This week, we'll talk
about the
risks and challenges involved with IT innovations
.
Digital transformation has taken many shapes over time. There was a time when installing a room-sized mainframe was
the
big step for digital transformation. Today, there's no one big step. Instead, there are several. The cloud could be called
a big step. Mobility could be called a big step. E
ven
IoT
could be called a big step. All these technologies are like
waves. And the rising
tide
, whether good or bad, always brings something extra along with it. In short, digital transformation doesn't come without risks and challenges.
Compared
to the cl
…
READ MORE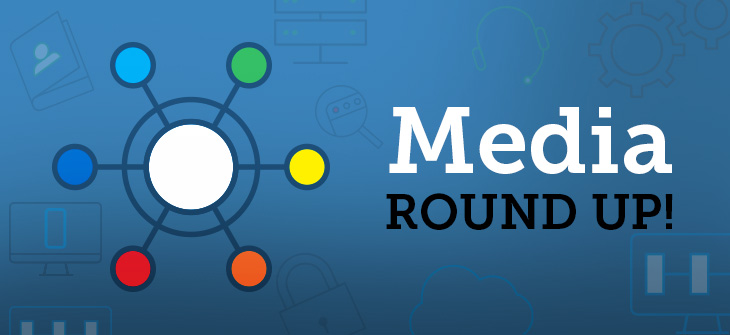 Here's a round up of the latest media coverage on ManageEngine. We all know there's a growing demand to improve IT service delivery and efficiency. And in order to improve, you have to know what went wrong. But how? All roads lead to analytics tools—you can analyze data from your service desk to identify inefficiencies.
Bring your data to life!
Did you know that
one-third of businesses depend on end users to report application performance issues? Here's the colorful proof!
Where is identity management heading? Deep into the world of
pas***rds.
With almost 100 million new businesses launched every year globally, free tools and software to run IT by prominent players like ManageEngine a…
READ MORE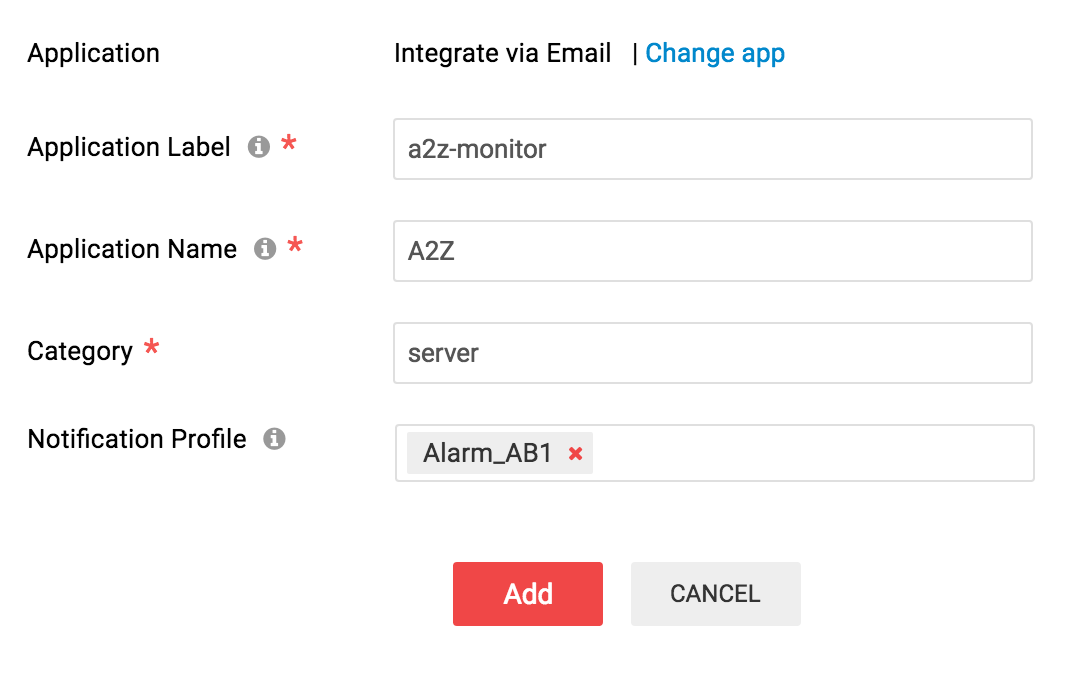 Does your application send an email alert when something's wrong? If so, your IT is about to get a whole lot simpler.
You can now integrate your application with AlarmsOne via email.
In our pursuit to develop a centralized tool for IT alarm management, we ran into the challenge of integrating AlarmsOne with applications that are not capable of making REST or W
ebhook API calls. Email integration changes all of this.
Consider you're monitoring your network with Solarwinds, and your applications with Site24x7. These two applications are capable of making REST or Webhook API calls, and can be easily integrated with AlarmsOne.
But to monitor your servers, maybe you use an internal or third-party to
…
READ MORE
This content might be a bit of a refresher for some, but it is important to always think out of the box when dealing with Active Directory and automation. What a start, right? Here is the question posed: "How do I add a user account from domain A to a group in domain B using ADManager Plus?" The tool being used is not all that important, but the ease of accomplishing the goal is. Instead of trying to ensure that the correct syntax for the other domain used in a script or tool, why not just have a group from domain B have membership in the group you want all users to belong to in domain A? Here is what the moving parts would look like: Domain A
User1, User2, User3, User4, etc.
Group1
Domain B
Ensure that GroupB has Group1…
READ MORE
In an earlier blog post, I
introduced the eight KPIs
that are critical to every IT help desk. These KPIs help meet basic IT help desk objectives such as business continuity, organizational productivity, and delivery of services on time and within budget. The previous blog post discussed about one of the most important KPIs, infrastructure stability. This post discusses the fourth KPI – ticket volume trends.
Definition:
Total number of tickets handled by the IT help desk and their 
patterns within a given time frame.
Goal:
Optimize the number of incidents and service requests, and 
prepare the IT team to handle the ticket load.  
What can you do with  ticket volume trends?
…
READ MORE
Network security management is about more than just your Windows machines. You probably already know that. But did you know that w
hen it comes to combating security breaches, you need to trace network intrusions at the peripheral device
level? This includes firewalls, routers, switches, and IDS/IPS—the whole crew.
And when it comes to servers, Linux/Unix servers are
being increasingly used
with the growth of cloud computing. According to Gartner's analysis of server operating systems' market share worldwide, the usage of Windows OS in enterprise environments is declining
while Linux is steadily increasing.
In fact, the market share of Linux grew by 10.4 percent in 2015.* 
Both perip
…
READ MORE
This
week's five
is a weekly column on five recent reads from all over the web. This week, we'll talk about
security information and event management (SIEM)
.
Poor exam
proctors
. Imagine 30 to 40 people in a room, all scratching their heads and writing frantically. A proctor's
job is to keep an eye on everyone
and make sure that nobody cheats
.
Now, imagine this room is a hundred times larger, with thousands of people writing. Let's call it a hyper-class
. Keeping an eye on everyone would take hundreds of
proctors
, right? Or, it could just take one tool: Software to keep track of each individual's activity. Which option sounds better? You decide.
Now, imagine this whole scenario at the enter
…
READ MORE
Ensuring users can reset their passwords and unlock their accounts
remotely
As many of you know, our ADSelfService Plus product allows
employees
to reset their forgotten passwords and to unlock their own user accounts. These features are wildly popular as organizations know that their employees are familiar with these actions with their Internet
-based accounts. So, it only makes sense to bring these functions into the organization to support Active Directory user accounts, too.
We wanted to ensure that all organizations that have ADSelfService Plus aware of all of the options possible for users to perform these actions, whether they are on
-premise or remote.
For on-premise, there are three options th
…
READ MORE
ManageEngine's integrated SIEM solution, Log360, made it to the Gartner's Magic Quadrant as the only new vendor
!
This awesome news is proof of
our continuous effort
to provide
our customers a simple, efficient, and cost-effective SIEM solution.
What's SIEM
all about?
The security information and event management (SIEM) market is maturing fast.
In the past
, the focus was just on maintaining compliance to regulatory mandates. Now, that focus has shifted to adopting measures that proactively mitigate security attacks.
With hackers employing dynamic methods to steal confidential data and bring down businesses by attacking
servers, our perception of network security has changed.
…
READ MORE
This week's five
is a weekly column on five recent reads from all over the web. This week, we'll talk about
non-technical side of the digital transformation
.
Take a break from your busy life—just a minute or two. Look around. Almost everything that makes
your life easier is digital. Imagine, just for a moment, living without your computer. Imagine living without your
phone, your appliances, and all the other digital equipment around you.
Hard to imagine, isn't it?
If the digital world affects an individual's life this much, think of
how much it must affect a whole enterprise. 
As you can tell from recent
history
, t
he digital world is highly dynamic. Not more than two decades ago, mobile pho
…
READ MORE
Do you have user accounts in Active Directory that have incorrect attribute configurations? For example, did someone add the job role to the display name for every user that is in the IT department? This is common for some or all of your user accounts to have strange and incorrect settings configured. In cases like this, you could open each user account property page individually and update manually. However, there is an easier way. By using ADManager Plus, you can export all of the user accounts, with the appropriate attributes, to a CSVDE file, shown in Figure 1.
Figure 1. Select many user accounts at one time, and then export to CSVDE file. Note that this is an AD report for user accounts. Before the report is gene…
READ MORE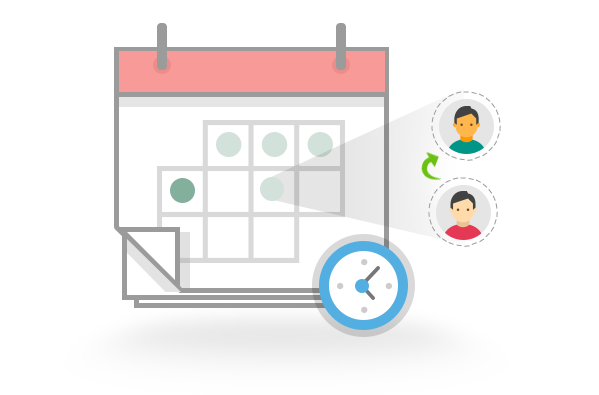 In a recent study ,
IHS Inc
.
, a global information company,
found that the cost of Information and communication technology downtime is around $1 million a year for a typical mid-size company to over $60 million for a large enterprise. In this blog
post, I'll discuss how you can manage your IT team better and keep your business up and running at all times.
Monitoring your IT resources can help cut financial loss due to IT downtime. However, if you don't act on the alerts, you may have to incur significant financial loss.
If all members of your team receive all alerts, confusion over who acts on which alert and for how long is likely. Moreover there's a high possibility of the team missing out on cri
…
READ MORE
When employees leave an organization, their Active Directory account needs to be cleaned up and secured. The employees' user account must be protected and, after a while, purged from the system. We suggest that all separated employees' user accounts be disabled and moved to a secure organizational unit (OU). When appropriate, the user accounts' group membership should also be removed. (NOTE: Making a screen capture of the group membership is a good idea before doing this!) Often, managers and other coworkers need to access emails and other resources owned by the user account, so the account must remain intact. Since the user acccount can't be immediately deleted, there might be other system…