Earlier, I introduced the eight KPIs that are critical to every IT help desk. These KPIs help meet basic IT help desk objectives such as business continuity, organizational productivity, and delivery of services on time and within budget. The previous blog post discussed about the KPI, cost per ticket. This post discusses the eighth and final KPI – software asset utilization rate. 
Definition: Percentage of software products and licenses in actual use by the business.
Goal: Maximize
ROI (return on investment)
on software investments. 
With software license purchases taking up a major part of the IT  spending, it is important to track software utilization. Unfortunately, this is one of the least discussed metrics. For easy management, the  software can be categorized as follows:
Category 1 – Software that needs the most attention (with the highest business implications, license cost, or compliance risks).
Category 2 – Software that needs the least attention (free software such as Adobe Reader).
Category 3 – Prohibited software and malware.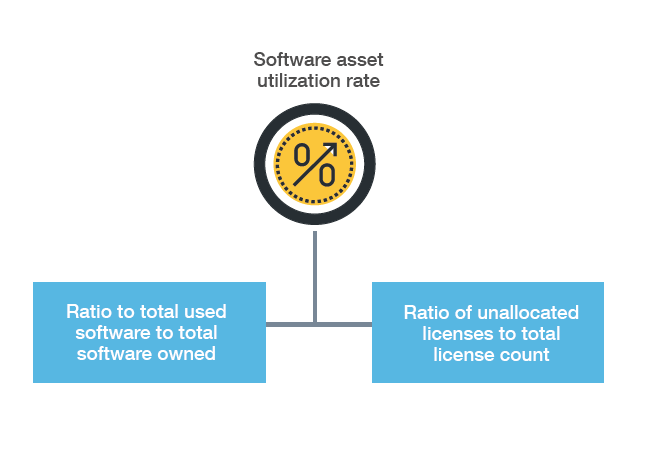 The following metrics can be used to track software utilization:
Ratio of total used to total owned software
This metric helps identify any software purchase expenditure that does  not provide any value to the organization. Ideally, this ratio should be close to one, meaning there is maximum utilization of all purchased software, thereby ensuring a maximum ROI on the software license purchase. A high number of category one
software in the unused list means that a major portion of the software asset spending is
sitting in idle software
.
Ratio of unallocated licenses to total license count
This metric helps analyze the license utilization of a particular software, helping IT teams plan ahead for license purchases. The ratio should be as small as possible for maximum ROI. A higher ratio could mean that some of the software applications are over licensed, which could be an idle investment with no ROI.
License compliance rate
Another important
software asset
management metric that could incur cost to the organization is the license compliance rate. Maintaining maximum compliance can save your organization from penalties and fines. The following are  few tips for achieving maximum compliance:
Track  all software installations and license purchases.

Allocate licenses to individual software installations to find the over and under-compliant software.

Purchase the right license types for the software. For example, it is better to purchase a perpetual license for a core software to avoid compliance issues due to license expiry.

Conduct formal internal assessments for compliance and audit readiness.
Case study: Increasing software asset utilization saves a million dollars
A leading global pharmaceutical company saved about one million dollars in  software license spending. The pharmaceutical company, with its services spread across 50+ countries, was using a diverse range of Microsoft products. At one particular office, there were thousands of software applications licensed under a Microsoft volume licensing agreement, but there was no visibility or control of these software assets, initially. The purchase had been made without understanding the business requirements. In fact, the company  had  limited information on  the software assets and the number and type of assets the organization actually needed. This, again, put the organization at the risk of over-licensing, under-licensing, and compliance penalties. The IT help desk started with a simple analysis by comparing the installed Microsoft software with the Microsoft licenses they held. The insight gained, and IT's efforts to understand the business requirements, led to a redesigned Microsoft license purchase that involved stepping down from the Microsoft Office Professional edition to the cheaper standard edition, which met the business requirement. Furthermore, several other volume licenses were replaced, leading to cost cuts saving the company about one million dollars in their software license purchases.
Achieve maximum compliance with a three-step pre-audit
Hundred  percent license compliance rate will no longer be a myth with this simple three-step pre-audit.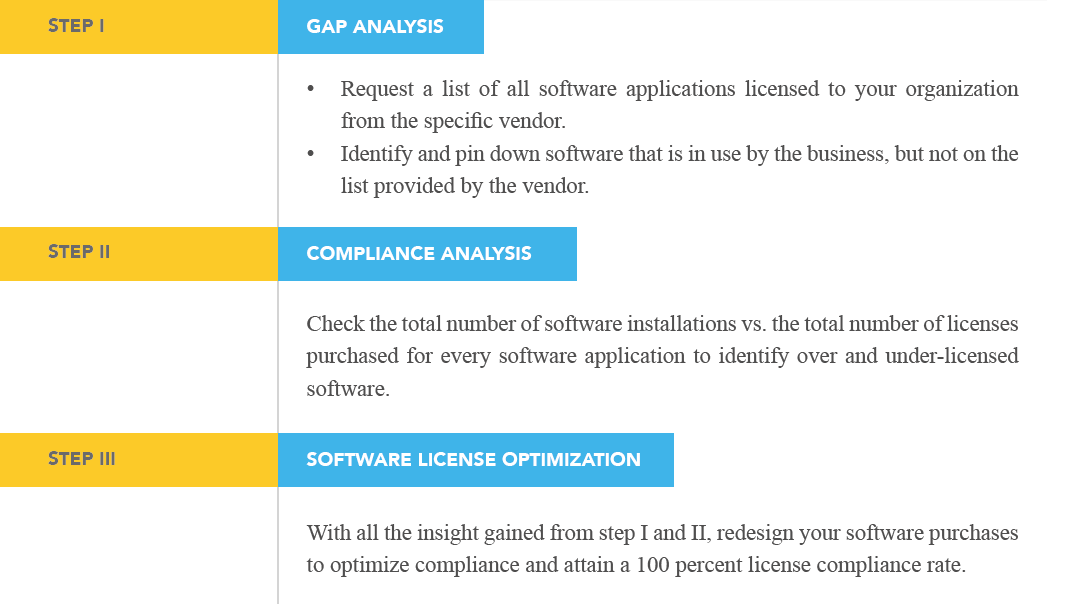 These eight KPIs, with  respective metrics, will help you establish a measurement engine to constantly measure and continuously improve your help desk performance. The first step in establishing this measurement engine is to understand the business that the IT help desk is supporting, and align the IT help desk objectives to the business objectives. The next step is to identify the KPIs and metrics that are critical to these help desk objectives, and constantly measure them. The eight KPIs discussed here are critical to the three basic IT help desk objectives of ensuring business continuity, making the organization productive, and delivering services within budgets and on time, which underlines the fact that these eight KPIs are the ones that your IT help desk should care most about.
Related posts :