In an earlier blog post, I introduced the eight KPIs that are critical to every IT help desk. These KPIs help meet basic IT help desk objectives such as business continuity, organizational productivity, and delivery of services on time and within budget. The previous blog post discussed about one of the most important KPIs, lost business hours. This post discusses the second KPI that every IT team and business should care about – Change success rate.
Definition: The ratio of the number of successful changes to the total number of changes that were executed in a given time frame.
Goal: Achieve a higher percentage of successful change implementations.
Opinion remains divided on what a  failed change implies. It basically refers to any change that did not meet its objectives or go as planned.
Case study: The ASX outage
On October 27, 2011, trading had to be halted at the Australian Stock Exchange (ASX) for four hours due to a failed change implementation. An upgrade on the ASX's internal network ( to improve the latency of the trading platform) led to unprecedented connectivity issues between the supporting components and the disseminating gateways of the trading system. ASX had to initiate trading services from one of their disaster recovery sites. Finally,  to restore normalcy, the change had to be backed out that night.
A downward trend or a stale change success rate is usually due to failure of change implementations due to: 
Lack of  relevant information such as the impact of the change, the dependencies of the assets involved, the change implementation window, and  business priorities.

Inability to collaborate between teams for successful change implementation.

Improper communication to  end users and stakeholders of the change implementation.
Tips for a high change success rate
Perform a proper impact analysis and a detailed rollout plan with a check list of tasks to be completed.

Collect all relevant information from end users and technicians before the implementation.

Constitute CABs and ensure a strict approval process.
Unplanned changes
Another metric that should be tracked to have an effective change management process is the number of unplanned changes. An unplanned change can be an emergency change or an urgent change.
An emergency change:  A service restoration change due to an incident, or a change that needs to be implemented quickly  to avoid an incident.
An urgent or expedited change: Changes that are required quickly due to a pressing need such as a legal requirement or a business need, but are not related to restoring service.
Although there is no industry standard or defined number for the number of unplanned changes permissible in an IT infrastructure, this metric is important, especially during unplanned changes.
An increasing trend in unplanned changes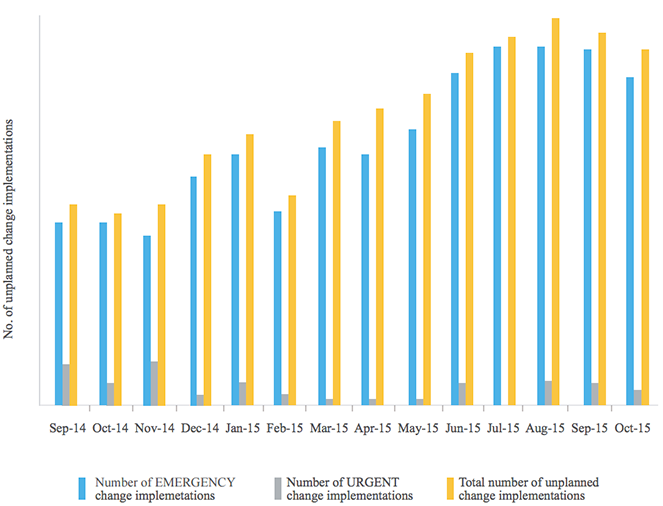 An increasing trend in the number of unplanned changes indicates the inadequate planning of changes and questions the efficiency of the change management process. Therefore,  the change management process has to be improved to ensure proper planning and execution of changes.
A discrete spike in unplanned changes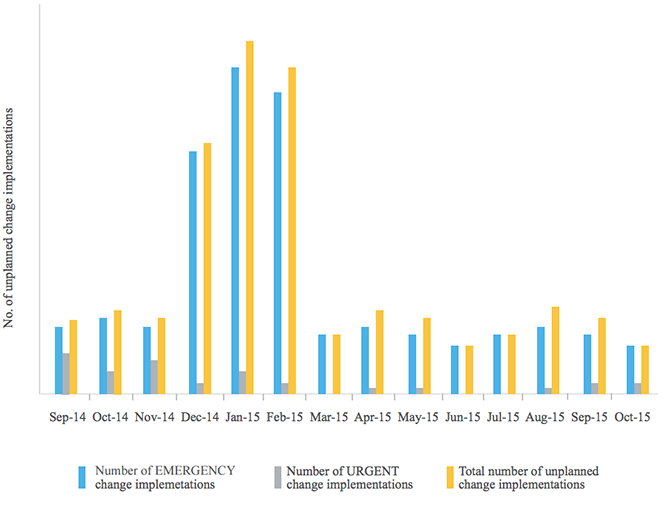 A sudden spike  in the number of unplanned changes can be due to unanticipated major incidents, which warrant  emergency changes to restore service. Such a situation is probably due to an unstable infrastructure, which could affect service availability and, ultimately, the business.
If you have any questions, please feel free to post them in the comments section below. In the next blog, we will discuss about the next KPI, infrastructure stability. In the meanwhile, if you are looking for an end to end IT service management solution, we encourage you to check out ServiceDesk Plus, the IT help desk software trusted by technicians around 185 countries.