Earlier, I introduced the eight KPIs that are critical to every IT help desk. These KPIs help meet basic IT help desk objectives such as business continuity, organizational productivity, and delivery of services on time and within budget. This blog post discusses the first and most important KPI that every IT team and business should care about – Lost business hours.
Definition: The number of hours the business is down because IT services are unavailable.

Goal: Keep lost business hours to a bare minimum.
Most IT teams track service availability to see the overall performance of their IT help desks. But the pain of lost business isn't always reflected in service availability levels, even when those levels are high. For instance, if service availability is at 99.9 percent,  the company still loses more than eight hours per year. Tracking lost business hours clearly highlights the loss and its impact on business.
Case study: No-fly time at Virgin Blue
In September 2010, Virgin Blue faced what could be considered every airline's worst nightmare. About 50,000 customers and 100 flights were grounded. Four hundred more flights were delayed or rescheduled over the following days because  the solid-state disk server infrastructure  hosting Virgin Blue's applications failed. This affected Virgin Blue's online check-in and booking system.
Despite  SLAs to restore services immediately, it took 11 hours for the service to be restored, and 10 more hours to restore full operations. This was because of an attempted repair  of a faulty device, which delayed the switch over to a contingency hardware platform.  By then, the damage was already done. Although these 11 hours didn't cost much in terms of Virgin Blue's IT service availability for the year, they cost Virgin Blue approximately $10 million in terms of lost business.
A survey conducted by Aberdeen group, in 2013 revealed the following: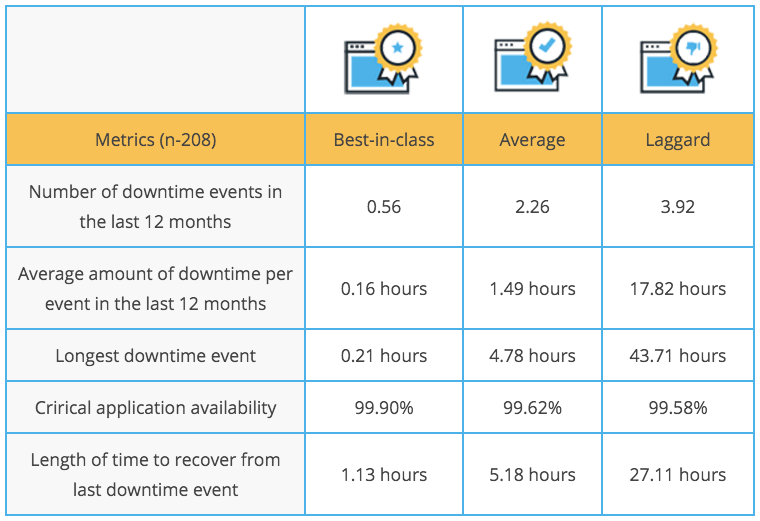 Tips for minimizing lost business hours
Proper planning and execution of application upgrades, server migration, and any IT change implementation process.

Having a clean and well-defined CMDB to identify  critical failure points and understanding CI interactions in the network to identify the cascading impact of failed changes.

Educating IT teams on the risks of SLA violations in terms of lost business hours and  revenue.

Gain insight on anticipating and handling outages by evaluating the past performance of the IT help desk.
That said, a lot of factors could contribute negatively towards lost business hours. In 2010, Gartner projected that "Through 2015, 80% of outages impacting mission-critical services will be caused by people and process issues, and more than 50% of those outages will be caused by change/configuration/release integration, and hand-off issues." 
That brings us to the second KPI change success rate, which will be discussed in the next post of this blog series. If you have any questions, please feel free to post them in the comments section below. Meanwhile, if you are looking for an end-to-end IT service management solution, we encourage you to check out ServiceDesk Plus, the IT help desk software trusted by 100,000+  IT help desks worldwide.