One of the biggest challenges an IT service desk team faces is the adoption of self-service. While a dedicated self-service portal can help reduce help desk calls, the real issue is getting users to use it. So how do you limit the number of walk-ins and calls? It's time to move to a new way of IT self-service—Zoho Cliq, a business communication tool that's built for work.  
Transform your chat application into an IT self-service tool 
 Many businesses use a chat application like Zoho Cliq to break the walls between departments and to encourage collaboration. Chat applications are prevalent within business boundaries, making them the perfect platform for channeling IT service desks into the mainstream conversation and increasing IT self-service adoption.
With the integration between ServiceDesk Plus and Zoho Cliq, end users can use slash commands to raise service requests or report incidents right from their Zoho Cliq chat window. End users can also track their open requests and view request information without navigating away from their chat application.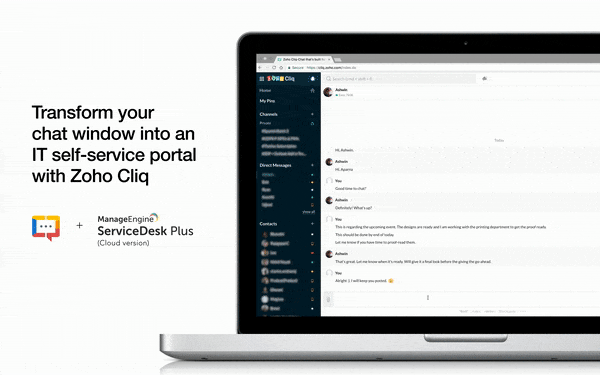 Open conversations, resolve tickets quickly
Usually what's standing between a technician and ticket resolution is accurate problem identification. While a request template certainly helps, it isn't comprehensive for all request types, forcing technicians to ask for more information through email. Before they know it, they have already exchanged a couple of emails and the problem information has been lost in a lengthy email conversation. On top of that, there is a delay in correspondence since emails aren't designed for real-time communication.
Using this integration, ServiceDesk Plus technicians can check on user requests right from their chat window. Technicians can also instantly connect with end users if any clarification is required, allowing them to move away from long-winded emails into real-time conversations and provide quicker resolutions.
Can't wait to try this out in your organization?
If you're a ServiceDesk Plus Cloud user, you can try this integration for free. To learn more, visit www.manageengine.com/products/service-desk/zoho-cliq-integration.html.