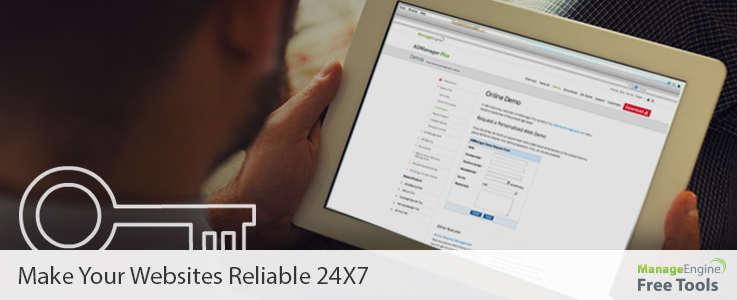 Yes, I admit it, I went to Google to learn about network and site reliability. And, guess what time I did that? At 2 in the morning. And, not just that, I find myself going to Google.com every single time I want to look up something. Why do I do that? Is Google the only search engine? No. It's not; but it's reliable and always available, which makes people trust Google.
Haven't you ever wished your websites were as reliable and trustworthy as Google? So, tell us, as a network and site reliability engineer, what are the various things you do to keep your websites up and running?​ Monitoring website outages, testing website speed, checking for broken links, and the like? Aren't these some of your everyday monitoring activities? Now, wouldn't it be great if a tool monitored your websites and sent alerts when something went wrong? Well, there's one such tool in the ManageEngine kitty. 
ManageEngine has several free network and site reliability engineering tools that check availability, analyze DNS records, and test web load and response times from multiple locations. These tools are grouped under three categories: system administration, validation, and content. Here's a snapshot of all that you can accomplish by using these tools.
Know your servers
System administration tools give you a breakdown of all the individual elements in the website; they identify and track response time, status, component size, rendering time, document complete time, and individual component loading time. Using this data, you can accurately narrow down the problem areas of your website and optimize. Besides these, you can also accomplish the following by using these tools: 
Discover hidden network problems

Test website availability and performance from 50+ locations worldwide

Find the IP address of a website

Find the geographical location of a website

Generate a DNS report for your domain

Check for TCP port availability from 50+ locations worldwide

Traceroute to your domain and troubleshoot network problems

Test your domain's SSL certificate for validity

Verify your website's security against the Heartbleed vulnerability
Validate your content
Your website content is like a billboard for your business. ManageEngine's validation tools help you make your content effective and efficient. Using these tools, you can:
Check server headers and verify HTTP status codes

Check for broken links on a web page

Remove unnecessary HTML tags and spaces to reduce the page size and load time

Spot all errors on your web page based on the W3C standard
Know your web pages
Content tools help you obtain a clear view of your web page content. Using these tools, you can:
Explore and view all links on your web page and create a tree view of them

View your web page in a lynx browser view just as a search engine views your web page

Check your web page for code to text ratio that search engines use to evaluate content relevance

Check the speed at which your website loads for modems with various transfer rates
Sign up for the Site24x7 F​ree Account, monitor up to 5 websites from 1 location at a 10-minute poll frequency, and be alerted when the websites go down – all for free!