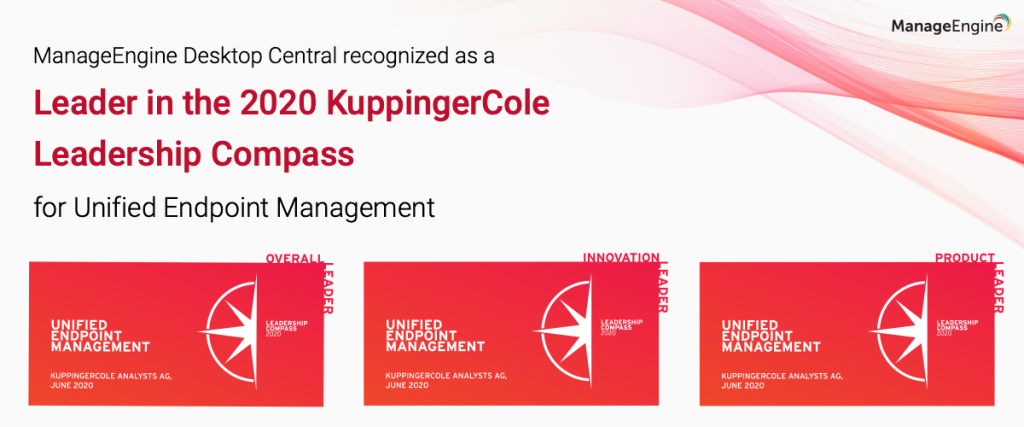 We're thrilled to share that KuppingerCole has recognized ManageEngine Desktop Central as a Leader in the 2020 KuppingerCole Leadership Compass for Unified Endpoint Management (UEM).
Apart from being named an "Overall Leader", KuppingerCole also recognized ManageEngine as a "Product Leader" and "Innovation Leader".

Desktop Central secured top scores for security, functionality, and usability.

KuppingerCole recognized ManageEngine's strengths for:

Device management

Content management

Patch management

Endpoint security

Efficient layout and user-friendly UI

Good partner ecosystem and professional services
Receive a complimentary copy of the 2020 KuppingerCole Leadership Compass for Unified Endpoint Management (UEM).
Why does it matter?
KuppingerCole Analysts is an international, independent analyst organization. The company specializes in offering neutral advice, expertise, thought leadership, and practical relevance in information security, identity and access management (IAM), identity governance and administration (IGA), risk management and compliance (GRC), as well as all areas concerning digital transformation. KuppingerCole supports companies and corporate users with their tactical and strategic challenges.
 Given the complexity and increasing number of technology types that link employees to corporate data both on-premises and in the cloud, device management has evolved through several iterations and approaches, and this report found that many enterprises are adopting a UEM approach. The outcome of this study is a clear endorsement of our continuous effort to provide our customers with a simple, efficient, and cost-effective unified endpoint management and security solution.
What's in the report?
KuppingerCole's Leadership Compass for UEM provides a thorough discussion of the functionalities enterprises can expect from UEM solutions. The report covers:
How KuppingerCole views the current ecosystem of endpoint management.

Considerations for businesses looking to implement endpoint management solutions.

A list of key vendors.

A summary of various vendors' capabilities for addressing the device management needs of today's enterprises.

Analyses of ManageEngine's strengths.
 According to KuppingerCole's UEM report, some of the key features of successful UEM solutions include: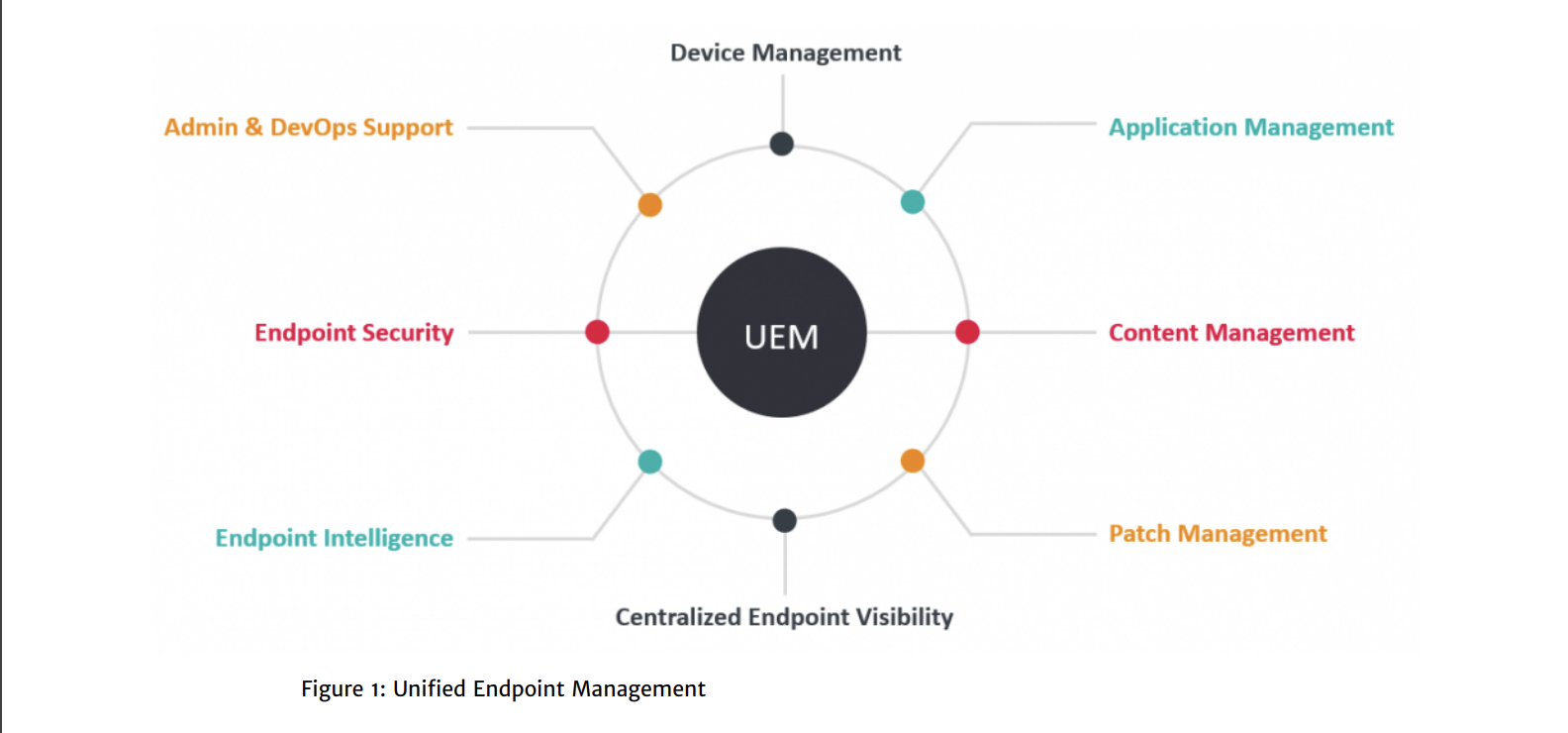 1. Device management
Management of various endpoint device types includes its life cycle management, such as onboarding, provisioning, decommissioning, operating system management, remote access for support, troubleshooting or wiping, and device inventory.
2. Application management
This category focuses on the ability to control and apply policies to applications on endpoint devices, as well as other application management features. It can include the capability to enroll devices and users via app stores, software packaging and deployment, distribute applications to endpoints whether in bulk or otherwise, isolating corporate from private user applications, as well as applying aspects of security, such as white or blacklisting applications, etc.
3. Content management
Endpoint content management generally refers to the ability to apply access rules and policies to documents or other content. Capabilities can also include creating catalogs of enterprise documents, deploying content security, as well as audit logging, etc.
4. Patch management
This category focuses on the ability to distribute and apply endpoint device system patches for operating systems, applications, network devices, and others. from various vendors whether the patch is deployed on a schedule, or as a critical/emergency patch. Other capabilities include reporting on the system health status, based on the number and severity of vulnerabilities present on each endpoint.
5. Centralized endpoint visibility
This is the ability to provide a consolidated view and management of all endpoints regardless of where the solution is deployed. Centralized endpoint visibility often features a single pane view via a dashboard, and provides visibility into device inventory, threats, policy management, licenses, reporting, and more.
6. Endpoint intelligence
This category looks at the level and use of analytics and artificial intelligence to deliver insight into different aspects of the UEM domain. It also provides the ability to automate, assist or take action to remediate endpoint related issues, as well as other capabilities.
7. Endpoint security
There is a wide range of endpoint security capabilities such as the ability to collect and analyze information, to detect and prevent the execution of malicious code, as well as to prevent data loss and hardware destruction, and to reduce lost productivity on user devices. Other capabilities can include the level of security intelligence, forensic investigation tools, firewall, and URL filtering, file system monitoring, as well as the ability to detect process obfuscation and to provide strong internal security and authentication for the management console, etc.
8. Admin and DevOps support
An important consideration is the ability to provide IT environment support options for both administrators of the solution and the operations team that manage tools, automation, and integrations.
Desktop Central offerings
Desktop Central enables enterprises to manage any type of endpoint—be it servers, PCs, laptops, smartphones, or tablets—from enrollment to retirement. This solution serves as the foundation to manage and secure today's digital workplace. Enabling users to work from any device, use any app from any location, and over any network is key to success. Desktop Central secures business data across any device and app that employees choose, without affecting the user experience. It addresses the entire endpoint management and security spectrum, including:
Patch management: Automatically patch more than 1,000 Windows, Mac, Linux, and third-party apps.

Software deployment: Distribute, install, update, and uninstall MSI and EXE-based applications using over 6,500 predefined templates.

Mobile device management: Place corporate-owned and employee-owned devices under management using automated enrollment and authentication.

Mobile application management: Manage licenses, blacklist apps, and allow users to only install IT-approved, in-house, and designated store apps.

Mobile security management: Protect corporate data by enforcing security policies for Wi-Fi, VPN, email, etc. Locate, lock, and wipe lost devices. Securely distribute, save, and view content.

Modern management: Distribute store apps; manage containerization, email, kiosk mode, and security; and perform other modern management tasks for Windows 10, Mac, and Chrome devices.

Remote control: Control remote endpoints using integrated video call, chat, and file transfer.

OS deployment and imaging: Automate disk imaging and deployment.
 Want to try it for yourself? Download a free, 30-day trial of Desktop Central and start exploring!
Where do we stand?
Desktop Central supports deploying OSs and applications to the endpoints, as well as managing their updates, and provides asset intelligence and management for both hardware and software. Remote troubleshooting and deprovisioning endpoints, as well as endpoint provisioning for users, devices, and applications is provided. Desktop Central can also automate the on-boarding process of endpoints. Employee-owned devices can be enrolled either through email or SMS. Endpoint enrollment can be authenticated with a one-time passcode or a user's Active Directory credentials, and two-factor authentication is also supported.
Customers love this UEM solution
Since it's initial release more than 14 years ago, over 12,500 organizations across the globe have chosen Desktop Central—including some of the world's largest finance, retail, telecom, and healthcare organizations, as well as intelligence agencies and other highly regulated companies. With a wide customer base—including organizations like IBM, Dell EMC, PWC, AT&T, Bridgestone, Xerox, Honeywell, Wells Fargo, AccuWeather, Charter Communications, Pinterest, and Disney Channel—Desktop Central is trusted by businesses of all sizes and in all verticals. We provide dedicated support and services, and believe this latest recognition from KuppingerCole validates our mission to empower organizations of all sizes with an unequaled unified endpoint management solution.
Download the report excerpt to see why we believe ManageEngine Desktop Central  is uniquely positioned to help you improve cost savings, security, and the digital employee experience with modern management.
Get started with ManageEngine today
Don't get left behind—start your journey now.
Desktop Central helps businesses cut IT infrastructure costs and improve operational efficiency. An enterprise with 10,000 devices and 50 technicians can save a whopping 70 percent on operational costs by using Desktop Central. Give Desktop Central a try now!
And that's not all!
Desktop Central was also recognized for its premier unified endpoint management tools for the second year in a row by all three of the leading industry analyst firms. Learn more from the 2019 Gartner Magic Quadrant, 2019 Forrester Wave report, and the 2019 IDC MarketScape report. Discover more about Desktop Central here.
We've managed more than 10,000,000 endpoints and helped over 65,000 IT professionals across 185 countries for over a decade; today, nine of every 10 Fortune 100 companies trust ManageEngine. Start your evaluation with a free, fully featured, 30-day trial.