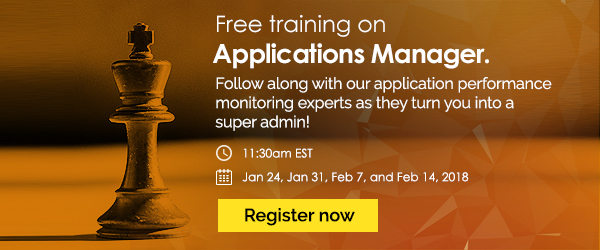 In an era fueled by innovation, it's crucial for your organization to embrace the idea that customer satisfaction is the catalyst for commercial success. With the fast-paced growth of the IT sector, even the smallest delay in application response time can lose you customers. To provide a smooth end-user experience that doesn't scare away potential customers, it's essential for you to anticipate problems on the server side in order to enhance the end-user experience on the client side.
With Applications Manager, you can comprehensively monitor and detect any irregularities, capture performance metrics, and generate alerts. Gain in-depth visibility into the performance of an application within the technical stack to identify the root cause of a problem and resolve it. Monitor critical metrics such as CPU spikes, memory leaks, underutilized VMs, SQL database issues, and much more. Most importantly, deliver business-critical services without any interruptions and ensure peak efficiency of your applications. 
To understand Applications Manager better and to learn how to troubleshoot common application performance problems, join us for a free four-part webinar on Jan 24, Jan 31, Feb 7, and Feb 14, 2018 at 11:30am EST. We'll delve into the details of what you can accomplish with Applications Manager.
The agenda for this four-part training session is as follows:
 Day 1: How IT operations teams can use Applications Manager to discover applications and visualize application dependencies.
In this session, we'll cover:
Application discovery
Dependency mapping
Group monitoring
User management
 Day 2: Monitor your physical, virtual, and cloud infrastructure elements.
In this session, we'll cover:
Performance insights into various application types (app servers, database servers, cloud apps, virtualization servers, and more)
Configuring thresholds
Configuring corrective actions
Reports and dashboards
 Day 3: Understanding the user experience with Real Browser Monitoring.
In this session, we'll cover:
Synthetic transaction monitoring
Analyzing user interactions throughout a site
Monitoring across geographical locations
Ensuring optimal web performance
Day 4: Enabling DevOps to optimize application performance.
In this session, we'll cover:
Deep visibility into code
Identifying code-level issues (CPU spikes, java memory leaks, etc.)
Addressing slow database queries
We hope to see you at training.