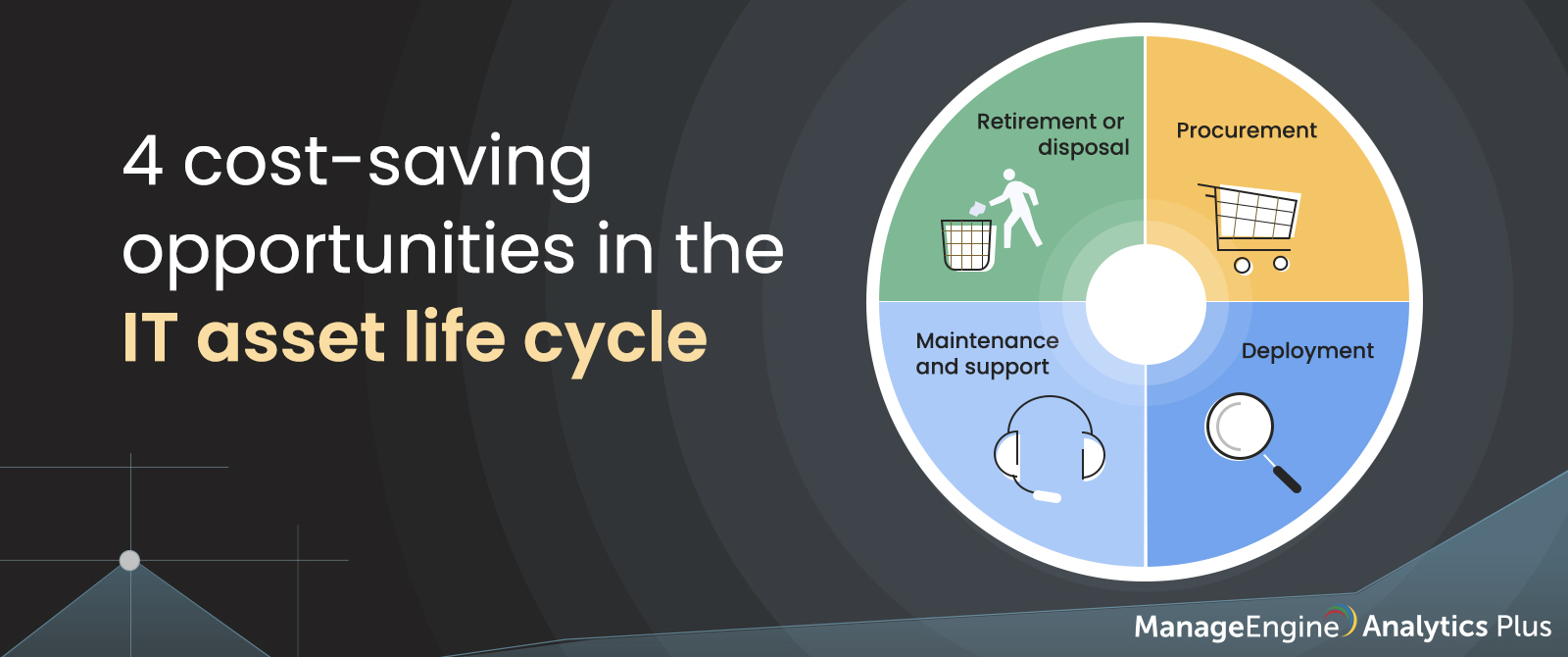 Are you on a conservative budget or looking to cut costs in IT? Luckily, you don't have to look far for opportunities to save in IT. In each of the various stages of an asset life cycle, there are plenty of possible ways to save.
In this blog series, we will split the asset life cycle into the following stages, and examine opportunities for saving on IT costs in each of them:
In this part, we'll discuss the first stage of the asset life cycle—procurement, or the purchasing of IT assets. Since you're likely on a budget, it's important to be thrifty during this stage. Organizations should consider three things when procuring a new asset.
How much money is being spent towards asset procurement every year?
What are the various types of assets that are being purchased?
What areas of the organization are overspending on assets?
Below, we'll look at some essential reports you can leverage to address these questions. The reports showcased in this blog series are all built using Analytics Plus, ManageEngine's IT analytics solution. With that said, let's dive in.
Examine the yearly spend
The best way to analyze the yearly spend is by using a YOY (year-on-year) IT spend report. This report gives you perspective of how much is being spent on IT every year and how it compares to past trends. It's common to see an increasing trend in IT spending through the years, because IT budgets tend to increase while the organization grows.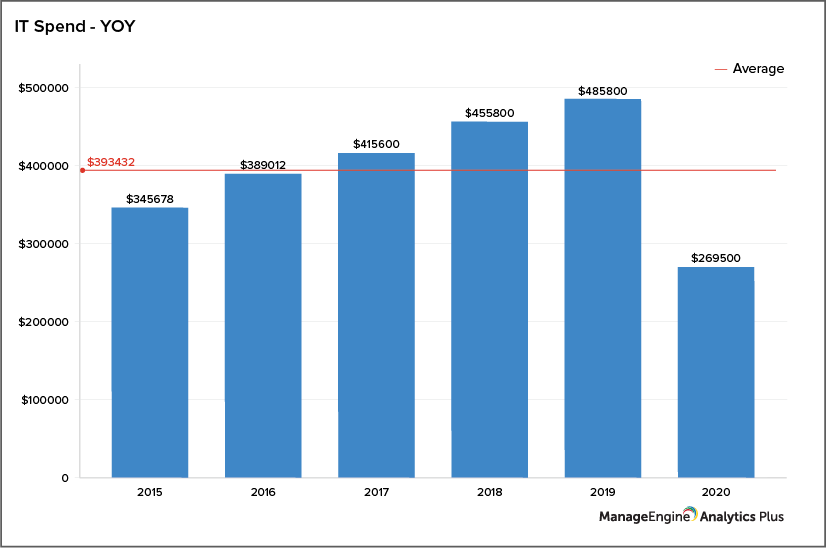 One aspect this report doesn't convey is the pace at which the IT budget is spent in the current year compared to previous years. Assuming you're looking at this report in May, the report stacks up the current year's spend between January and May against a full 12 months of IT spending from previous years.
This can be overcome by using a year-to-date (YTD) report, which compares IT spending across various years for the same time period. For example, the following report compares the IT spending across various years for the period between January and May. Depending on your present financial directives, you can either slow down or increase the rate of spending. This report can be used to keep tabs on spending practices throughout the course of the year.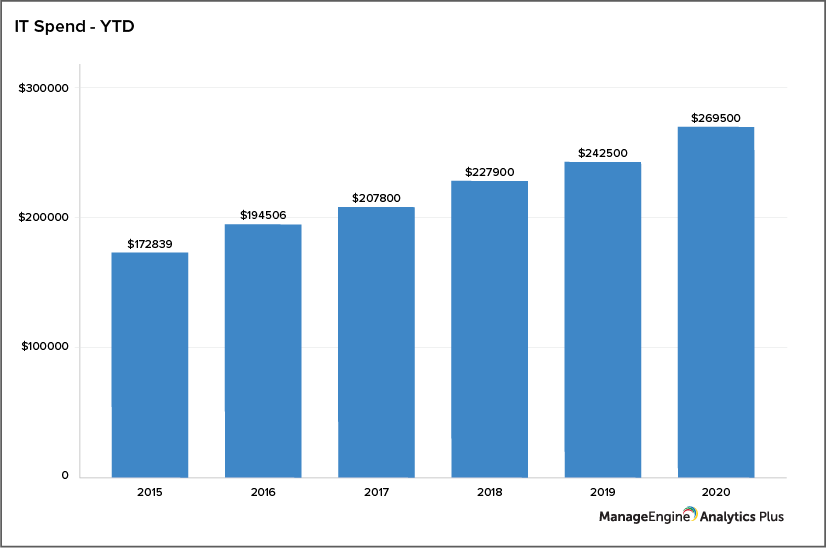 Analyze the types of assets being purchased
Once you have a fair idea of yearly spend, the next step is to understand various types of assets that are being procured. This can help identify areas where the IT budget is being unwisely spent.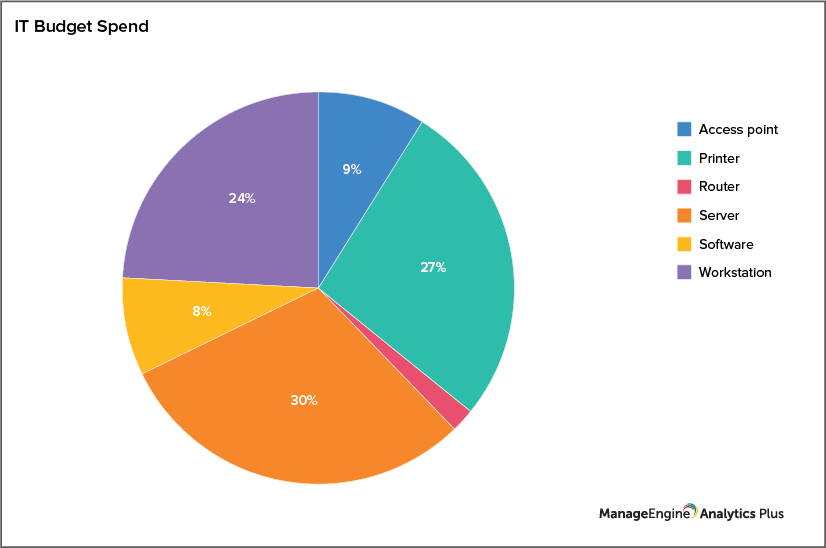 This report shows that printers, workstations, and servers are the top three expenses, with printers taking up more of the budget than workstations. Typically, printers don't require more of the IT budget than workstations unless something like an organization-wide printer upgrade is taking place. In any case, this is an area that might need investigation.
Preventing over-procurement
Organizations tend to procure hardware or software in advance when anticipating growth. When planned expansions don't happen, these assets tend to go to waste. An ideal way to bring focus to this phenomenon is using a report that highlights the amount of money spent towards unused hardware or software assets.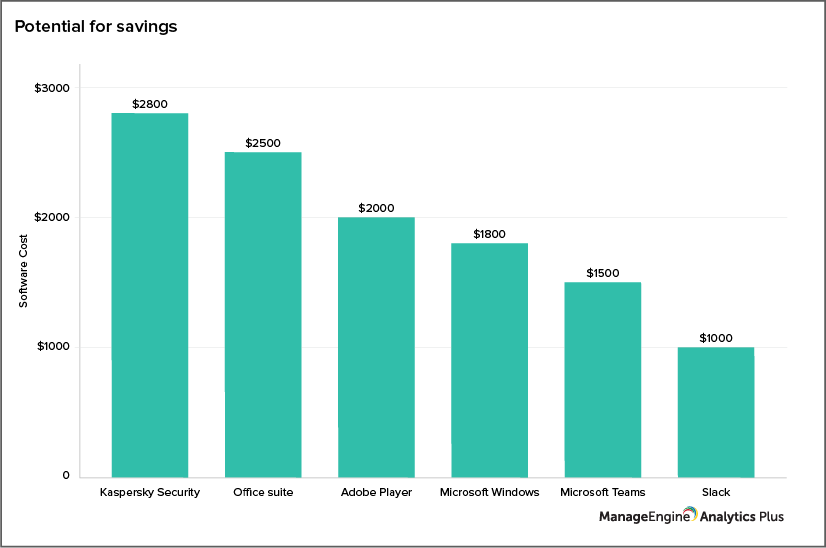 This report shows the total amount of money that could've been saved with better planning. Organizations can make note of assets that are generally over-procured, and keep this in mind during future purchases.
These reports were built using Analytics Plus, ManageEngine's IT analytics solution, which offers out-of-the-box integrations with several popular IT applications such as ServiceNow, Jira Software, Zendesk, and ManageEngine's umbrella of IT products. If you're looking for an IT analytics solution, start your free, 30-day trial of Analytics Plus now.
If you're already an Analytics Plus user, please upgrade to the latest version to enable new features and updates.
That's all we have for now. Stay tuned for part two of this series in which we'll discuss asset deployment. In the meantime, if you have any questions, please feel free to post them in the comments section below.