Talk about a wonderful holiday gift: Leading Windows security resource site, WindowSecurity.com, recently announced that ManageEngine ADAudit Plus was voted the winner in the 
Network Auditing category of the 2014 WindowSecurity.com Readers' Choice Awards
. Better still, ADAudit Plus garnered 25 percent of the votes cast. To put that in perspective, we received almost twice as many votes as the first runner-up. And we took a big leap up from our
second runner-up award in 2013
. "
Our Readers' Choice Awards
give visitors to our site the opportunity to vote for the products they view as the very best in their respective category," said Sean Buttigieg, WindowSecurity.com manager. "WindowSecur…
READ MORE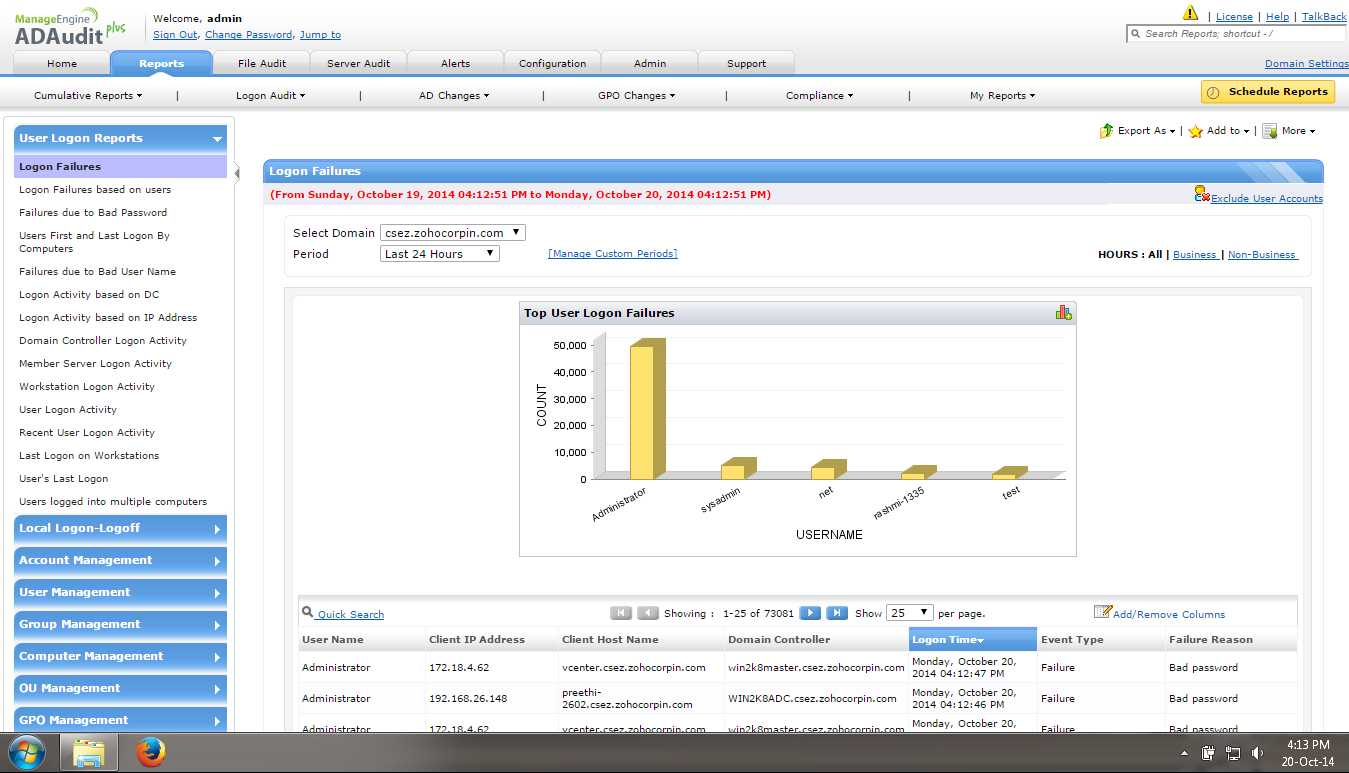 ManageEngine ADAudit Plus recently announced the addition of real-time change auditing for Windows Active Directory. Available immediately, the new feature provides administrators with real-time email alerts, when critical and unauthorized changes are made to AD. Similarly, administrators can view a real-time, live feed of alerts in the ADAudit Plus console along with a thorough analysis of "who did what, when and from where" in the solution's 200+ pre-configured audit reports. Active Directory, being the central data store for sensitive user data and critical business information, necessitates that companies secure the data and access permissions stored in Active Directory; but t…
READ MORE
ManageEngine ADAudit Plus is a web-based, real-time, Windows Active Directory change auditing and reporting solution. Enterprises can audit the Windows AD, Windows file servers, Windows servers, Windows workstations, NetApp filers, EMC servers, printers, and removable storage devices. At ADAudit Plus, we make the best effort to ship a product that is ready to go! Yet the Windows server environment includes a few configuration hurdles that our customer support are happy to solve when our customers and evaluators call. These are not issues per se but manual configurations that have gone wrong and need detailed configuration at a deeper level. Let's take a look at the top ADAudit Plus configurati…
READ MORE
The complexities of managing a Microsoft Windows Server infrastructure are critically dependent on the numerous Group Policies, each of which is a collection of settings that IT administrators or users use to centrally enforce security settings and other functional settings to users or computers across the network. ​The downside of a just single setting error will cause inevitable chain of events involving accesses or permissions, which should not have been authorized in the first place, and ultimately compromise IT security and irreversibly damage the organization's data and reputation. The solution to monitoring the numerous GPO changes is through change auditing software…
READ MORE
Within the confines of the Windows Server environment lies the group policy settings, which are the security configuration powerhouses controlling every security event. The​ legacy audit settings and advanced audit settings — subsets of the group policy settings — are the lifelines that help administer many events and their permissions. These security settings must be configured with the utmost caution and monitored at all times to ensure the Windows Server fort is strong against malicious intruder and insider attacks. When an attack happen, an ​instant alert is emailed with event history to the configured mail IDs. Read on to learn why we recommend the advanced audit policy settings to ensur…
READ MORE
Every single  administrator and auditor I know is concerned about privileged groups in Active Directory being changed incorrectly. On the flip side, not one administrator has the time to manage group membership at this level. Almost all auditor wants to know when a privileged group member is added or removed, but they feel they can't ask the administrators for this level of detail on an ongoing basis. So what can be done? You can setup auditing of Active Directory, so all group membership changes are tracked. This is an okay solution, but it has many drawbacks:
Group membership changes are tracked by domain controller.
The log of group membership changes is stored on each domain controller separately.
The
…
READ MORE
Just a couple of weeks back,
ManageEngine ADAudit Plus
was crowned the 'Hot Product of the Year' by Windows IT Pro community. Now, in a fitting finish to the fabulous year 2013, here comes yet another recognition – second runner up title (in the best network auditing solution category) from WindowSecurity.com readers' choice awards. The fact that this award too comes from the readers of WindowSecurity.com comprising IT managers, network and systems administrators, developers, systems analysts, CIOs, CTOs, and other technologists at companies worldwide, makes it all the more sweeter. The announcement from WindowSecurity.com states: "Our Readers' Choice Awards give visitors to ou…
READ MORE
There can't be a better finish to an eventful year. Continuing the winning streak,
ADAudit Plus
, our Windows security and compliance monitoring solution has won the coveted 'Hot Product of the Year' award from Windows IT Pro based on its community choice survey for the 'Best Auditing & Compliance' product. We thank all our passionate customers and warm supporters for taking time to vote
ManageEngine ADAudit Plus
as the 'Best Auditing/Compliance Product'. This award is very much special because this recognition comes from the Windows IT Pro community, which is the heartbeat of the Windows IT world comprising IT managers, network and systems administr…
READ MORE
Audit-Track-Monitor your Windows Active Directory & Windows Servers Data from Everywhere!
READ MORE
Black Hat USA
 bills itself as "the show that sets the benchmark for all other security conferences." While most conferences tend to over-promote themselves, given the activity at this year's show, that actually might be something of an understatement. From the defense of government surveillance delivered by NSA Director 
General Keith Alexander
 to briefings on the coming "cryptopocalypse" and the risks associated with embedded devices and the Internet of Things, Black Hat reminds us that a little bit of paranoia is warranted in today's connected world. Here are my leading candidates for surprising, damaging ways criminal hackers are breaching our online security and validat…