Imagine the IT division of a large news agency that provides real-time news to its subscribers – including print and electronic media in over 100 countries – on a 24×7 basis. The agency relies on its IT infrastructure spread across 300 locations to effectively deliver the news as it happens, via internal and external websites, wireless services, and other interactive applications.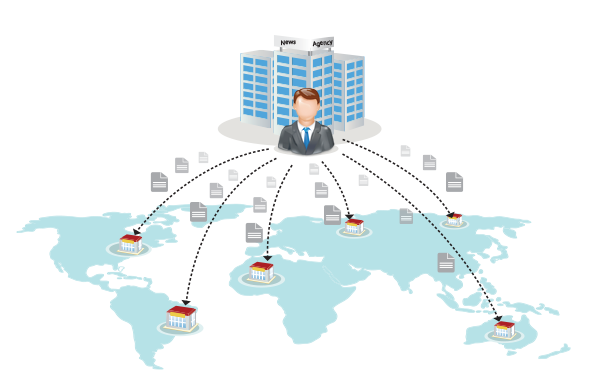 Business continuity for this news agency depends solely on network availability, and even a few minutes of outage could have a rippling effect on its reputation and revenue stream. The agency's network administration team is responsible for not only managing the hundreds of switches, routers, firewalls, and other devices spread across diverse locations but also for ensuring the availability, performance, and utilization of the devices.
Given that even minor errors in configuration changes to the devices in production carry the risk of causing a network outage, the skilled network administrators were ​spending a significant part of their time taking precautions for configuring the devices and manually managing them.
To complicate the problem further, ​handing off duties when night shift admins took over for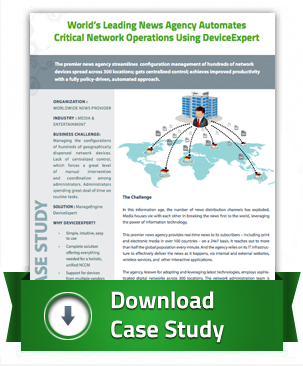 their counterparts on the day shift (and vice versa) called for a great deal of coordination among administrators when changes were made or reverted. With network devices geographically dispersed, the administration team realized the absolute need for centralized administration and control and for a hassle-free, automated approach for effectively managing the network device configurations.
​Our latest case study reveals how ManageEngine DeviceExpert has brought a welcome end to the cumbersome, manual configuration management practices in the news agency. With DeviceExpert, the agency's administrators now enjoy improved productivity thanks to:
​centralized control over the configurations of all of their equipment,
nightly configuration backups,
configuration change reports depicting specifics of changes,
complete visibility on what changes have gone in to a device,
real-time change detection capability, and
configuration changes that are automatically, simultaneously pushed to multiple devices.
With the entire life cycle of network configuration automated through DeviceExpert, administrators of the news agency are now able to concentrate on the other important network administration tasks.
Bala
DeviceExpert – Video Demo   |  Free Trial Download   | White Papers & Success Stories