Enterprises depend on network availability for business continuity and network configuration data lies at the core of enterprise network administration. Network device configurations contain access credentials, SNMP settings, access control lists and other sensitive data that make them crucial to network security. Naturally, access to the devices is controlled through a password and access to the configurations is regulated through another password.
However, unfortunately, many organizations continue to neglect the crucial aspects of both Network Configuration Management and Device Password Management.
Lack of Proper Change Management Plan
Business needs are in a constant state of flux and administrators are required to respond to the needs often by configuring the network devices, which is a sensitive and time consuming task. It requires specialized knowledge, familiarity with all types of devices from different vendors, awareness on the impact of changes, precision and accuracy. Naturally, the highly skilled network administrators carry out the configuration changes. Ironically, in many organizations administrators follow the haphazard way of carrying out changes to live equipment without any management plan. When errors in configuration cause network outage, they end up wishing that they could move the configuration back to a proper working version. They manually troubleshoot the cause.
Device Passwords Lie Scattered
The passwords used to control access to both devices and configurations are scattered across volatile sources without proper, secure management. Administrators may change passwords at random, or they may fail to change them altogether and thereby violate regulations and standards. Securely managing the device credentials is a daunting task in enterprises with a large number of devices.
Better Management of Device Configurations, Passwords: ManageEngine Shows the Way
ManageEngine provides the solution for better management of device configurations and device passwords.
A large number of IT Enterprises across the globe have deployed ManageEngine DeviceExpert, the Network Change and Configuration Management Solution to manage the configurations of network devices, including switches, routers and firewalls. DeviceExpert serves as the centralized platform for managing the device configurations. Using DeviceExpert, you can take backup of device configurations, view configs, edit them and upload changes to the devices, all from the GUI. Configurations are properly versioned and when something goes wrong, you can get the device up and running with the previous configuration.
In addition, administrators can track changes real-time and prevent unauthorized changes. Configurations can be checked for compliance to IT policies, standards and regulations. Above all, repetitive configuration tasks can be automated significantly saving time, cost and resources, reducing the risk of errors and thereby network downtime.
To securely manage the device credentials, ManageEngine provides Password Manager Pro, which is a secure vault for storing and managing shared sensitive information such as passwords, documents and digital identities of enterprises. The benefits of deploying Password Manager Pro include eliminating password fatigue and security lapses by deploying a secure, centralized vault for password storage and access; improving IT productivity many times by automating frequent password changes required in critical systems; providing preventive and detective security controls through approval workflows and real-time alerts on password access; and meeting security audits and regulatory compliance such as SOX, HIPAA and PCI.
Now, DeviceExpert & Password Manager Pro Integrate
ManageEngine now enables administrators reap the benefits of both network configuration management and privileged password management through the strategic integration between the two solutions.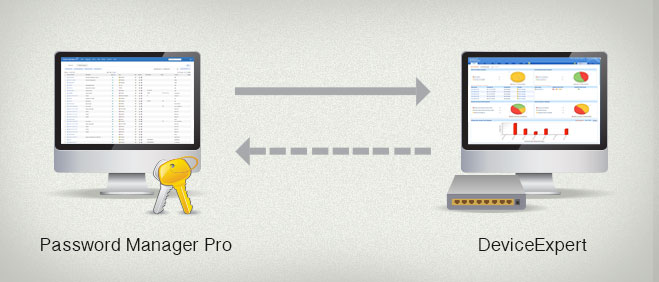 DeviceExpert which serves as the centralized platform for managing the device configurations requires device passwords for establishing connectivity to the devices for carrying configuration operations, including changes. Whenever administrators change the credentials of the devices directly, the same has to be updated at DeviceExpert also. Otherwise, configuration backup and other configuration operations will fail as DeviceExpert will have the outdated credentials.
The integration with Password Manager Pro eliminates the burden of tracking the integrity of credentials as DeviceExpert will connect to Password Manager Pro and obtain the latest credentials.  The integration streamlines both device credentials management and device configuration management.
Enhanced Security
While Password Manager Pro acts as the central repository and helps enforce the enterprise IT security policy and keep the credentials up-to-date, network administrators making use of DeviceExpert need not have to worry about the integrity of the credentials. DeviceExpert directly retrieves the credentials at periodic intervals from Password Manager Pro. The integration bolsters device security, access controls and helps achieve better management of network assets.
The products integrate with each other seamlessly requiring simple configurations. Trusted   by administrators across the globe, DeviceExpert automates many of the   manual tasks that had consumed the time of an organization's IT and   network management teams. The new integration with Password Manager Pro simplifies DeviceExpert's credential management and makes it a much more powerful   tool at the hands of network administrators enabling them take total control of network device configurations.
Try DeviceExpert & Password Manager Pro!
Bala
DeviceExpert – Video Demo   |  Free Trial Download   | White Papers & Success Stories
Password Manager Pro – Quick Video | Free Trial Download | White Papers | Success Stories