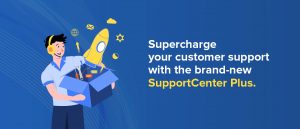 We're delighted to present the all-new SupportCenter Plus. It comes with the powerful capabilities you'll need to provide exceptional customer support. This help desk software isn't just effective and feature-rich—it's also quite cost-efficient.
Wondering what awaits you in SupportCenter Plus 11.0?
Let's take a look: 
Errors in billing and payroll processes often occur due to incorrect or insufficient tracking of the amount of time and effort spent by support reps on various help desk activities. SupportCenter Plus 11.0 makes time tracking and billing easy with the help of automated billing and contracts, as it allows you to organize, monitor, and invoice services promptly on completion.
Most help desk software fails to capture the substantial amount of information that's generated as a support rep works on a ticket. This shortcoming creates irregularities in the ticket resolution process. With the help of SupportCenter Plus 11.0, you can bring organization and uniformity to the disarrayed ticket resolution process with a simple drag-and-drop life cycle builder and guide your support reps through every step.
Struggling to balance support reps around different customer locations? Well, not anymore! In SupportCenter Plus 11.0, you can track the geographical location of support reps and interact with reps and different support groups from the map view. These visuals enable help desk admins to ensure maximum utilization of support reps in the field.
And that's just the tip of the iceberg! SupportCenter Plus 11.0 comes with a lot more, including:
In order to maintain your place in the market and face fierce competitors in these challenging times, you need to provide superior customer support. SupportCenter Plus 11.0 helps you do exactly that and more.
So, what are you waiting for? Give your customer support help desk a much-needed upgrade to SupportCenter Plus 11.0.  
Learn more about SupportCenter Plus 11.0.
We'd be delighted to have you join our SupportCenter Plus community!