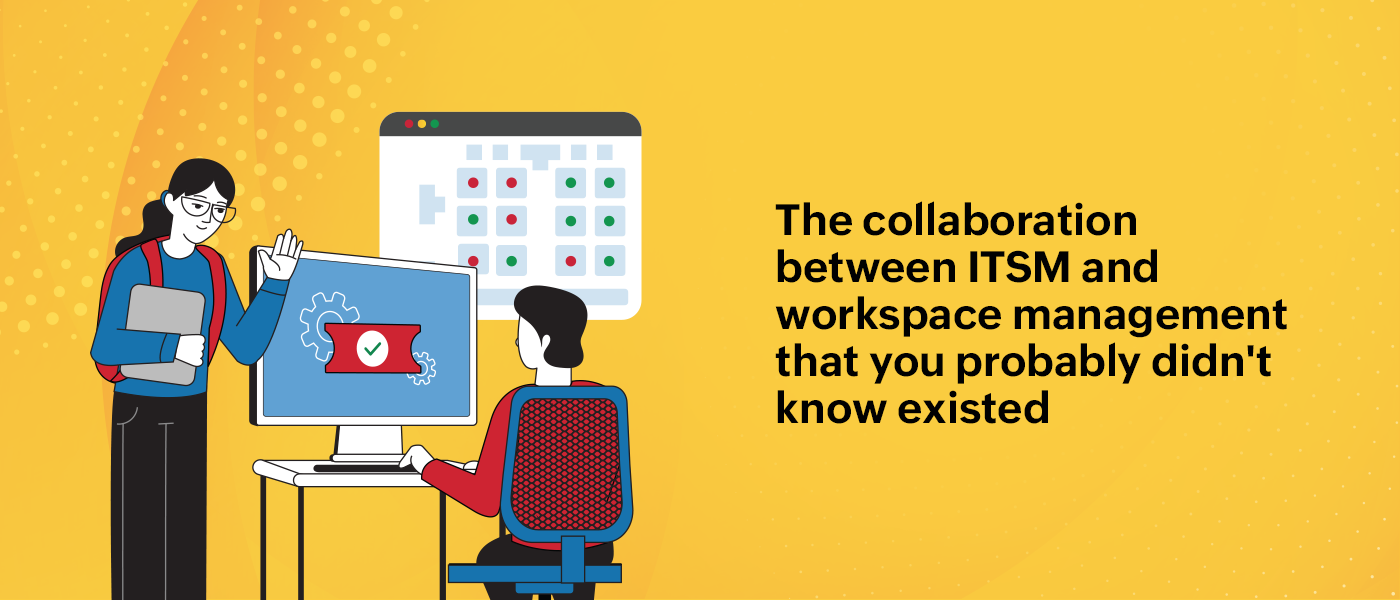 As economies gradually open up, it is becoming clearer that the hybrid work model is here to stay for increasingly more organizations. This has increased the need for cross-departmental collaboration between IT and the facilities team.
During pre-pandemic times, IT teams in several organizations relied on the facilities team to maintain the upkeep of workplace assets such as printers, projectors, and monitors. In many organizations, the facilities team was even pivotal in harboring the marooned assets in the workplace when employees were suddenly forced to work remotely in 2020.
 But facilities teams relied on legacy and disparate tools and sometimes never even had a tool to manage their processes. Essentially, their functions were disjointed from other business-critical processes.
 Now, with the advent of hybrid work policies, employees have the flexibility and convenience to choose where they work. This opens up a lot of challenges for service delivery teams like IT, HR, facilities, and legal.
Given this pre-existing interoperability between IT and facilities, both these teams should be able to exchange data and interface workflows for a smooth employee experience.
With the hybrid work model, the interoperability increases and IT needs to work in tandem with facilities more than ever. Here are three reasons why.
 i)  Govern physical access privileges based on workspace 
With the fluctuating population of in-office employees in the hybrid model, workspaces are often underutilized. To reduce utility wastage and maintenance overhead, facilities teams often shape-shift workspaces to conform to the incoming crowd.
Consequently, the facilities team needs to keep IT informed on which areas of the office premises are now classified and have controlled physical access. This helps IT teams keep localized networks and the assets within the classified environment secure.
ii)  Manage the environment of vital IT infrastructure 
When businesses scale up, their IT infrastructure needs to expand accordingly to keep up with the technological demand. IT and the facilities team should work closely together to understand each other's requirements during this expansion process.
While IT ensures information availability and business uptime, facilities takes care of the power supply, HVAC, safety, and the space required for optimal function of the organization's servers and data centers.
 iii)  Minimize downtime during emergency situations
The pandemic served as a litmus test for the business continuity plan (BCP) of every organization. When major disasters such as gas leaks or extreme weather strike, IT needs to be guaranteed of its operations and minimize downtime.
Facility and IT departments play an important role in BCP or disaster recovery (DR) planning. The facilities team needs to stay aware of spaces that can be repurposed for business and IT operations. A BCP or DR plan that can be easily accessed and followed during an emergency significantly decreases business downtime.
The case for integrated workspace management  
With enterprise service management (ESM) platforms, IT and non-IT teams are consolidating their service delivery efforts on a single platform. This offers a consistent experience to users across all departments.
The centralized platform acts as a medium for both IT and the facilities team to communicate and coordinate their processes together, simplifying their collaboration. For instance, when the IT team finishes configuring the workstation for a new employee, an automated ticket can be raised in the facilities service desk instance to prepare the new recruit's workspace and access badge.
While it becomes significantly easier to log, track, and deliver services with an ESM tool, facility management teams still need a tool to record and manage the organization's campus. And similar to IT's reliance on the facilities team, other non-IT teams rely on facilities for their own projects as well. Therefore, a capable space management module built right within the ESM platform can help facilities teams assist other teams better.
What would you need for effective space management?
In the latest release of ServiceDesk Plus, facilities managers can manage their organization's campus with the dedicated Spaces module. With the Spaces module, you can:
Digitize the campus

Facilities managers can digitally track all levels of the space tree—from sprawling campuses across locations to specific rooms and open-space areas.

Each space can be associated with amenities, such as safety equipment present, and criticalities, such as the space's privilege access level.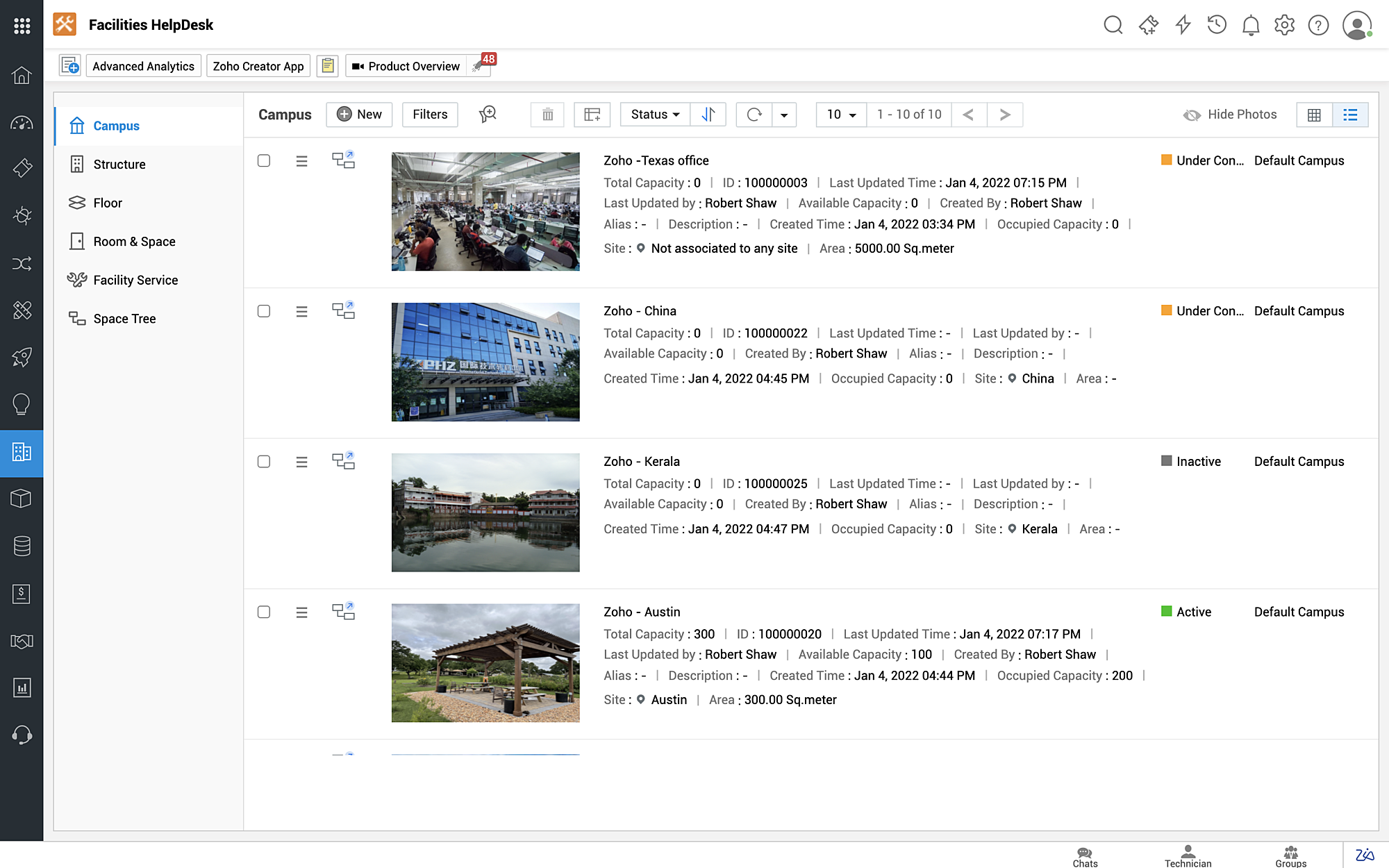 Visualize the campus with the space tree

The space tree offers a consolidated, connected view of all the managed spaces of the organization.

The bird's-eye view allows managers to glimpse occupancy levels and the amount of tickets raised across all spaces, ensuring no workspace goes underserved.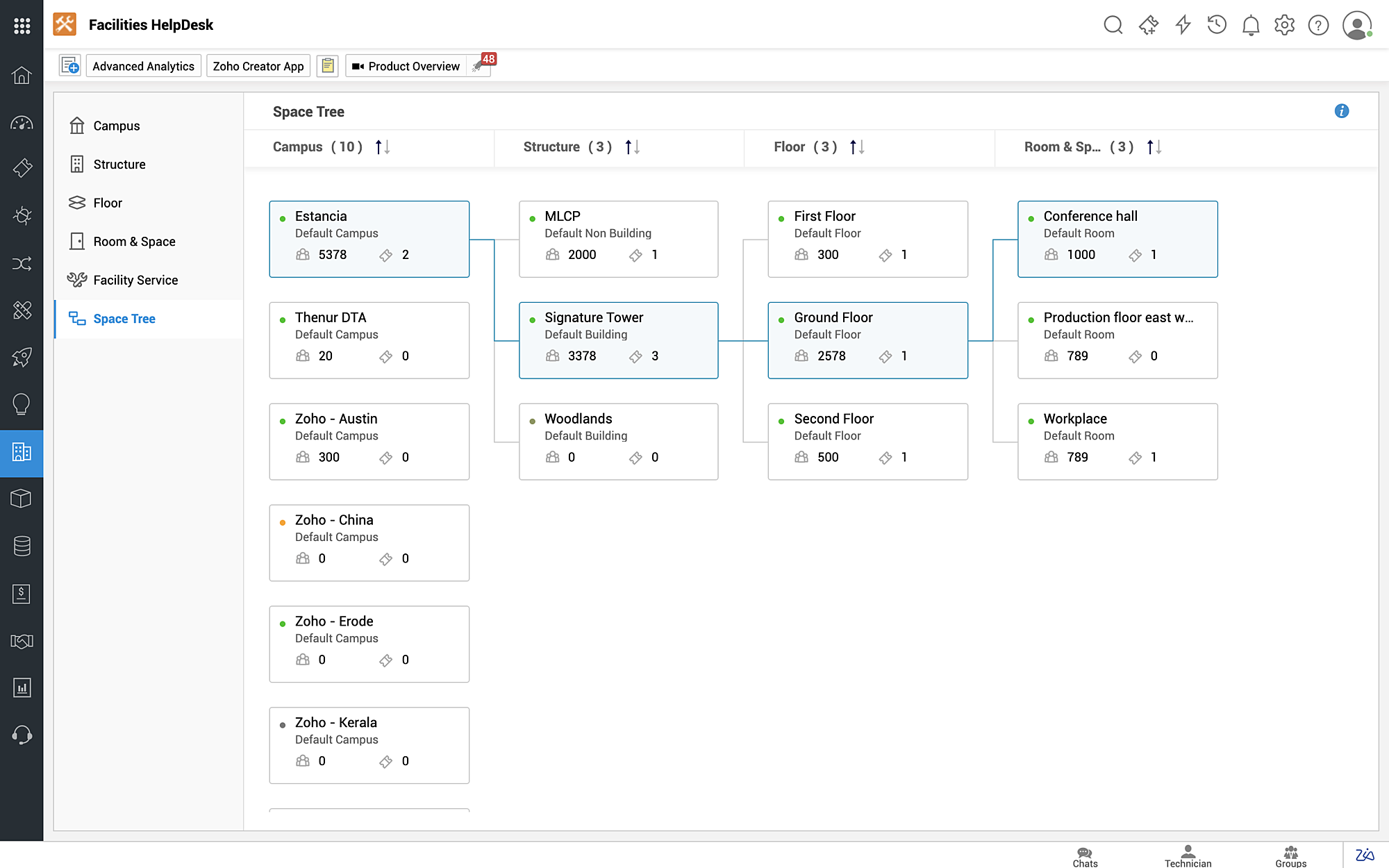 Keep all the details at your fingertips

The Spaces module enables facility admins to create custom templates to record unique details.

Each space can also be associated with its corresponding tickets, the assets it holds, the facility services it provides, and its relevant documents, such as emergency, business continuity, or disaster recovery plans.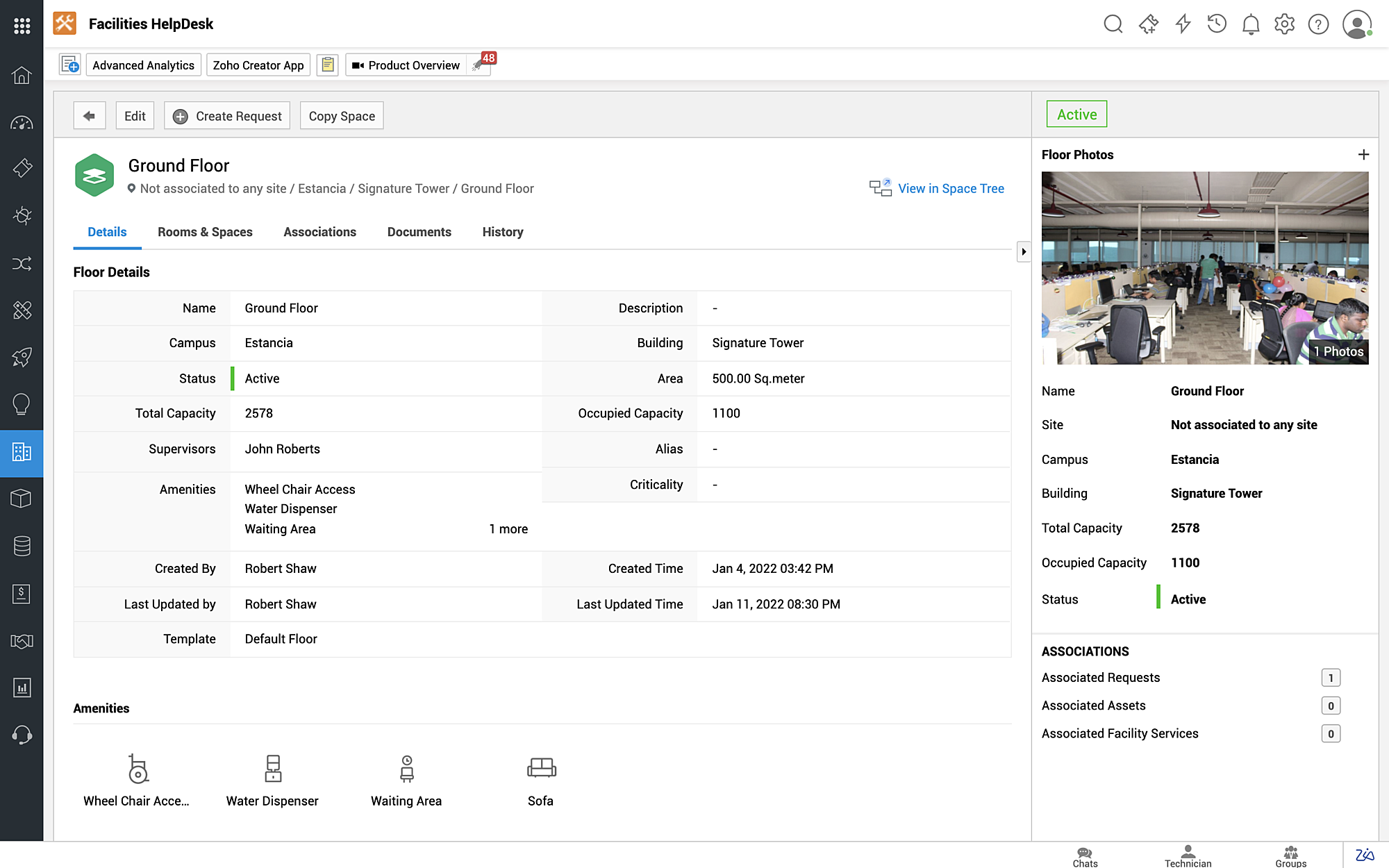 How can you try it now? 
The Spaces module is now available with the Enterprise edition of the Facilities service desk instance in the the latest on-premises version of ServiceDesk Plus. You can try our free, 30-day trial here.