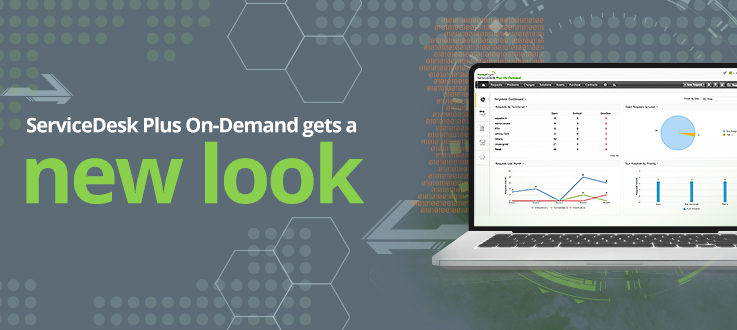 In the life of a help desk technician, every second can matter. Those valuable seconds are often determined by three main drivers of the help desk interface: appearance, usability and functionality. ManageEngine has equipped ServiceDesk Plus On-Demand with a revamped UI that is thoughtfully built around those three driving factors to provide the best-in-class help desk experience.
Functionality
New and unique functionality can power up a help desk and push it to the next level. The revamped ServiceDesk Plus UI incorporates a set of game-changing features that improve business productivity. Multi-level or nested business rules give you fine-grain control over workflow automation. A simple search from the admin tab can help find specific help desk configuration elements to reduce the time and effort of setting up help desk configurations. The knowledge base repository can be organized and reorganized under specific topics. Facebook-style notifications keep technicians and end users informed.
Appearance
An interface design should get the attention of the users and retain it without causing distraction. The revamped interface is designed to let users have multiple preset themes based on their moods. Color-coded conversations allow effective and clear communication between technicians and end users.
Ease of use
Though a tool may be rich in features and look sophisticated, its ease of handling can make all the difference for a user. The UI is designed to make the user's job effortless. Navigation is now confined to a single window, and pop-ups have been minimized. Users can raise tickets from anywhere within the tool using keyboard shortcuts, and files can be swiftly dragged and dropped to be added as attachments.
The revamped ServiceDesk Plus On-Demand UI is simple and intuitive and enables technicians to resolve tickets faster. Testing stage of the UI revealed a 5x increase in productivity due to improved loading times of the thread and details view of requests. 
Experience the revamped UI at http://ondemand.manageengine.com/service-desk/service-desk-demo.html.
Know more about the UI here.