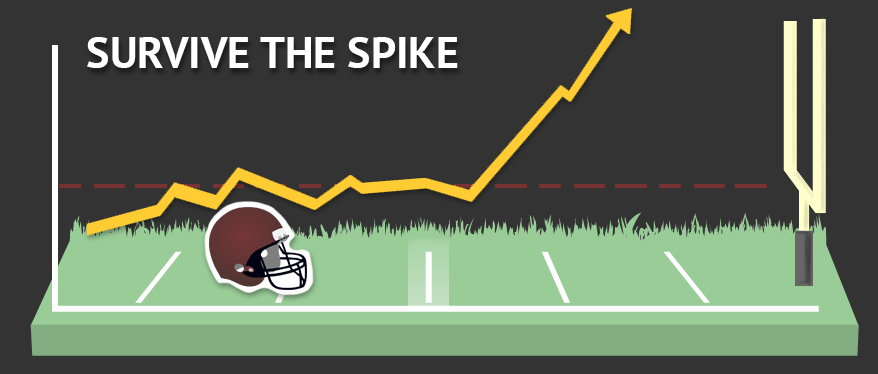 Super Bowl Sunday is traditionally known as a day when people across America, and even the world, see spikes in various forms of activity. The mind-boggling quantities of food consumed, skyrocketing advertising costs and inflated ticket prices make America's most-watched television event a party for the ages. Every business, from pizza shops to telecom services, gets pushed to the limit trying to serve the tsunami of customer requests that come its way.
IT help desks, too, have "Super Sunday" moments when there is a significant increase in ticket volume as a result of events, both planned and unplanned. Here are seven tips that can help your IT help desk stay prepared and keep its neck above the water during such events.
1.     Know Your Ticket Patterns
The first way to be prepared for an influx of tickets is to be aware of the patterns of tickets that your IT infrastructure can generate. You must be able to look at historical ticket data and identify distribution so that when an unplanned spike arises you can identify if it follows a previous pattern. If it is a planned change, like a server reboot or a switch upgrade, you can plan technicians' schedules. Plotting your spikes and declines with an understanding of their cause and likelihood of future recurrence helps you forecast the impact of changes and stay ahead of the game.
2.     Pursue Problems to Closure
One of the most frustrating experiences for an IT help desk environment is for technicians to be busy dealing with recurring problems that lead to a barrage of incidents every time. Identifying and fixing those problems can help prevent repetitive calls that drain productivity. As a help desk manager, it is your responsibility to flag frequent incident spikes so that a problem record is opened as a proactive approach.
3.     Dispatch Knowledge Fast
When you have planned events like an ERP upgrade or a desktop software roll out, users often barge the IT help desk with "'how to" questions. If you can ensure that knowledge articles for anticipated releases are in user's hands before the actual need arises, you can significantly cut down on the ticket volume in the days following the release. If a specific service is often seen, that suggests that there is a knowledge gap and hence a new training requirement is needed.
4.     Have a Plan for Emergencies
Your IT help desk should have a plan of action to respond to major incidents that affect a significant amount of users.  This includes identifying and publishing a single point of contact for users during emergencies, having clear lines of escalation for resolution and implementing a communication plan to keep end-users updated on the issue's progress. When IT takes the lead in communicating, end-users don't have to pick up the phones with questions, which eliminates the chore of responding to an increase of such inquiries.
5.     Implement a  Provision for Announcements 
The influx of calls to your IT help desk in the middle of a crisis leads to a high call abandonment rate. When technicians are busy answering end-users, new calls are put on hold. End-users calling back only increases the call abandonment rate. Putting an announcement in the Self Service Portal and adding a message to the IVR for end-users can help reduce incoming calls and emails, ultimately taking pressure off the IT help desk staff.
6.     Leverage Flexible Resources
If your help desk has seasonal peaks, it's to your benefit to identify them and look to leverage part-time staff who can take some of the burden off your full-time team. While outsourcing is an option, some IT help desk teams enlist the help of employees in other departments as reserve technicians who can help with customer calls. Allowing technicians to work from home during seasonal peaks also helps in dealing with increased call volumes.
 7.     Document Lessons Learned
Spikes in ticket volume for the IT help desk are not just a one time phenomena. It is important that you continue to improve on dealing with them each time. A "Lessons Learned Report" is a good step for continued improvement, which adds to organizational maturity. This exercise ensures that mistakes are not repeated and that the IT help desk can handle subsequent spikes with improved efficiency, therefore reducing costs.
Since staffing remains constant in most IT help desk environments, an increase in ticket volumes can stress technicians out, take SLAs for a spin and negatively impact end-user satisfaction if not handled properly. With some planning, you can convert adversity into an opportunity to engage your end-users, and show your organization that you are a team that can handle any planned or unplanned spike in activity.
If you are looking to implement an IT help desk software, check out ManageEngine's ServiceDesk Plus, available as On-Premise and On-Demand. The comprehensive dashboard and reports, the ease of publishing knowledge base, the technician availability calendar and the user-friendly self service portal are just some of the features of the software that have helped thousands of  IT teams flourish.