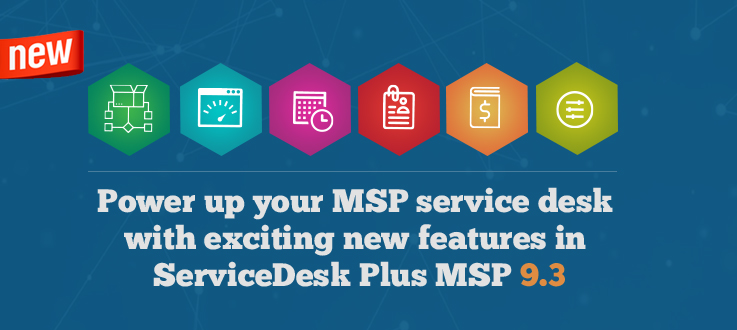 ServiceDesk Plus MSP is bringing some highly anticipated features to your service desk. Project templates, customizable dashboards, a job sheet customizer—it's all there! Amp up your IT service game by seeing the right analytics on your dashboard. Organize projects with customizable templates and associated tasks, keep track of your cash flow in QuickBooks Online, create and print job sheets, and a lot more with ServiceDesk Plus MSP 9.3.
Here are some highlights you can expect to see in this latest version of ServiceDesk Plus MSP:
Customizable dashboards: Play around with your dashboard to find the look and feel you like. Make it personal by adding, editing, deleting, restoring, resizing, and rearanging widgets. This will allow you to see only the analytics you need to make better decisions for your service desk.
Project templates: Your projects are now much easier to create and organize. Use the default project templates or get creative and define your own to log projects effortlessly. Streamline your new projects by associating them with specific tasks. This not only saves time but also makes sure the project workflow is organized and smooth.
Job sheet customizer: If you've ever struggled to access request details while at a customer's site, this feature's just for you. Create customized job sheets for your support activities to record all the information you need. Print out job sheets so technicians can bring them during client site visits and get approvals quickly and easily.
Custom schedules: Let's face it—we all have those mailers that need to be scheduled periodically, or requests that need to be closed with a specific status every now and then. This can be a pain to cope with. Now with custom schedules, you can perform specific customized actions periodically, or just once, using custom scripts.
QuickBooks Online integration: Keep your cash flow under control. Sync your client accounts with QuickBooks Online and keep track of your income. You can also create invoices for the time your technicians spend on a task and manage all your accounts in one place.
Of course, we couldn't stop there. Take advantage of the following features as well:
Access your Zoho Books bills in ServiceDesk Plus MSP.
Allow technicians to mark their availability as "online" or "offline."
Use up to 50 additional fields in all kinds of service requests.
And more.
We hope these features will enhance your service desk's performance. We've also carefully considered your feedback and made the required updates and improvements in ServiceDesk Plus MSP 9.3. Here's a list of the latest bug fixes.
Upgrade to ServiceDesk Plus MSP 9.3 here and experience the difference in your MSP help desk's performance. If you'd like to learn more about ServiceDesk Plus MSP, head here. We'd love for you to be part of our ServiceDesk Plus MSP community!