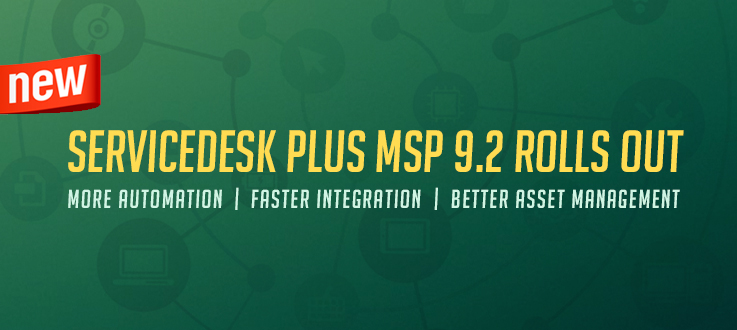 The year 2016 started with a major release – SDP MSP 9.0 with enhanced change management and better business intelligence. As we draw towards the end of 2016, we thought of surprising you with an early Christmas gift – a new and improved ServiceDesk Plus MSP 9.2 with great features such as codeless customizations, automation, bar-code generator for easier asset management, customizable user interfaces, and enhanced integrations.
Some of  highlights of this release
Field and form rules –  Build dynamic forms  by automating validations within the form.
Custom triggers – Create custom scripts for specific set of events to trigger actions on external applications.
Custom menus – Build custom menus and invoke third-party applications  right from the ticket interface.
Change SLA – Create change SLAs to escalate and ensure timely implementation   of changes.
Barcode generator –  Use barcode generators to create an asset inventory from scratch.
Self-service portal – Customize the user interface to enhance the user experience of the self-service portal.
Head to the features page for the complete list of new features.
We have also  strengthened our integrations so you can deliver quicker resolutions by having a seamless workflow across applications. You can integrate Desktop Central MSP for desktop management, Advanced Analytics for enhanced reporting, Application Manager for monitoring all your applications, and more. Check out the integrations page for the complete list of integrations available.
Upgrade to ServiceDesk Plus MSP 9.2 to take advantage of the new features and deliver great customer value as a result.