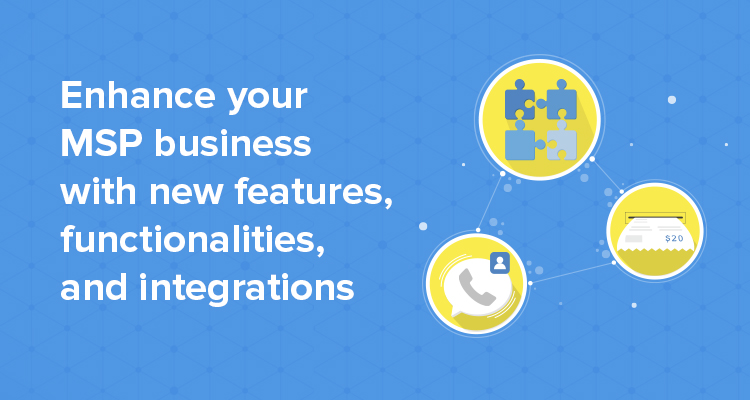 Your trusted MSP service desk software just got a whole lot better with a set of new features and enhancements to take your IT support experience to greater heights. We're excited to share with you ServiceDesk Plus MSP's newest release, where we've focused on taking what you, as a managed service provider, need for your business to thrive—and make world-class IT support for customers, a reality.
Here's what you'll find in this new version:
ServiceDesk Plus MSP now integrates with Salesforce, allowing you to import accounts and contacts from Salesforce to your MSP service desk automatically by scheduling imports. The existing Xero integration got a boost as well, giving you the advantage of setting your choice of date format for invoices, and choosing to include or exclude tax by default in invoices.
But we couldn't stop there; we went on to include an integration with ADManager Plus as well. This integration allows your technicians to reset passwords and manage users in Active Directory right from ServiceDesk Plus MSP, saving precious productivity time and cutting down time spent switching between applications.
We've also added new features to the billing module. Users can now add credits to their accounts and enjoy prepaid plans to pay bills. We've introduced multi-contract billing that allows you to maintain multiple contracts for the services you offer. On top of those, you can also maintain weekly or contract-length billing cycles, and send jobsheets as soft copies to clients.
Your accounts tab also got a facelift, with better organization capabilities. You can now view the requester's assets and account requests right when your customers call you. Letting your client accounts borrow your assets has been made possible with a new function that allows you to assign assets in the MSP's account to client users. Service level agreements (SLAs) just got better with the option to include the Account Manager in SLA escalation notifications.
You can get your hands on all these new features by downloading the latest version of ServiceDesk Plus MSP here. For more detailed information on all the features and to get a complete list of bug fixes that came with this release, head here.
If you're interested in simply learning more about ServiceDesk Plus MSP or joining the bandwagon, check this out. We'd love to have you on board with us!