Ferrari's woes seem to be continuing from F1 tracks to their data. And surprisingly, ransomware today encrypts files as fast as a Ferrari V8 goes from 0 to 60 mph.
 The current ransomware attack means cybercriminals now have access to confidential client data. Remarkably, this isn't the first time Ferrari has been the victim of a ransomware attack; in October of last year, critical documents belonging to the brand were leaked online.
 A total of 6.99GB of internal data was made public by a ransomware gang, RansomEXX, on its Tor leak site which included critical documents, datasheets, and repair manuals amongst other items.
Cybercriminals were successful in infiltrating the IT system of the luxury sports car maker, then asked for ransom in return for the data after encrypting it. Ferrari, though, has put on a brave face and decided not to pay the ransom. Instead, it issued the following letter to its customers.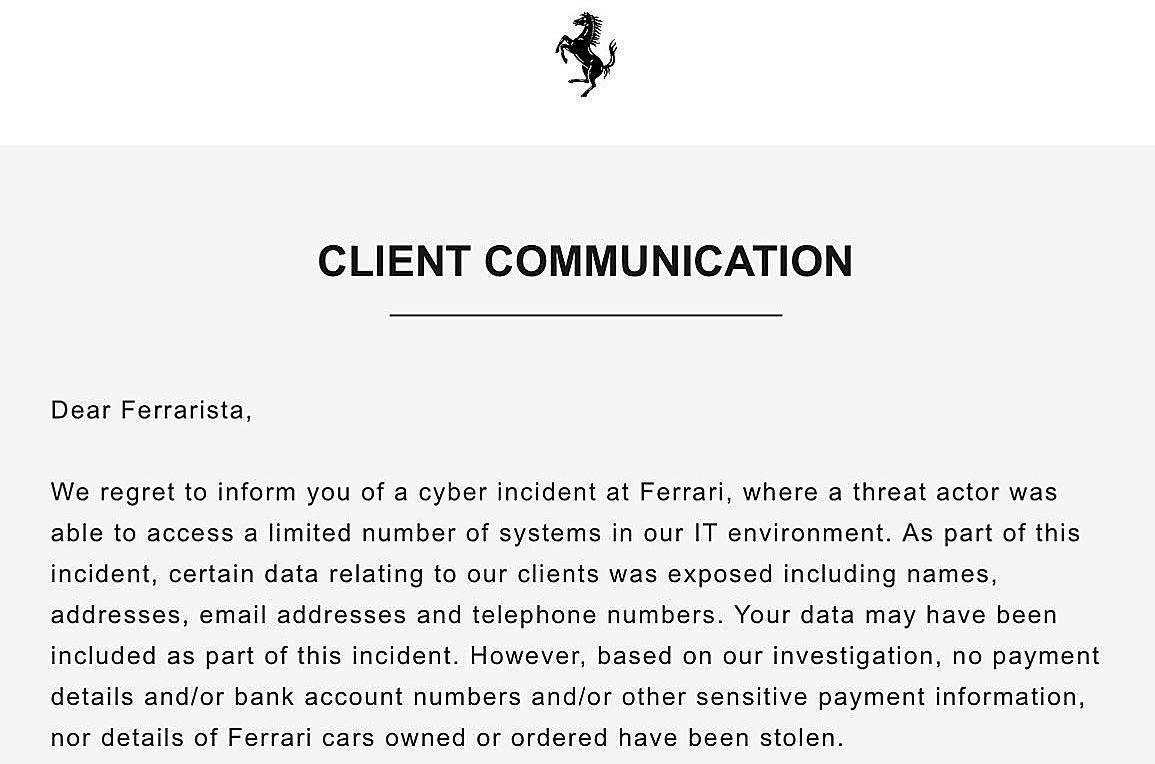 Despite the communique stating no payment information was compromised, what was compromised was Ferrari's reputation—a company that has been seen as a symbol of luxury, pride, and exclusivity. In hindsight, this incident paints a worrisome picture of Ferrari's data security, especially with this being the second attack within 6 months.
A recent survey reveals that 80% of enterprises that have experienced a ransomware attack are bound to experience it multiple times. Ferrari is a glaring example. This incident showcases the need for cybersecurity for all businesses, regardless of their industry or size. Even companies as prestigious as Ferrari are not immune to cyber threats, and they must take proactive steps to protect themselves against cyber attacks.
 With Endpoint Central, you can prevent such cyberattacks by leveraging its ransomware protection capabilities. This is a reactive solution that provides end-to-end ransomware protection powered by multi-patented technology and machine-learning assisted behavior analysis, one-click recovery of files, backup protection, and an array of security solutions that include data loss protection, application control, peripheral device control, browser security, and vulnerability management.
Try Endpoint Central now, free for 30 days, or schedule a demo with our product experts to see it in action.