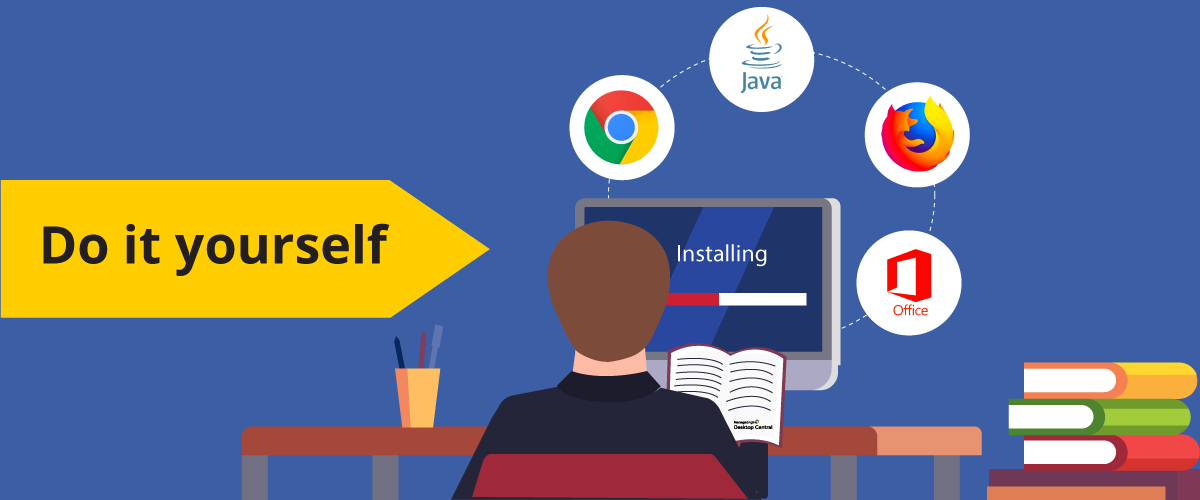 From automated airport check-in systems to advanced mobile banking platforms, self-help initiatives are spreading like wildfire. Additionally, self-help has become crucial in the workplace, where accessing technologies greatly improves employee productivity. Desktop Central's self-service portal provides an easy approach to software deployment—and now it's available for Mac computers as well.
To demonstrate this feature, let's take a look at a scenario.
Jessica, who recently changed her role from quality analyst to developer, is waiting for the system administrator to install Notepad++ on her machine. Meanwhile, John, a web designer, is waiting for Photoshop to be re-installed, as his existing version is corrupted. Finally, Jenny, an accountant, requires the latest version of Tally to proceed with her taks.
Three employees now require help from the system administrator before they can resume work, leaving the system admin with two choices: manually perform each of these tasks—the time-consuming option—or let these employees handle these tasks themselves through a self-service portal.
Desktop Central's self-service portal allows IT-approved software applications to be published to all users, specific groups, or departments. The software applications are listed in the self-service portal in Desktop Central's agent tray. From this list, users can install or uninstall software as required, simplifying software distribution and saving administrators time and effort.
Cherry on the cake!
Desktop Central users who have integrated with ServiceDesk Plus can raise a request to the help desk for any commercial software that is published via Desktop Central's self-service portal. This request will generate a ticket in Service Desk Plus, which a technician can either approve or deny. After the technician's approval, the relevant software is automatically installed on the user's account or computer.
In addition to employee satisfaction, user self-service lifts the burden of accommodating basic end-users requests, allowing IT staff to focus on more pressing projects. To top it off, end-user productivity sees an increase as well, as users are able to quickly and independently request services.
Shut the door on shadow IT
Shadow IT is often the result of an impatient employee's desire to skip the necessary steps to obtain technology through corporate channels and obtain immediate access to software. Shadow IT has become prevalent in companies, as employees have increasingly turned to business-focused cloud applications to increase productivity.
According to Gartner, almost one third of successful cyberattacks will be directed at companies' shadow IT resources by the year 2020. Shadow IT can also be a compliance concern when, for example, employees store corporate data in their personal DropBox accounts. In addition to security risks, shadow IT can also waste money if different departments are unknowingly purchasing duplicate solutions.
Desktop Central's self-service portal helps you rein in shadow IT by making applications readily accessible to employees, all at the click of a button.
Help your employees help themselves; self-service is the way to go!