Real user monitoring (RUM) is used to collect and analyze data about user interactions with a website or application in real-time. This enables organizations to gain valuable insights into the performance and user experience of their digital products. Despite its importance, the significance of RUM is often overlooked, and many organizations fail to leverage its benefits. By employing a RUM tool such as Applications Manager (APM), you can stay vigilant by capturing real-time user interactions.
Tracking critical metrics to gain insights about front-end website performance will lead to a better understanding of user activities and aid in website enhancement. By improving website performance and addressing user pain points, organizations can improve user satisfaction and engagement, which can lead to increased conversions and revenue.
RUM can help a variety of stakeholders, including website or application developers, IT operations teams, digital marketers, and business executives.
For developers, RUM provides insights into how their code is performing in the real world, helping them identify and fix issues that may be impacting user experience.
IT operations teams can use RUM to monitor the health of their websites and applications, and quickly identify and resolve any performance issues that may arise.
Digital marketers can use RUM to gain insights into user behavior and preferences, which can be used to optimize campaigns and improve conversion rates.
Business executives can use RUM to monitor key performance indicators (KPIs) such as page load times, bounce rates, and conversion rates, and make data-driven decisions to improve user experience and drive business results.
SaaS and application service providers (ASPs) can use the insights to monitor and improve service quality delivered to their clients.
In this blog, we'll dive deep into how RUM works, reasons to choose ManageEngine Applications Manager, and real-world use cases!
How real user monitoring works
To facilitate data collection and reporting, RUM's remote monitoring agent is deployed in the server where the web application is hosted. Following that, a small JavaScript (JS) snippet generated by Applications Manager is placed in the header or footer of the HTML code of the web application that you want to track.
Upon loading, the JS snippet acts as the core that collects performance data, constantly transmitting it to the RUM agent. The RUM agent acts as a liaison between this JS code and the Applications Manager web client, which visually depicts the captured data.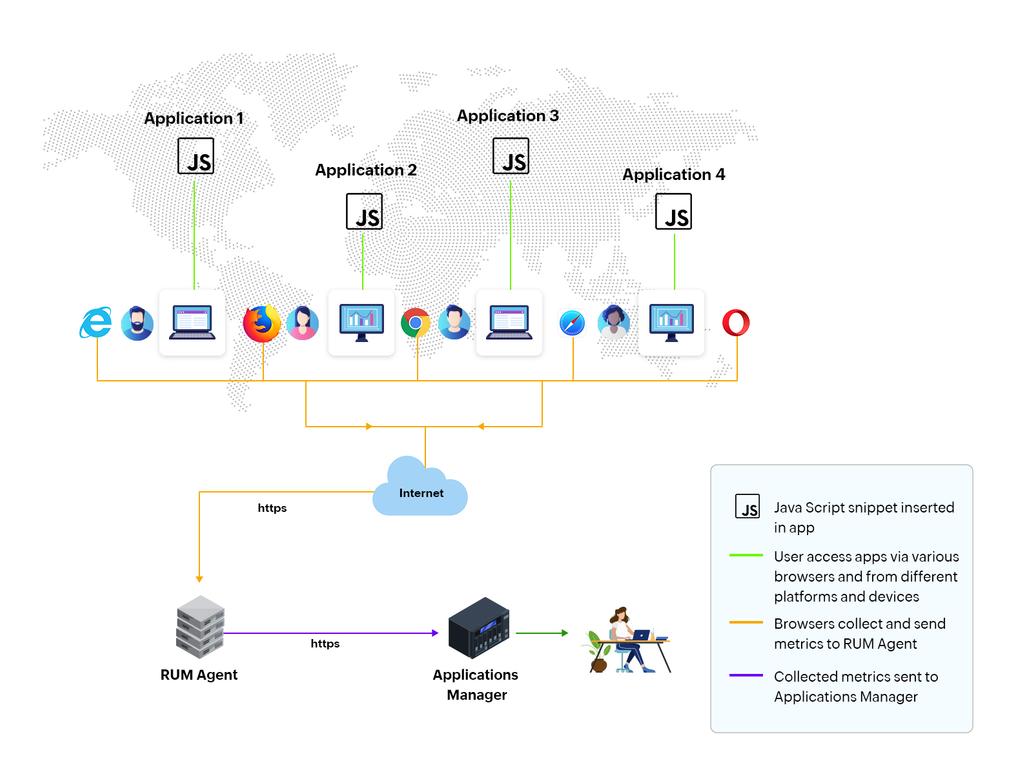 Why Applications Manager?
Applications Manager's real user monitoring software offers holistic insights into how your users perceive and interact with your websites. This helps you to discover opportunities to improve website performance and provide seamless digital experiences.
With our RUM tool, you can:
Proactively analyze how the front-end performance of websites varies across different geographies, ISPs, browsers, and devices to ensure hassle-free digital experiences.
Become aware of user satisfaction levels using Apdex scores.
Isolate web transactions that contribute to poor user experiences in the applications.
Gain comprehensive insights about domain resources and user sessions.
Identify JavaScript errors instantly to prevent users from reporting service errors.
Analyze and compare the impact of any new changes made in the site and how it has affected the user experience.
Furthermore, Applications Manager's RUM tool has flexible pricing options based on page views. A page view, or impression, occurs each time a visitor views a page on your website. Page view-related pricing allows you to pay based on the actual number of impressions, which provides a more accurate reflection of your usage of the RUM service. APM also gives you a competitive edge because data is stored on-premises, giving you more control over your data security, access, and costs!
When can RUM be useful?
Let's look at some real-world scenarios in which RUM facilitates a hassle-free digital experience for end users and aids in faster troubleshooting for admins.
Scenario 1
You run a university and have a dedicated website for hosting exams for your students. On the day of the exam, students X, Y, and Z are unable to log in to the site. The site keeps loading, but something is preventing these students from logging in.
In this case, if you have installed Applications Manager and have configured RUM for your website, you can analyze all the web transactions (available under the User Sessions tab) that occurred in each student's user session. This can help you identify intermittent issues that only occur under specific conditions and resolve them without difficulty!

Scenario 2
You are a global marketing agency. Your biggest client has launched a new perfume targeting Indian women and wants to promote it exclusively in India.
You have launched several campaigns online and have promoted them on your Indian website. With Applications Manager's RUM tool, you can perceive, check, and analyze if users from India are having a seamless digital experience while accessing the website. You can also become aware of user satisfaction scores and study the website's performance across different device types, browsers, and ISPs. To avoid timeouts caused by traffic surges, you can constantly monitor your website to see when and where page load times increase. This can help you identify and fix these issues before they cause any major damage to revenue or brand image.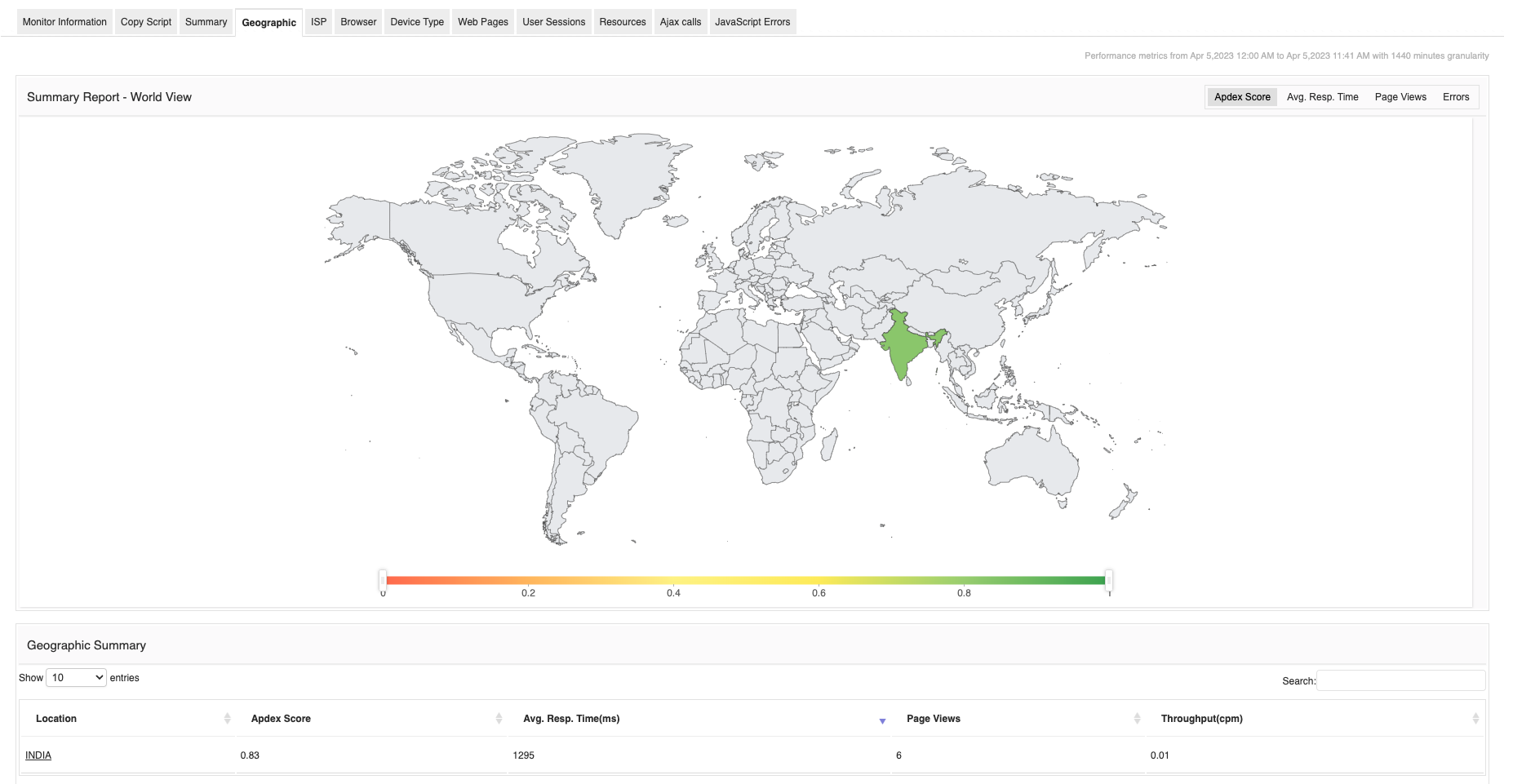 Scenario 3
You are the website administrator of a major banking service in your city. You will need to release new updates across your website every month to improve stability, fix existing bugs, and introduce new features to meet the ever-growing needs of your customers.
In this case, APM's real user monitoring tool can help you analyze and prepare a comparative study on how your website performs after the update, including whether any changes propagated to your website have had the intended effect or caused any errors.
As a preemptive step, you can even use the tool internally within your production environment to test the changes before you roll them out to your users! This can help you make resourceful, critical decisions regarding your next updates.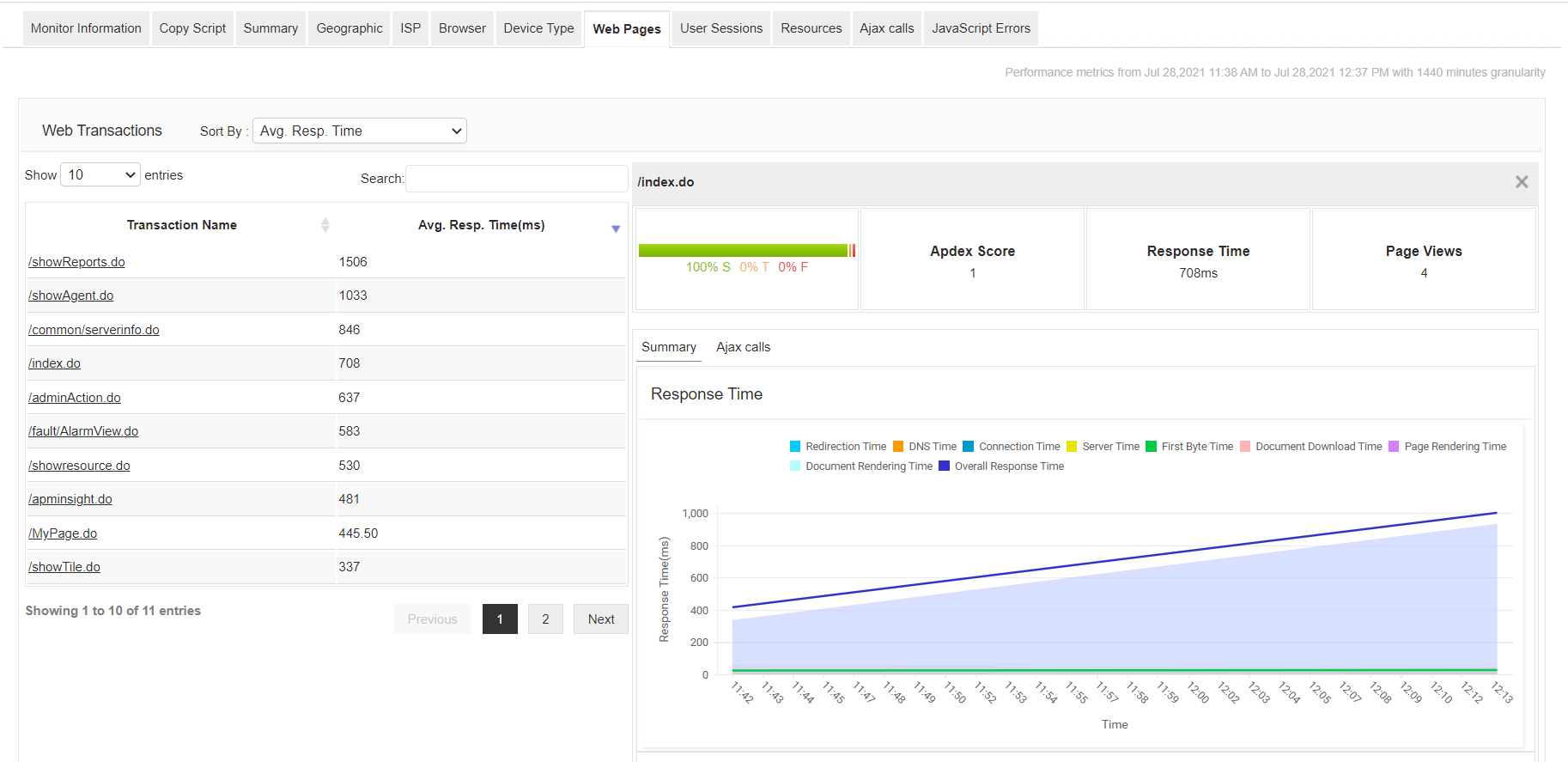 Leverage the power of RUM in Applications Manager and unveil the path to first-class customer experiences. If you're new to Applications Manager, learn and explore on your own with a 30-day, free trial, or take a guided tour by scheduling a personalized demo.