Applications Manager has its fleet at the docks, ready to set sail to explore the horizon of cloud technologies and the world of software services with the best of the industry. Join us to learn from the finest at these events.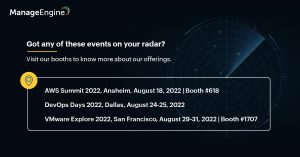 AWS Summit 2022, Anaheim
The first event we're attending is the AWS Summit 2022, Anaheim. Join us on August 18 at the Anaheim Convention Center, 800 W Katella Ave, Anaheim.
Visit our booth (#618) and engage with us to learn how you can gain better visibility into the health and performance your core Amazon services with Applications Manager.
DevOps Days 2022, Dallas
After the AWS Summit is the fifth annual DevOps Days, Dallas conference in the Dallas Fort Worth area. We will be there from August 24-25.
Meet us at our table to learn best practices from the experts on DevOps monitoring, and learn how our product can help you easily combat the toughest monitoring challenges.
VMware Explore 2022, San Francisco
Finally, we'll be at VMware Explore 2022 in San Francisco from August 29-31.
Look for the Applications Manager team at the ManageEngine booth (#1707). We'll be ready to take you on a test drive with all the diverse features and products ManageEngine has to offer to monitor and manage your IT infrastructure.
Not only are you taking knowledge home with you, but you'll get freebies, too! We're giving away ring lights, themed pens, themed stickers, webcam covers, and much more at our booths!
Make sure you register for these events and swing by our booths for an incredible experience. We hope to see you there!