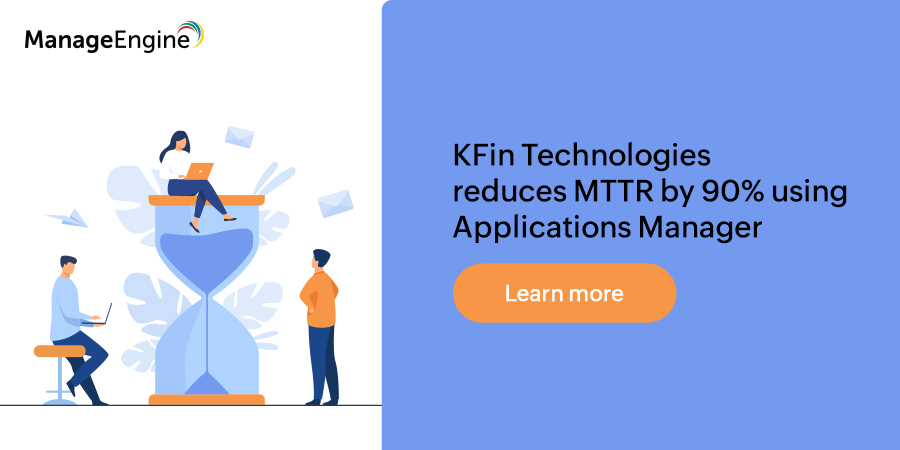 About KFin Technologies
Founded in 1983, KFin Technologies is a leading transaction processing platform based in South East Asia. The organization serves the mission-critical needs of asset managers with clients in mutual funds, AIFs, pension, wealth management, and corporations in India and abroad.
KFin Technologies' business challenge
KFin Technologies specializes in providing mutual funds, global funds, investment funds, private wealth funds, and other financial services. Considering the critical nature of its services, any disruption could create an enormous negative impact on customers. Monitoring various metrics across KFin's complex application stack seemed to be a daunting task that simple legacy monitoring tools couldn't accomplish. To ensure the utmost customer satisfaction and speedy delivery, KFin needed an application monitoring application that would improve its flexibility, deliver agility without compromising an application's performance, and provide complete insight into the critical components of its infrastructure.
Read the complete case study here
The Solution: Applications Manager
KFin selected ManageEngine's Application Manager as its application monitoring solution following a thorough evaluation.
"We knew that Applications Manager was the tool we wanted right from the evaluation period. The unified platform, easy-to-navigate UI, and in-depth visibility the product offers are a few of the primary reasons why we chose the product. Thanks to the extensive fault management features and AI-powered smart alerts, the team was able to reduce MTTR by 90%," said Vijayaram Kasinadhuni, senior program manager at KFin Technologies.
With Applications Manager, KFintech can gain end-to-end insight into essential transactions, identify slow-performing queries, eliminate recurring performance issues, and ensure uninterrupted service delivery while drastically reducing its mean time to repair (MTTR) by 90%.
Key benefits of Application Manager
Continuous visibility: Gain holistic visibility into the performance of business-critical applications to ensure end-user satisfaction.

Enhanced operational efficiency: Detect and resolve issues before they affect end-users.

Accurate solutions: Drill down to determine the root cause of issues, and receive precise answers to performance anomalies.

Optimized resources: Uncover deep insights into real-time customer experiences by optimizing service offerings.
Want to learn more? Read the complete case study here.  
About Applications Manager
Applications Manager is a part of the ManageEngine ITOM suite of solutions. Apart from Applications monitoring, the ManageEngine ITOM suite also has solutions to streamline network monitoring, server monitoring, bandwidth monitoring, configuration management, firewall security and compliance, and IP address and switch port management. This is what makes ManageEngine ITOM solutions the ideal choice for over one million IT admins worldwide.