2021 has been an incredible year for us at ManageEngine. Throughout the year, we added several new capabilities and improvements to Applications Manager, our application performance monitoring software. Here's a look back at the highlights.
Real User Monitoring
We added the Real User Monitoring feature to Applications Manager in October. The Real User Monitoring feature helps you proactively monitor the front-end performance of your websites and web applications and ensure a seamless user experience.
The data shown by the Real User Monitoring feature includes:
Front-end latency metrics such as DNS time, connection time, page rendering time, document rendering time, first byte time, and more.

Response time by geographic location, browser type, ISP, operating system, and more.

Details of user transactions.

User sessions.

Javascript errors.

Response time and throughput of AJAX calls.

Apdex scores to measure the user experience.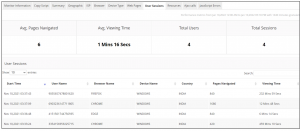 Real User Monitoring is a useful addition to Applications Manager's digital experience monitoring capabilities and complements existing capabilities like synthetic monitoring and application performance monitoring to provide another layer of visibility into your business-critical services.
Cloud monitoring enhancements
We have been focusing on improving our cloud monitoring capabilities over the last few years. In 2021, we introduced support for monitoring Microsoft Teams. Applications Manager can track the service health status of Microsoft Teams, obtain usage statistics and gain insights about channels, members, and teams in the organization.

We also enhanced our Azure platform support by introducing support for Azure Service Bus. This is in addition to our support for other Azure services such as Storage Accounts, Azure VMs, SQL databases, and the Windows Azure classic service.
On the AWS platform side, we added support for monitoring the health of ECS and Elastic Kubernetes Service (EKS).
Brand reputation monitoring
Brand reputation is one of the most valuable intangible assets of a business. It helps build the customer's trust and loyalty, which goes a long way in today's competitive market. With our introduction of Applications Manager's brand reputation monitor, you can maintain a positive and promising brand reputation by monitoring website content and identifying malicious content in real-time by performing periodic blocklist checks.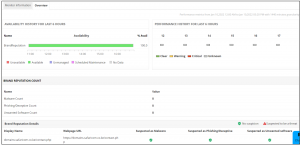 With the brand reputation monitor, you can get reports on:
Malware.

Unwanted software.

Phishing attempts.
Sybase Replication monitoring
With the help of Applications Manager's Sybase Replication monitor, you can now track the availability, health, and performance of Sybase Replication Servers and identify and resolve errors in real-time.

Some key metrics tracked by this feature include: 
Connection time.

Lock statistics.

Thread stats.

Operation state.
SAP Business One monitoring
In 2021, we also added the SAP Business One monitoring feature, which helps monitor business-critical metrics such as the health and performance of the SAP Business One enterprise resource planning server, system landscape directories and users, key transactions, and more.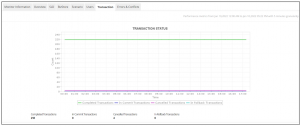 SAP Business One monitoring provides data on: 
System Landscape Directory.

Scenarios and BizStores.

Transactions and users.

Errors and conflicts.
Updates to virtualization monitoring
With our introduction of the Citrix Virtual Apps and Desktop monitor, you can enhance the end-user experience while maximizing the functionality of the desktops and applications in your Citrix virtual environment by examining their performance and productivity. This feature enables you to maintain different desktop groups, track resource usage, identify disconnected sessions, and enhance the end-user experience by maximizing functionality.

The Citrix Virtual Apps and Desktop monitor tracks:
Machine and application details.

Connected sessions.

Machine statuses.

Latency.
In addition to the feature releases and enhancements, we also had licensing updates based on feedback from users and partners.
We would like to thank all our users and partners for their continuous support in 2021. Now we look forward to what 2022 will bring!
Applications Manager is a part of the ManageEngine ITOM suite of solutions. Apart from Applications monitoring, the ManageEngine ITOM suite also has solutions to streamline network monitoring, server monitoring, bandwidth monitoring, configuration management, firewall security and compliance, and IP address and switch port management. This is what makes ManageEngine ITOM solutions the ideal choice for over one million IT admins worldwide.