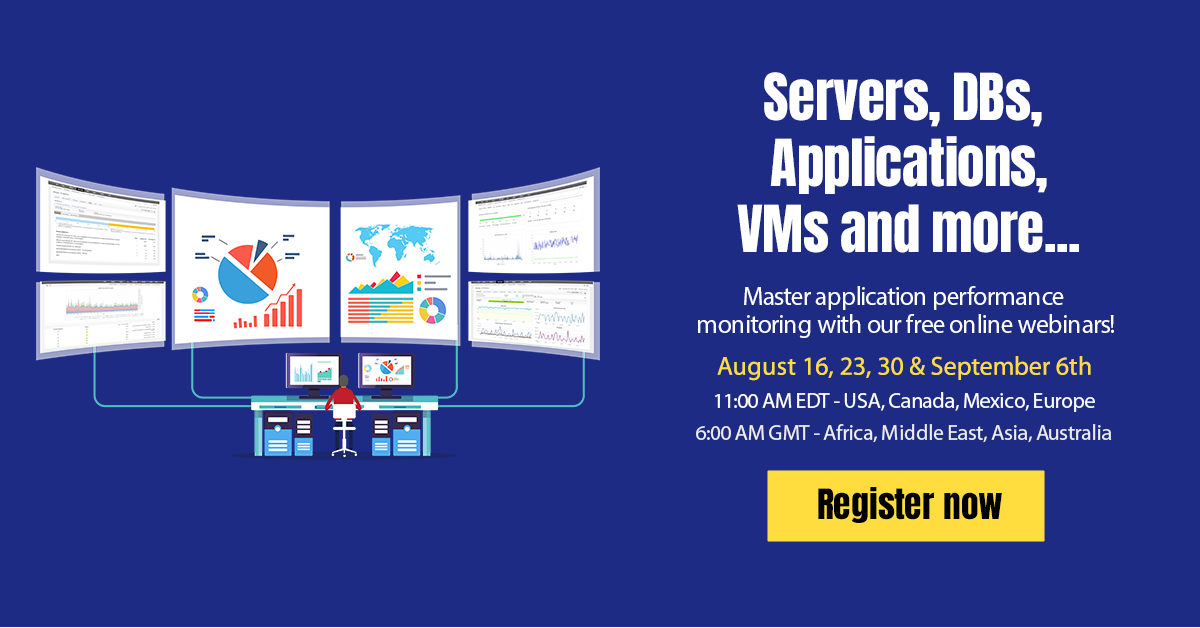 In the digital economy, business applications have played an integral part in the evolution of enterprises. Application complexity is on the rise now that IT infrastructures are becoming more diverse, and managing dynamic applications is more challenging than ever before. For organizations to ensure consistent application performance, employing an application performance management (APM) solution has become a necessity.
After plenty of discussion and thorough analysis of current trends, we've come up with some freshly brewed content for our next webinar series. Whether you're a newbie or a veteran in the APM space, we've got a bunch of interesting topics lined up to help you understand the nuances of application performance monitoring. Here's an outline of the topics we'll cover during our free training series:
Collecting server, database, and virtualization performance metrics automatically.

Configuring events, services, scheduled tasks, and server actions.

Identifying issues that affect application performance with the help of root cause analysis.

Proactively troubleshooting performance issues before end users are affected.

Generating comprehensive reports and dashboards to obtain an in-depth view of key performance metrics.
For the convenience of our users spread across the world, we're conducting training in two time zones: 11am EDT for those in Europe, Canada, Mexico, and the United States; and 6am GMT for those in Asia, Australia, Africa, and the Middle East.
Agenda:
Week 1: Server monitoring made easy

Week 2: Database monitoring essentials

Week 3: Monitoring heterogeneous  applications

Week 4: Achieving more with your virtual infrastructure
 To view the complete agenda, take a quick look at this video:
[youtube https://
So what are you waiting for? Register now and start spreading the word.