Is too much of a good thing bad?
The answer is yes. Wise men say too much of money can cloud your judgment. Too much of love can leave you heart broken. Too much of kindness can leave you vulnerable. In a similar vein, too much of VMs can lead to uncontrolled proliferation of VMs in your data center, also known as Virtual Machine sprawl or virtual machine glut.
Now when this happens, managing your VMs can be a real challenge. You can lose track of where your VMs are, how many are active, how many are in production servers, and whether they are secure.
How does VM sprawl happen in the first place?
Experts believe this has got something to do with the ease with which you can add virtual machines to your network. Since it has become real easy to quickly provision new virtual machines and applications, the number of active virtual machines might go unchecked. There might be situations where virtual machines run quietly in the background for weeks or months without anyone knowing they're there. This leads to wasted resources as well as potential security issues. When you add VMotion technology to this mix where you have VMs moving around from one physical server to another, it becomes even harder to stay on top of things.
This is not to say that everything is gloom and doom in the virtual space. VM sprawls can be detected early by tracking the movement of VMs as well as the changes to their configurations from one physical server to another. ManageEngine Applications Manager helps you quickly detect VM sprawls by discovering your entire VMware infrastructure through the vCenter server and automatically modeling them the same way they are configured in the vCenter.
The
VMware virtual infrastructure groups
, introduced in
version 10.0
of Applications Manager, helps automatically discover and classify VMware resources into components such as data centers, clusters, ESX/ESXi hosts, VMs, etc.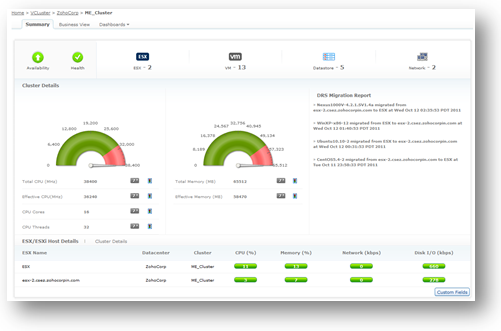 The VMware virtual infrastructure groups also showcase performance metrics that are summarized based on clusters, data centers, etc. This helps you decide resource utilization for large applications that use tens of VMs as you get averages or totals of the performance metrics across the cluster or data center. You can also know which cluster is underutilized and move VMs out of it, similarly with the VMs in an ESX host. By modeling and grouping the VMs into various components, Applications Manager makes it easy for the IT admins to take decisions. This along with the detailed performance metrics makes it easier to troubleshoot issues.
Applications Manager monitors the VMs and the applications deployed in them, and also retains the configuration information of the VMs; thus essentially allowing you to keep track of how many VMs are present, how many are in production systems, and so on.
Now that is not necessarily a bad thing, isn't it?