Choosing the best network monitoring tool can be mind boggling. Today, network admins need more than a bare-bones network management system (NMS). They need a tool that includes auto-discovery, node and device inventorying, automatic and configurable warning notifications—all joined through a centralized management interface.
Today's buyers of a NMS need to consider their interactions with the product vendor. Is the vendor trustworthy? Are their policies client-friendly? Is their pricing transparent and do they deliver on time? How friendly is the negotiation? Analysts like Info-Tech Research aim to bridge the gap with real reviews from industry users, with unbiased feedback, helping both vendors and users alike.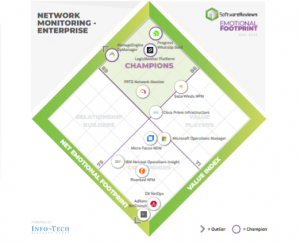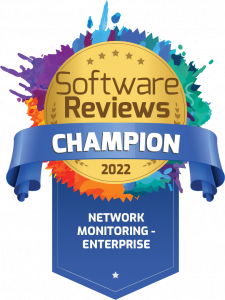 Love is a strong word, and 98% of customers say they love using ManageEngine OpManager according to the Info-Tech's Network Monitoring- Enterprise category Buyers' Experience report. We are not only champions, but also outliers. Our customers have spoken!
Info-Tech's Product Scorecard for OpManager is a comprehensive report designed to help clients make better purchasing decisions. Data in the report is collected from real end users of the product and analyzed in an exhaustive fashion with extensive data analytics. This report, based on 57 reviews for OpManager, should help you make the best network monitoring tool purchase decisions for your organization.
Long-term relationship with OpManager

Info-Tech states that OpManager provides a Satisfaction to users that Cost is Fair Relative to Value. Asked about their "Plan to Renew", 94% of OpManager's customers said they will. It seems to be evident to users that ManageEngine OpManager will be here for the long run. We have long-term relationships with our customers.
OpManager's competitive edge over others in the NMS space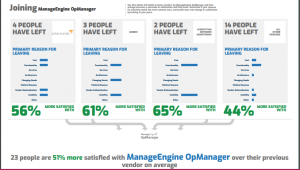 Rely on OpManager for holistic 360-degree IT monitoring, 24/7. Info-Tech's report states that 23 people are 51% more satisfied with ManageEngine OpManager over their previous vendor on average.
Get unrestricted access to the entire report!
See for yourself why OpManager stands above the rest. Gain access to the Emotional Footprint report, the Buyer's Experience report, and the Product Scorecard, all in one place. Want to experience OpManager? Try our fully- functional 30-day free trial.Or schedule a personalized demo at your own convenience.