Are you a managed service provider (MSP) who monitors the networks of multiple customers from a central location? ManageEngine launches OpManager MSP, tailored for MSPs with customer-centered network monitoring and seamless management of different customer networks over multiple locations.
OpManager MSP aims to provide a customer-focused, customizable approach to network monitoring and is designed to scale to the monitoring needs of large enterprises. OpManager MSP enables you to manage customers over multiple remote locations with a probe-central architecture. The probe-central architecture adds a probe at remote customer locations, and the OpManager MSP central server provides a central console to monitor the networks and manage key metrics across all client locations.
OpManager MSP offers the remote monitoring and scalability features of the OpManager Enterprise edition coupled with the stand alone features of the OpManager Professional edition in a customer-focused manner, and tailor made for managed service providers at an accommodating price. Check our pricing models for OpManager MSP.
Some key features of OpManager MSP include:
1. Customer-based User Management
Easily manage different users with OpManager MSP, which enables you to create and manage users specific to the level of access desired and the customers being monitored. OpManager MSP offers different roles with varied levels of access: MSP Administrator, MSP Operator, Customer Administrator, and Customer Operator.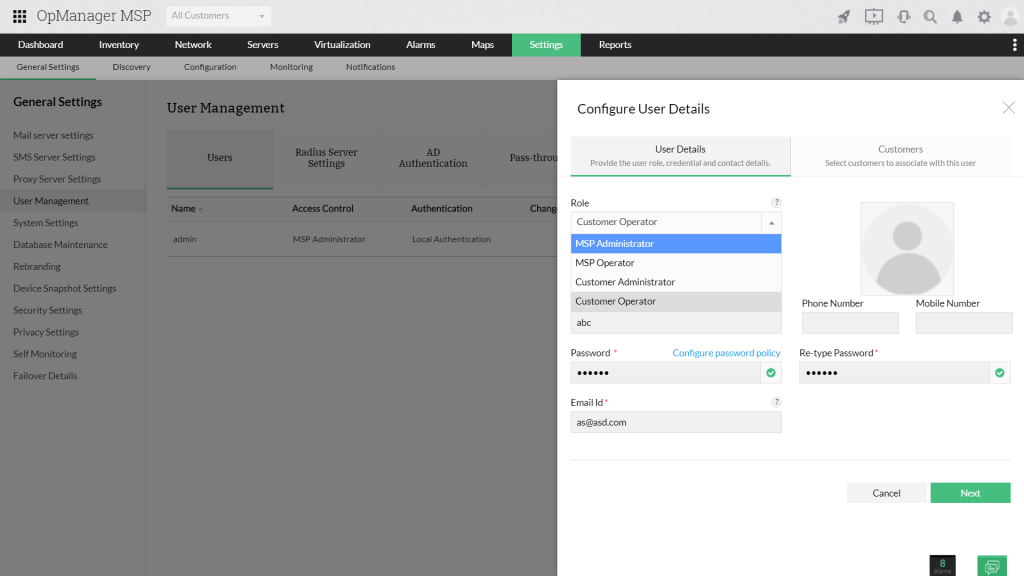 MSP Administrator and MSP Operator users have the capacity to monitor all customer networks, but the MSP Operator is limited from accessing the settings page. On the other hand, the Customer Administrator and Customer Operator user types have access to only selected customers, and the Customer Operator type is limited to read access. This lets you limit a particular user's access to the desired level depending on their role.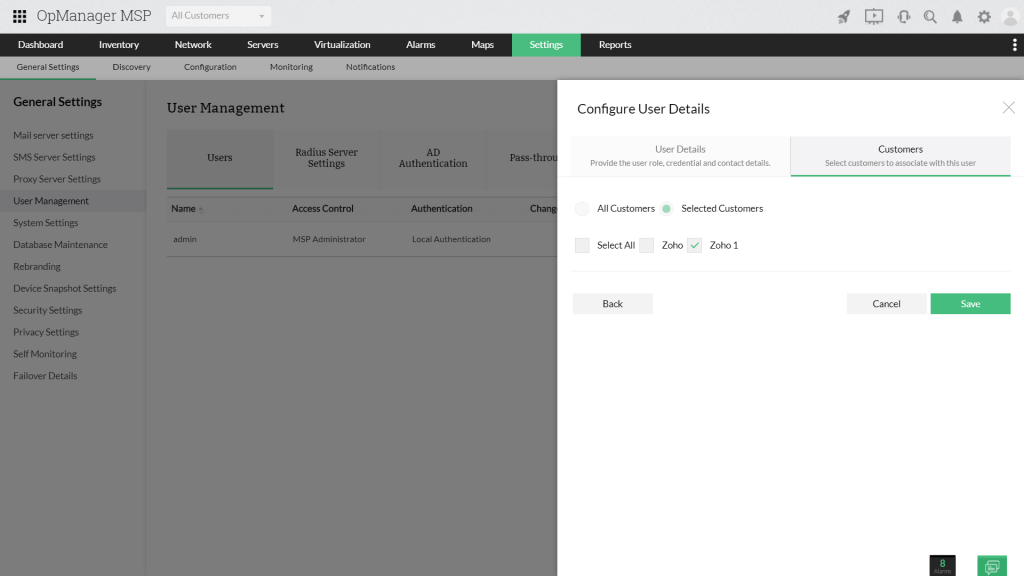 2. Bulk network discovery
Discover servers and network devices in bulk using a range of IP addresses or CSV files. This minimizes the time required to set up OpManager MSP and start monitoring your network. With quick deployment that doesn't require much time to get OpManager MSP up and running, you receive an expedited return on your investment.
3. Customer-based monitoring
With OpManager MSP's probe-central architecture, monitor every customer as a different entity with individual probes installed at each customer location. The customer-based approach to monitoring in OpManager MSP enables easier management for MSPs in handling multiple customers from a single console.
4. Centralized configuration
In order to simplify the efforts of MSP administrators, OpManager MSP facilitates centralized configuration of all MSP Probe servers (customer networks) from the MSP Central client. Most of the configurations for these probe servers are provided by the central client. This simplifies the task of the MSPs in making changes and setting up configuration settings for different customer networks.
5. Support for multi-vendor network monitoring
Receive support for most IT equipment vendors in the market out of the box with OpManager MSP. This means you will experience efficient, hassle-free monitoring of your multi-vendor network environment from a single console.
6. SNMP, WMI, and CLI monitoring
OpManager MSP helps you monitor and gain insights on different performance metrics. OpManager MSP supports monitoring via SNMP, WMI, and CLI, so you can choose which performance metrics you want to monitor depending on your customer's requirement.
7. Fault detection and alert escalation
With OpManager MSP, identify and resolve network issues before they have an impact on your customer's network or other critical services. The multi-level threshold-based alerting system in OpManager MSP alerts the MSP to any network issues based on the preconfigured thresholds for a monitored performance parameter in customer networks.
This way, you can proactively monitor your customer's network and get notified at each stage of a network error until it is resolved. Plus, built-in notification profiles let you receive alerts via email, SMS, sound alarms, logged trouble tickets, etc. This ensures your network engineers are notified of customer network issues instantly.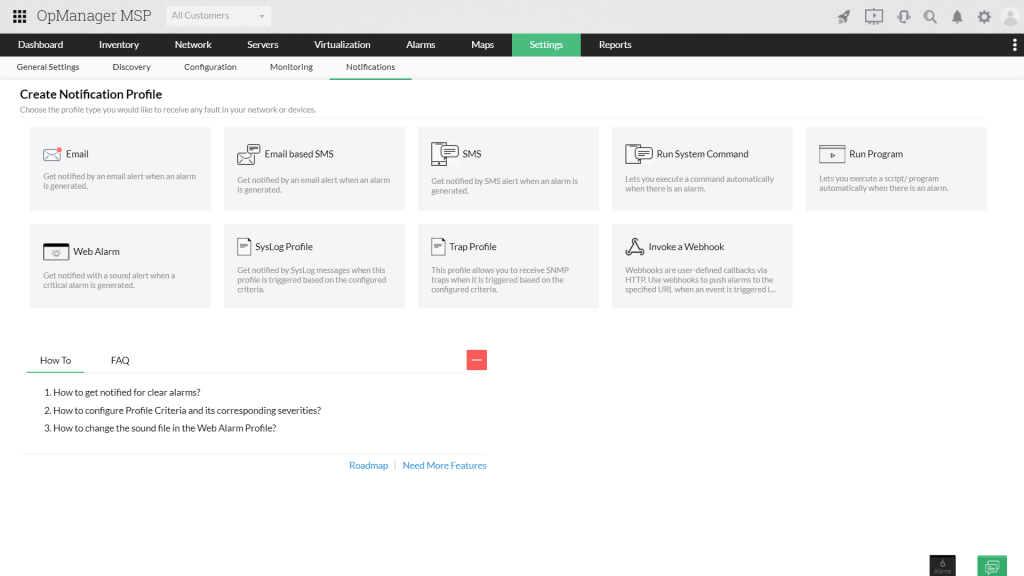 8. Customer-specific widgets
OpManager MSP enables you to have widgets for specific customers in custom dashboards. This lets you monitor customers in real time independently based on what is required.
At ManageEngine, we're committed to delivering customer-centric, high performance IT management solutions at an affordable price with zero compromise on quality. As a result, ManageEngine has garnered more than a dozen IT operations and infrastructure management sector awards.
OpManager MSP is cut from the same cloth. Our primary aim is to elevate your network management at an affordable price without compromising on quality. OpManager MSP is built with the successful combination of innovative, contemporary, and legacy components to take your business to the next level.
What are you waiting for? Discover the benefits of using OpManager MSP in your organization by trying a free, 30-day trial. Download it now.