Yes! We just launched our new privileged identity management (PIM) suite, an enterprise-grade, all-inclusive solution that enables IT admins to discover, store, control, and monitor all privileged identities from a single, unified platform. Before we tell you more about the suite, let's spend some time talking about why every enterprise absolutely needs a robust PIM approach.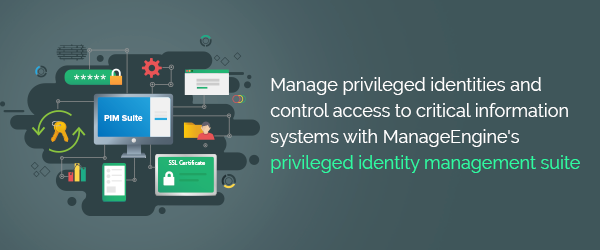 Today's cyber world
57 million. That's the number of people who've been affected by the massive hack at Uber. Those hackers had it really easy; all they had to do was sneak their way into Uber's GitHub account. As fate would have it, a privileged credential with access to one of Uber's data servers was carelessly left lying around. While 57 million might seem huge, it's actually only around a third of the number of people who were affected in the recent Equifax hack. In this case, the hackers used an exploit instead of a privileged account, but both of these attacks represent how enterprise security needs to change in today's erratic cyber world.
For any large-scale organization like Uber or Equifax, protecting mission-critical data systems that contain sensitive information can definitely be challenging. A critical component of this security challenge is implementing a stern management process for the privileged identities that employees and third parties use to connect to information systems. After all, hackers tend to go after privileged identities first.
Traditional privileged access methods
Typically, IT teams employ both password-based and key-based authentication methods to let administrators, privileged users, external vendors, business applications, and similar parties log into critical systems using privileged accounts. However, IT staff often have a hard time managing their organization's passwords and keys for various reasons like:
Complications in tracking passwords and SSH keys scattered across a geographically distributed workplace.
Employees sharing privileged credentials with colleagues without an IT admin's approval.
The daunting job of resetting passwords and generating new key pairs for privileged accounts.
Not having an automated access control system in place to automatically revoke employees' privileged access after a stipulated period of time.
This is a non-exhaustive list of scenarios, but it illustrates the subtle but serious threat of identity theft and privilege misuse. Organizations that fail to handle threats like these using a strict access management routine are simply leaving the door open for attackers to abuse the elevated privileges these accounts provide and siphon important data from their organization.
That's why we at ManageEngine have rolled out a brand-new PIM suite. With this comprehensive suite, you can quickly deploy a complete solution for managing privileged identities and controlling access to your sensitive, privileged information, all in one single setup.
A unified suite for complete privileged identity management
To put it simply, our PIM suite lets you manage privileged identities—passwords, SSH keys, and SSL certificates—as well as control and monitor access to critical information systems from a simple, consolidated platform. The suite tightly integrates two of our in-depth IT security solutions, Password Manager Pro and Key Manager Plus, to deliver this unified privileged identity management experience. 
The suite enables you to deploy and enforce a robust management routine for:
Shared account passwords
SSH keys
SSL certificates
Privileged access to remote systems
Privileged sessions
We will soon be doing a blog series that will discuss each of the PIM suite capabilities in depth to explain how each component helps you protect and manage access to your critical data systems. Stay tuned! To learn more about our PIM suite and register for a free 30-day trial right now, please visit
www.manageengine.com/products/passwordmanagerpro/complete-privileged-identity-management-suite.html.  
Protect your privileged identities, improve user accountability, and empower your IT admins with a well-equipped access management process, all with our all-inclusive privileged identity management suite. Register and get started today!
Anusha Muralidharan
Marketing Analyst – IT Security