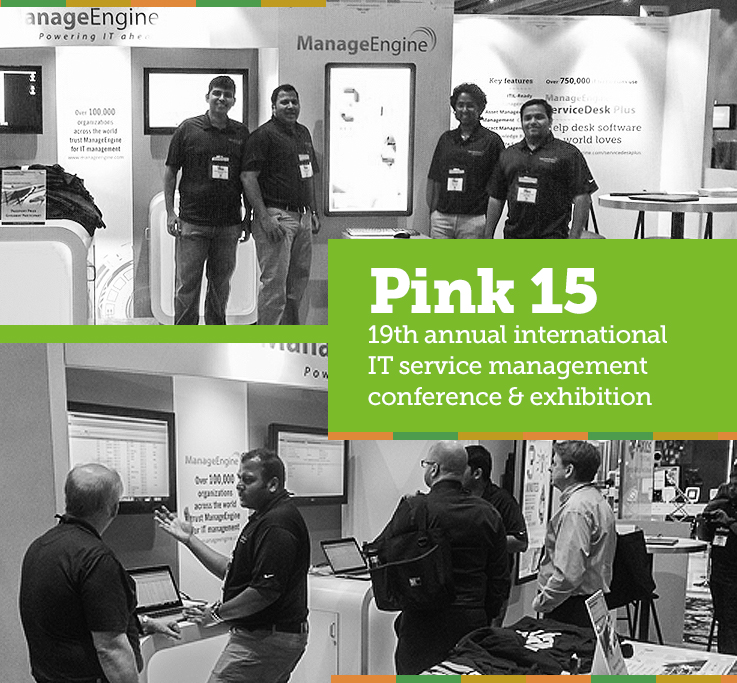 What happens when people from the most happening IT teams​ convene at the most happening place on the planet? ​Pink Elephant's 19th annual international IT service management conference and exhibition ​provided us the answer. Networking, peer interactions, loads of knowledge transfer, vendor hunts, ​and of course, the renowned casinos and night life of Las Vegas. With sessions on best practices, easy tips and tricks, experience and knowledge sharing, Pink15 turned out to be the best place for ITSM pros to learn and share.
This being our second year at the ​annual Pink conference, ManageEngine's booth attracted ​​many visitors and ​​surprised them with a FREE license for the full-fledged, Pink–verified incident management module of ServiceDesk Plus. There were over a dozen ITSM solutions ​on display at the event. Despite that, it was ManageEngine's ServiceDesk Plus that appealed to the users. Some of them even shared their experience of using ServiceDesk Plus, which gave us insight about our journey in the last decade or so.​ ​However, we refuse to rest on our laurels and will continue to improve upon the exceptional experience we provide for our customers.
​Events such as Pink15 shine a spotlight on how the industry is continuously evolving and help us understand the pulse and requirements of the market. They help us gain insight about designing a better ITSM solution. One such case in point was the recent integration of ServiceDesk Plus with Zoho Reports for advanced analytics and business intelligence.  ​​Most of the visitors to the ManageEngine booth were quite happy that ManageEngine now enables them to create business intelligence with the large amount of data generated in the help desk. This is a feature that is not available from most help desk software.
Visitors to Pink15 no doubt had lots to carry back. The discussions and knowledge sharing at the event would have definitely empowered them to resolve their tickets more quickly and effectively. Clearly, visitors to our booth had lots in store for them, and we aren't talking just about the freebies!​ ​Keep your bags packed! We are already getting ready to meet you all soon at HDI 2015 conference and expo again at Las Vegas.