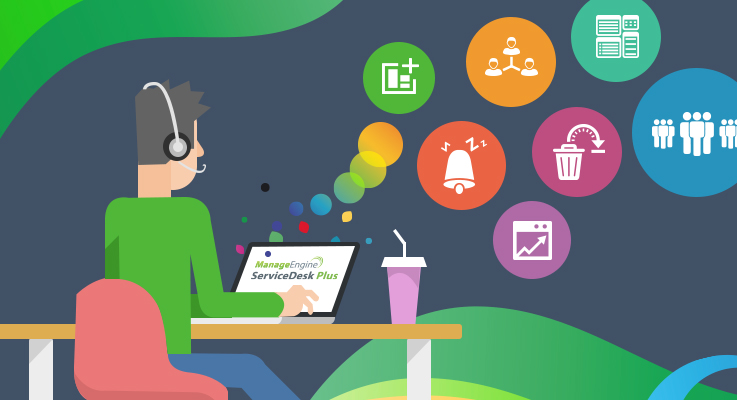 ServiceDesk Plus has an ocean of features for all the IT service desk technicians who want to manage the complete life cycle of their tickets. However, there are some unique features that add punch to your service desk operations. Here are ​seven valuable tips that will help you to ​reap more benefits out of ServiceDesk Plus​, and help you go that extra mile ​to keep your customers happy!  
Segregate Your End Users to Avoid Clutter
In a ​high-voltage IT environment, end users can sometimes be bombarded with announcements that are irrelevant to them. For example, users ​in Australia may ​see announcements ​regarding server outages elsewhere. Similarly, in the self-service portal, incident templates and knowledge base articles pertaining to finance may be ​visible to other departments' users, adding to the clutter. 
With ServiceDesk Plus, you can organize your end users into user groups on the basis of department, site, requester name, and other parameters; and you can publish user group-specific announcements, templates, and solutions. This will help reduce ​clutter and provide ​more focused service delivery by the IT support team.
Where do I do it? – ​"User Groups" option under the "User" block of the "Admin" tab.
Use Proactive and Reactive Escalation Mechanisms 
Without a proper SLA mechanism in place, ​end users lack visibility into their tickets' resolution times. In ServiceDesk ​Plus, you can configure separate resolution and response SLAs with multi-level proactive and reactive ​escalations. That way, you can let end users know the resolution and response due ​times. 
You can choose to escalate after or ​before a missed SLA deadline to be either reactive or proactive. The latter ​choice lets you alert supervisors ​beforehand, so they can be prepared to take necessary counter measures, rather than being taken by surprise after the missed deadline.
 Where do I do it? – "Service Level Agreements" option under the "​Helpdesk" block of the "Admin" tab.
Improve Productivity by Using Templates
Technicians sometimes have to type repetitive responses, like asking for more information from the end user, or type resolutions for routine tasks such as password reset. You can use the customizable reply templates for canned responses. 
Likewise, the resolution templates in ServiceDesk Plus help you avoid typing resolutions multiple times. The best thing is that reply and resolution templates can be configured to carry ticket–specific information (​like subject, end user name, assigned group, and due by date) when used in a request. 
Where do I do it? – "Reply Template" and "Resolution Template" options under "Helpdesk" block of the "Admin" tab.
Customize Your Dashboard with Report Widgets 
Technicians need to have a personalized dashboard that feeds them information specific to their individual needs. In ServiceDesk Plus, technicians can add up to 20 canned and custom reports as widgets to their dashboards. ​That way, technicians can view the information that matters the most to them. 
How do I do it? – Enable a globalConfig entry, which ​allows you to add saved reports to the dashboard.
Back-up for Your Fellow Technicians
While staff absence is inevitable on certain days, it always helps to plan ​ahead to avoid a heap of tickets piled up at the help desk. With ​ServiceDesk Plus, you can now plan in advance by assigning a backup tech to substitute for an absent technician. This ensures ​the tickets are resolved in time irrespective of a technician's absence. 
Where do I do it? – "Tech Availability Chart" option in the "Scheduler" tab of the "Home" menu.
Let End Users Raise Tickets for Colleagues
What if one of ​your end users is struck in traffic and needs to log a critical incident with your IT help desk team? With ServiceDesk Plus, the end user's colleague can raise a ticket on his or her behalf using the "on behalf of" feature. This will help ensure all tickets are logged even though end users are held up without the proper resources to raise a ticket.
How do I do it? – Enable a globalConfig entry, which would display "on behalf of" field in incident and service request templates.
Restore Your Deleted Tickets
Restoring recycle bin data saves you​ a lot of trouble when you accidentally delete data. Similarly, ServiceDesk Plus has a "restore trash" option to restore your deleted tickets within 24 hours of deleting them. As a technician, you need not re-create your deleted tickets as you can immediately restore them instead​.
How do I do it? – Configure a globalConfig entry named "Cleanupschedule" to restore incidents and service requests from trash.
We hope you found these ​tips helpful.  By implementing the above tips​, you will have taken the first step ​to achieving best-in-class performance for your IT service desk. And if you are not yet a ServiceDesk Plus user, download a copy right away and check out these features. Happy help desking!