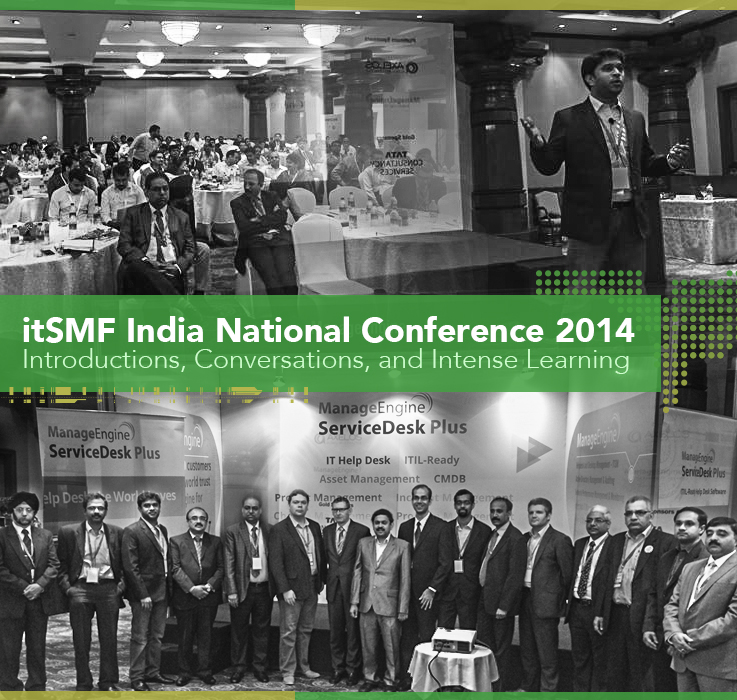 The annual conference of the IT service management forum (itSMF) happened in Bangalore, the Silicon Valley of India. We were at the conference for the first time, and we met lots of new people, had interesting conversations, and learned quite a bit. We packed in a lot of learning on a single day – from Kaimar Karu's tip on using 'social lubricants' for problem solving to intense panel discussions on business values of ITSM.
Several of the delegates stopped by at the ManageEngine booth and enquired about our products, especially ServiceDesk Plus. Needless to say, many of them were awestruck at the mere mention that more than 90,000 companies trusted ManageEngine to manage their IT services and networks. And, the keynote speech by Arvind Parthiban, senior product marketing manager, ServiceDesk Plus, o​n change management only reiterated ManageEngine's presence and expertise in ITSM.
The importance of gamification, the concept of applying game design techniques in non-game applications to make them more fun and engaging, was presented through an ITSM simulation game. And, it sure did make ITSM  a lot more easier and interesting. It was the perfect wrap up for the conference.
Overall, it was an amazing experience that gave us an opportunity to showcase ManageEngine's ITSM porfolio to India. The interest that the delegates at the conference showed towards ManageEngine has strengthened our resolve to reaffirm our commitment to producing quality software products that not only meet, but also surpass customer expectations. Hope to see you all at the next conference. So long!