​​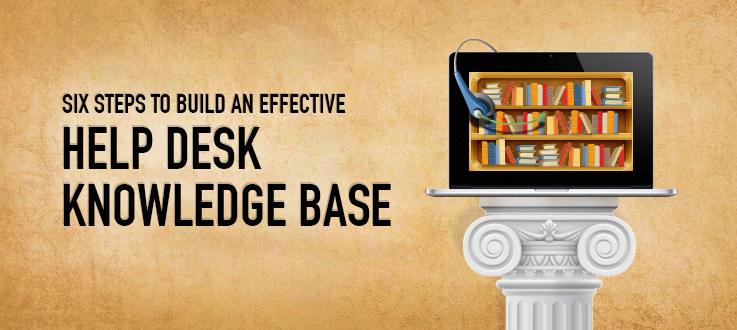 John, the IT help desk manager, has been facing several productivity issues, including longer resolution times, and tickets have been piling up as a result. John thinks implementing an effective knowledge base might improve his team's productivity.
After all, a knowledge base will​ store resolutions, workarounds, and best practices that help reduce ticket inflows, improve resolution times, increase first call resolution rates, reduce the percentage of repeat incidents, and increase the self-service portal usage.
While John recognises the value of an effective knowledge base, the day-to-day pressures of managing a help desk team keeps him from implementing one. He just doesn't have the time. And, after fighting fires all day, he doesn't have the mental energy to step back and think strategically about a knowledge base.
​To help John and other IT help desk managers facing the same challenge, we share ​six simple ideas below for building an effective knowledge base.
Keep Your Knowledge Base Updated
Update the knowledge base regularly with new solutions so that it evolves with your IT environment. Here are some best practices that will keep your knowledge base updated:
Nominate a knowledge base manager from your team. The manager must own the entire life cycle of the knowledge process, from identifying solutions and assigning tickets to regularly updating the knowledge base.
Include contributions to the knowledge base as a key performance indicator for your technicians.
​Structure Your Knowledge Base
When the knowledge base content is organized well, it improves usability and end-user adoption. S​tructure the knowledge base to​ provide ease of use and navigation to end users by:
Defining categories and sub-categories that reflect the problem categories in the help desk.

Establishing templates to provide uniform content across the knowledge base.
Define an Approval Process
​You can ensure the reliability and quality of the knowledge base content if you could implement the following approval process:
Technician → Domain or Solutions Expert → Knowledge Base Manager
​A technician documents the resolution process, along with the solution or work-around, which the domain or solution expert reviews for technical accuracy. The technician can then involve a technical writer to improve the structure and presentation. Finally, the knowledge base manager can approve the content and include it in the knowledge base.
Enhance the Search Capability of Your Knowledge Base
An enhanced​ search capability makes it easy for end users and technicians to use the knowledge base better. They will get to relevant solutions quickly and this will significantly reduce resolution times. You can enhance the  search capability of your knowledge base by:
Tagging articles with appropriate keywords.
Providing clear and problem-specific topics to the articles.​
Determine Who Sees What
Re​duce the information overload on your end users by:
​Providing role-based access to knowledge base articles, so only relevant solutions are available to end users.
Maintaining a knowledge base of advanced technical solutions and articles exclusively for, and limited to technicians.
Manage Your Content Effectively
​Managing the knowledge base content is as important as keeping it updated by:
Allowing technicians to update existing articles and revert to earlier versions, if necessary.
Backing up your knowledge base content at regular intervals.
Generating timely reports about knowledge base performance and usage.
These six tips will definitely help John create an effective knowledge base manually. And, if he would rather automate the task, he could simply use a help desk tool like ServiceDesk Plus, which does most of these tasks by default.