This is a guest post by Peter Dorfman.
Help desk software is now a free download!
The wheels turn slowly in the enterprise software business. For all the talk among the industry pundits about accelerating technological change, it always feels as though the end user community is at least two years behind whatever fanciful curve the analysts are scratching out on corporate whiteboards. But markets simplify—they move toward entropy—until some event gives the whole lethargic field a much-needed kick in the pants.
The IT service management segment received just such a kick on March 5, when one of its maverick vendors, ManageEngine, announced it was cutting the price of its base platform—the help desk package called ServiceDesk Plus, used by 60,000 customers worldwide—to zero dollars. Current customers will pay nothing for maintenance or upgrades from here on. The software is a free download to everyone else.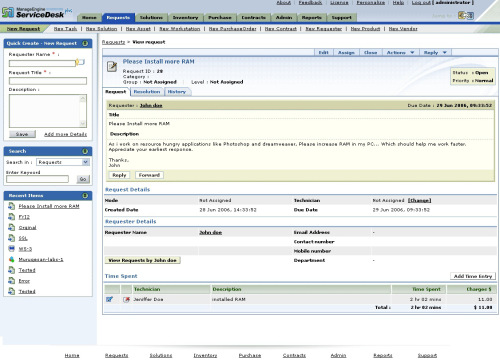 The help desk is the broad base of the IT service management pyramid. It is the face of IT to the end users. The development of an ITSM practice in any organization starts there, and adoption of all the other service management processes and tools assumes the existence of an organized, software-enabled service desk.
The thing is, this has been true for decades. Whatever has evolved in the IT infrastructure itself, and in all the more advanced ITSM processes and technologies that have made organizations' system architectures supportable from one generation to the next, the help desk has been the bedrock and has remained virtually unchanged.
The software that supports the service desk has reached an evolutionary stasis. There is plenty of demand; ManageEngine, a division of Pleasanton, CA based Zoho Corp., says its sales are in "nine figures" (USD), and ServiceDesk Plus has been a core contributor to that figure. But help desk software is now a commodity, offering no obvious opportunity for innovation to create a gap for a new entrant to fill.
The interesting opportunities are in applications that enlarge the ITSM footprint, extending outward from the help desk. And therein lies the potentially disruptive aspect of this move on ManageEngine's part.
Larger, more established companies like BMC Software, HP, IBM and CA have dominated the generally mature ITSM space, sharing it with a handful of upstarts such as ServiceNow and ManageEngine. The market has come a long way since the 1990s, when I was a direct participant; there were multiple dozens of barely-distinguishable help desk software offerings then, and consolidation had scarcely begun.
My experience then was as a marketer of Knowledge Management software to the ITSM space. The KM tool segment was a relative infant, overcrowded with start-up vendors focused on Problem Management which, like other ITSM processes, was grounded in the help desk and the higher level engineering functions to whom the help desk escalates incidents.
All of us in the KM segment had exuberant expectations for adoption of problem resolution tools, which promised higher first call resolution rates, faster help desk agent training and the like. It took much longer than most of us expected for KM applications to catch on. An important reason was that organizations were working their way through the process of help desk tool adoption, which was a huge, six- or seven-figure investment for a lot of companies. We understood that only when our prospects were out the other side of that decision process would they then get around to KM.
A lot of KM proponents underestimated the complexity of that decision. Knowledge bases were supposed to be everywhere by 2004 or 2005. It is only recently that problem management has really matured as an application for KM.
In that context, ManageEngine's decision to give away ServiceDesk Plus makes a great deal of sense. The real opportunity for ITSM vendors is higher up the infrastructure food chain:
Network Performance tools
Service and Application Monitoring
Security
Desktop Management and Deployment
Capacity Management
and other, higher-risk, higher-value ITSM processes. But all of these services are provided through tools that stem from the base platform rooted in the help desk. And each of these additional software components is an additional line item in a budget whose basic unit is a service desk "seat."
All of ITSM shares the basic market problem we had in KM tools: Each help desk agent already represented a sunk cost for automation. How much benefit must you be able to prove in hard dollar terms before the CIO begins to squawk about how much your license adds to the cost per agent? What is the maximum acceptable cost per seat – especially for what is generally regarded (let's face it) as a low-prestige, often outsourced job?
While there are fewer choices among ITSM platform vendors these days, the market is still highly competitive, and even for the highest-margin components of the suite, for the vendor, much depends on successfully establishing a beachhead in the service desk. For ManageEngine, the decision to cut the cost of the base help desk tool out of the equation seems fairly straightforward.
The company will still need to prove that its high-end components are functionally competitive with those of the market's leviathans, but the gamble seems logical. We'll know soon enough.
Via source