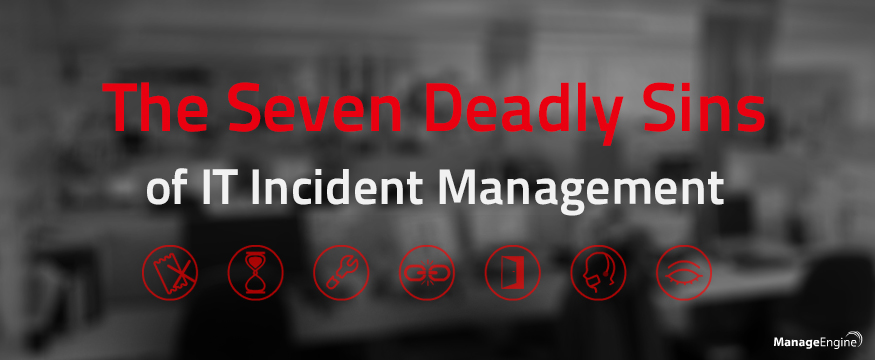 IT environments today are boiling cauldrons of complexity triggering incidents that can have major impact on business and user satisfaction, not to mention legal and financial implications. Incident Management teams race against time firefighting service disruptions and resolving incidents. In the already challenging and high pressure environment of Incident Management, you'll be wise to stay clear of these seven deadly sins, that if ignored, can send your service desk's reputation tumbling.
1.       Incorrect Ticket Assignments
When end users have visibility to the incident assignment process, incorrect and subsequent reassignments (passing the ticket from one support team to another or between individual technicians) can create a negative perception of the IT service desk organization. By the time the incident ticket reaches the right support team, precious resolution time is lost resulting in escalations and frustrated end users. Accurate incident categorization, the implementation of a Service Catalog, and automated routing of tickets that route incidents to the appropriate technician queues as soon as they land in the service desk help reduce incorrectly assigned tickets.
2.       Prolonged  Resolution Times
Resolution Time is an essential barometer to judge technicians' troubleshooting skills, technical expertise, and communication skills. A longer time to achieve incident resolution means increased support costs for the IT organization and dissatisfied users who do not see their incidents resolved quickly. Correctly prioritizing incidents can help manage technician workload and give them insight on tickets needing urgent attention. A well-defined SLA mechanism with resolution times and escalation levels can help technicians stay aware of deadlines. In addition, a comprehensive knowledge base of solutions and training collateral (indexed and searchable) can help speed up incident resolution times.
3.       Fixes Not Working
When tickets are reopened, most of the time that means they were not resolved right the first time or in other words, never resolved. A high number of reopened incidents suggest a poor quality of solutions provided by the service desk team. Improper closure of tickets without receiving confirmation from the ticket owner can result in reopening of incidents. Effective training and maintenance of a knowledge base help reduce "failed fixes." At the same time the service desk should have a mechanism to check with the end user if the resolution provided solves the issue.
4.       Frequent Violation of SLAs
When incident tickets miss the resolution SLAs, they become overdue and are escalated as a result. A high number of overdue incidents reflects poorly on the service desk's ability to meet incident deadlines. Overdue incidents can be avoided by setting up realistic SLAs, proper notification mechanisms (early warning systems) for technicians, accurate ticket routing, correct prioritization of tickets, and providing technicians the access to a knowledge base for speedy resolution of tickets.
5.       Not Closing Resolved Tickets
Closing a ticket is acknowledgement of the efficacy of the technician's solution by the end user. Tickets that may have not been solved but have been set to 'resolved' by technicians can never be addressed until they are forced to closure after confirmation from the user. Non closure of incidents after they have been resolved will result in skewed metrics data (like Incident Backlog) that is inaccurate and misleading despite efforts put in by the technicians.You must ensure that notifications are sent out to end users when the incident tickets are resolved so that users can check the solution to see if it solves the issue and confirm closure. There should also be a mechanism to automatically close resolved tickets after a specified time when there is no response from the end user.
 6.       Lack of a Communication Strategy
When end users have to keep contacting the helpdesk back for updates on outages or incident tickets, it does little to improve their experience or satisfaction and only adds to their frustration. A strong communication strategy should aim at engaging in timely, informative, proactive, and transparent communication with end users. Be it communicating a service disruption with regular updates along the way or providing a status update on the incident ticket, effective communication builds end user trust on the service desk. With plenty of channels like email, intranet, chat, and social media available, your communication strategy is going to be key to maintaining your end user relationships.
7.       Closing your Eyes to a Problem
When you solve an incident are you fixing just the symptoms or the root cause itself? When you see an increased frequency of repeat incidents it means that the underlying root cause has not been fixed. Though individual incidents raised may be resolved within the SLA time, repeat incidents steal technicians' time away from other important issues reducing productivity and ultimately, the service desk output. To overcome this, you must have a process for an incident to be converted to a problem or linked to one for further analysis and resolution. All repeat incidents must be able to be linked to the problem if the service desk decides to close the incidents only after the root cause is fixed.
To get your Incident Management in order, it is important that you weed out these seven sins if they appear.  When left unattended, they can destroy the smooth running operations of your service desk and show your team in poor light. It sounds like it's time to get kicking into action and give those sins the burial they deserve.