Walking the way and not showing the way
Earlier:
In our previous trainings
– We shared ServiceDesk Plus best practices
– You tried to implemented them
– Results: Only a very few got implemented
New and Improved:
– SDP Experts work with you, understand your problems.
– We (that includes You too) implement best practices in your Office / environment
– And then SDP Experts share the implemented best practices and how to keep improving on them
The New and Improved training would be great for customers who just purchased ServiceDesk Plus recently in past 4-6 months. The training program can help you make the right start.
Customers who have already rolled out ServiceDesk Plus to one location/ department and planning to expand can make sure that you make all the right moves. 8)
Book your Training Now, Let's implement an efficient helpdesk….. together
Training Agenda
——————-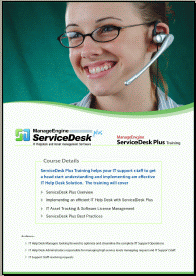 Duration:
———-
2 days (May extend to 1 more day, if there are implementation delays)
Cost
——
$ 2995 for 5 technicians – improved training at the same price 8)
(There will be an additional $1000 towards the SDP Expert's travel and lodging if you not in CA or NY)
For more info:
Email: alexdpaul at adventnet dot com
Help line: 925 965 6300