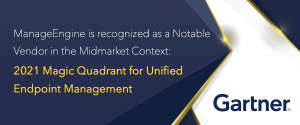 There's no doubt in my mind that Gartner Midmarket Context: Magic Quadrant report is the most important of all Magic Quadrants up to this point. With COVID-19 forcing a large amount of the workforce worldwide to move from their offices to work-from-home environments, unified endpoint management and security has been essential in enabling businesses to continue to operate securely.
At ManageEngine, we are constantly evolving our solutions to meet these dynamic market needs. We believe our recognition in the Midmarket Context: 2021 Magic Quadrant for Unified Endpoint Management (UEM) proves that our efforts have been channeled in the right direction.
According to Gartner, "By consolidating client management, mobile device management (MDM), patching and other endpoint management tools into UEM tools, MSE IT staff will gain time to focus on innovations to improve the end-user experience."
In its report, Garner advises, "MSE infrastructure and operations (I&O) leaders should select a UEM tool based on its ability to fulfill the majority of their functional requirements. For example:
● Ability to provide a single management interface for all devices
● Offers automation during setup and administration to minimize operational costs
● Flexible licensing bundles and options to fit various budgets
● Integration with or inclusion of adjacent technologies (one tool fits all)"
Download the report here.
ManageEngine is a pioneer in solving enterprise challenges around device management and security and has a history of innovation in the marketplace. ManageEngine Desktop Central is a comprehensive UEM solution that helps manage servers, desktops, laptops, mobile phones, tablets, point-of-sale (POS) machines, and other Internet of things (IoT) devices across multiple operating systems including Windows, macOS, Linux, Chrome, Android, and iOS. This UEM solution automates the complete endpoint management life cycle from start to finish.
Desktop Central offers, from the same console, a full set of solutions for both modern management and traditional client management through a single agent and a single workflow. Now, IT admins can easily deploy zero-touch device provisioning options like Windows Autopilot and ABM while simultaneously benefiting from granular device management capabilities well beyond those achievable through MDM APIs.
We are proud to say that as of today, over 16,000 organizations actively use Desktop Central for their endpoint security and management needs. We believe this latest recognition from Gartner validates our mission to provide organizations of all sizes with the world's best endpoint management solution.
Onwards and upwards:
This recognition has lifted our spirits, and we plan on pushing our boundaries further this year.
Wondering what all the buzz is about? Download a free, 30-day trial of Desktop Central and see for yourself. If you'd like to learn more about how the product works, try a quick demo.
ManageEngine has also been recognized as a Gartner Peer Insights Customers' Choice for Unified Endpoint Management Tools in every cycle since it began in2019 . ManageEngine Desktop Central received the most reviews in the last 12 months, and was rated 4.5/5 with 87 percent of users willing to recommend the solution to others.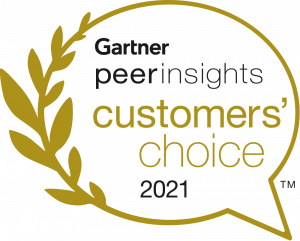 Our solution is the strategic choice for users who need a UEM solution.
 Take a look at what some of our customers are saying on Gartner Peer Insights this past year
"Bang for your money if you need to manage a lot of different types of devices." – Senior infrastructure specialist
"Desktop Central is a life-saver for our healthcare organization!" – IT network manager
"A must-have modern unified endpoint management solution." – Senior system admin
"Desktop Central – game changing endpoint management." – IT manager
"Great solution for centralized endpoint control." – CISO
"Desktop Central – great unified solution for managing organizational devices." – Decision analytics associate
Ready to enhance your organization with UEM? Get started with Desktop Central. Start exploring now.
Gartner, Mid-Market Context: Magic Quadrant for Unified Endpoint Management, Dan Wilson, William Maurer, Chris Silva, 25 January 2021