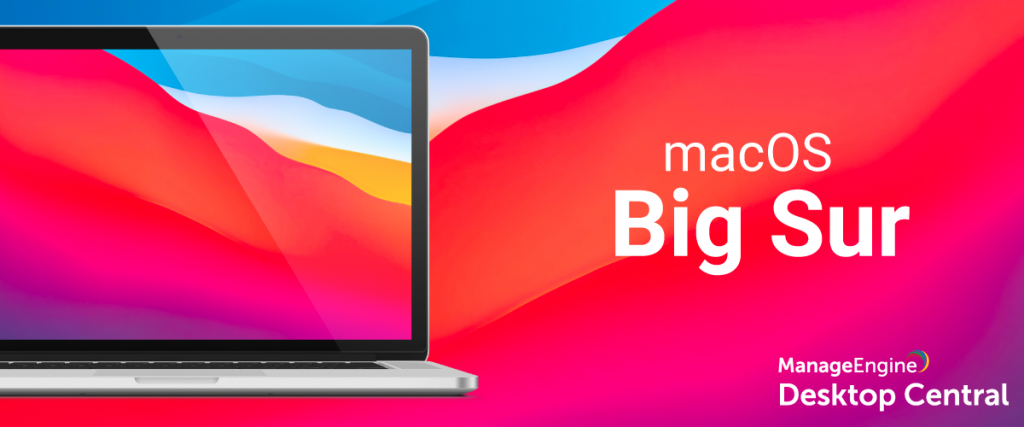 A new iOS update, macOS 11 Big Sur, has been released, and it includes several exciting new features. As with most Apple OS upgrades, some users will want to install it immediately, but organizations might want to delay its deployment to ensure the new OS has been validated in their production environment.
ManageEngine Desktop Central is the ideal tool for managing OS upgrades in your network. It ensures that your IT team can either delay or deploy the latest macOS 11 Big Sur and stay in line with your organization's specific requirements.
Note: It is recommended that you to upgrade to Desktop Central 10.0.648 to provide complete support for the macOS 11 Big Sur. (You can download the 550mb .PPM file here.)
Deploy Big Sur upgrade:
Deploy a patch to upgrade to macOS Big Sur. Learn more.

Deploy using a configuration. Learn more.

End-users can install via the App store.
Defer/Block Big Sur upgrade
You can block the Big Sur update using a configuration. To prevent the end user from deploying the OS update in any method, please refer to this document. In the future, if you want to deploy the Big Sur upgrade, delete the configuration.
Note:
Bundle Identifier is com.apple.InstallAssistant.macOSBigSur
Installer Name is Install macOS Big Sur
You can also disable the automatic update using the following steps:
1. Deploy AppStoreAutoUpdateDisable.sh from script repository to Mac Devices to disable auto update to Big Sur.
2. Use the System Preferences computer configuration and restrict Software Update to block users from manually upgrading to MacOS Big Sur.
Will the latest macOS 11 Big Sur affect Desktop Central?
In a nutshell, macOS 11 Big Sur has enhanced security, and given end users decision-making options. As a result, you can expect the following changes:
Big Sur doesn't support silent installation in Apple devices. End users will be prompted each time to install and deploy profiles. Desktop Central enables your end user to install an MDM Profile that facilitates modern management in Mac devices.

The end user will be prompted to install an MDM profile in Mac devices to facilitate complete Mac support. Installing an MDM profile is a one-time process that eliminates the ongoing need for this end-user action.
How does an MDM profile work?
Since Mac needs end-user approval to manage the device, an MDM profile is installed to support complete Mac management from deploying configurations to initiating remote sessions and so on. An MDM profile has to be deployed by users to machines managed with Desktop Central. Learn more about configuring an MDM profile.
Support for Apple Silicon Laptops
On November 10, 2020, Apple announced its ARM-based laptops with custom architecture. Apple Silicon processors can run apps that are compiled for the Intel chipset through a software technology known as Rosetta 2. This translation layer is automatically enabled in macOS Big Sur,  and provides users with access to all features in Desktop Central Agent. In short, Desktop Central efficiently supports these new laptops.
If you haven't tried Desktop Central yet, you're missing out on an exceptional holistic, unified endpoint security and management resource. Sign up for a free trial to manage and secure unlimited endpoints in your organization. Get started today.