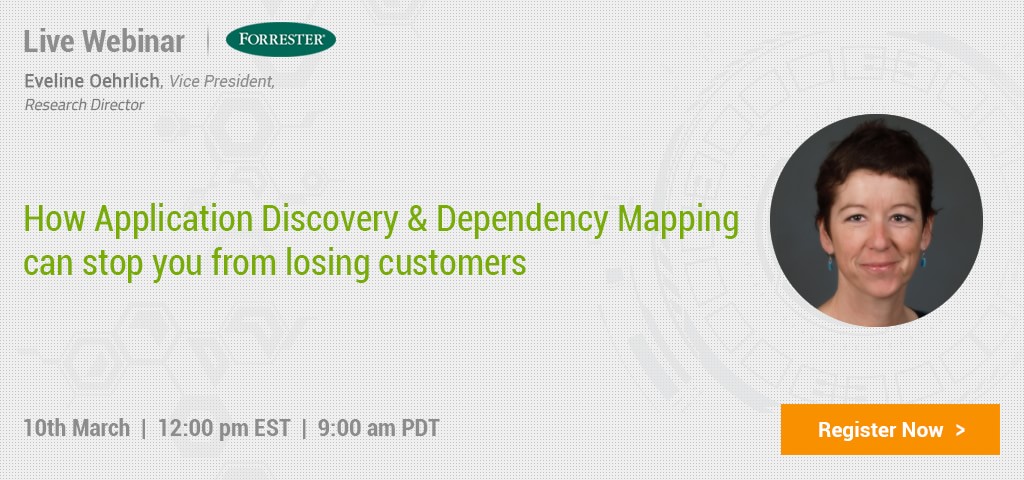 ​
With
ever shortening technology life cycles, change is not only constant but also quite frequent in today's IT enterprise. So can your business keep up with such rapidly evolving IT
? To stay on top of the change management game, you need to know exactly WHAT components
​
constitute
your IT setup, exactly WHERE each of them are, HOW they all are interconnected, and WHICH business service depends on each component. Otherwise, your IT will perpetually be one domino fall away from collapsing upon itself.
Even a single unplanned change being introduced could potentially cause effects that ripple throughout your organization's IT.
By the time you
​
g
et down to the root
cause
and take
…
READ MORE
Join 
Forrester
and 
ManageEngine
on a free, one-hour 
webinar
 that will help you discover ways to unlock the true prowess of application monitoring. Learn how to fully leverage the capabilities your APM tool to give your business that much-needed boost.
John 
Rakowski
, 
Forrester's
 leading analyst and 
advisor
 working with infrastructure and operations professionals, will be the keynote presenter. 
John has been helping IT leaders and their teams understand the business value of service management, develop their strategies, evaluate and select vendor tools, and implement service management processes. Now, it's your turn!
He will also be joined by B 
Arun
, a senior marketi
…
READ MORE
​Christopher DiLorenzo, head of IT infrastructure at Bridge2 Solutions, tells us how Applications Manager ​helped fill the gap in collecting performance metrics that were being ignored by the company's ​previous monitoring tool. Based out of Alpharetta, Georgia, ​Bridge2 Solutions is a leading provider of marketing solutions platform that provides innovative marketing and fulfillment solutions to leading financial institutions, loyalty programs, and Fortune 500 companies. ​"Basically, what we sell is a web application," explains Chris. Bridge2 Solutions's partners place a high priority ​on SLAs such as response times and page load times. …
READ MORE
​"The complexity of APM solutions will continue to decrease, making them lower cost and easily implemented."
Jonah Kowall
Research Director in Gartner's IT Operations Research Group ​"Smaller [APM] boxes/solutions ​with less features but advanced capabilities and an emphasis on ease of use, to target mission critical pain points, will do well in the wider market."
Michael Azoff
Principal Analyst, Ovum
Towards the end of 2013,
Gartner, Ovum, and other industry experts
sounded the death knell for monolithic, end-to-end APM solutions with exhaustive feature sets. With an alarming degree of certainty, no less. The same experts also heralded the rise of "smal…
READ MORE
In SQL Server, statistics can be created using CREATE STATISTICS command or using CREATE INDEX command. At the feature level, the statistical information created using CREATE STATISTICS command is equivalent to the statistics built by a CREATE INDEX command on the same columns. The only difference is that the CREATE STATISTICS command uses sampling by default while the CREATE INDEX command gathers the statistics with fullscan since it has to process all rows for the index anyway. A typical command will look like:
CREATE STATISTICS [IX_Stats_City]
ON [Person].[Address]([City])
WITH SAMPLE 50 PERCENT;
In this command, we are sampling 50% of the rows. For bigger tables, a random sampling may not produce a…
READ MORE
Every year at Oracle OpenWorld, Oracle technologists, customers, and partners come together to learn, discuss, and optimize Oracle. This year, it's slated to be held at the Moscone Center in San Francisco between September 22 and 26, 2013. We'll be there this year as well. So, if you plan to be at the event, join us at booth #2220. At the booth, our experts will be exhibiting and conducting live demos of
Applications Manager
, our application performance monitoring solution. Using Applications Manager, you can proactively track performance of your business-critical applications and servers, regardless of whether they are running on physical, virtual, or cloud environments. You can also monitor the…
READ MORE
The Red Hat Summit in Boston kicks off in less than a week. This is ManageEngine's first participation at the Summit and we are really excited to be there this year! ManageEngine is proud to host The Red Hat's 9th Summit as a bronze partner at the event.
The Red Hat Summit
 is a premier open source technology event that showcases the latest and greatest in cloud computing, platform, virtualization, middleware, storage and systems management technologies. ManageEngine will be showcasing  
Applications Manager
, a server and application performance monitoring software that helps businesses ensure high availability and performance of their business applications. Applications Man…
READ MORE
In today's complex business environment, the first question thoughtful IT leaders ask when
considering any new IT investment or change is, 'How will it impact the business?' That the
business depends on well-managed IT is well understood. What is less well understood is how an
IT organization can manage an infrastructure that is growing ever more complex. It's not just the
network infrastructure that IT teams need to consider; it's not even the increasingly complex
application infrastructure that stands between the
…
READ MORE
Quality end-user experience is what keeps your customers coming back for more.  As application architectures become more complex and cloud and mobile trends drive user expectations higher, it's more important than ever to understand how your customers and users experience your application. For web-enabled, customer facing applications, monitoring real users in real time is the best way to ensure great application performance. Applications Manager goes beyond application performance monitoring to provide comprehensive insights into your business-critical network services. Ensure that your web services are available and meeting response time goals for your local and global users, pinpo…
READ MORE
This is the first of a series of posts where I'm going to share some Applications Manager tips and tricks, some of which you might have missed due to oversight. If you are an Applications Manager user with over 500
+
monitors configured, you will have a plethora of performance metrics and reports to look at. However, there will be certain servers and metrics that are more business critical than others. What's better than having the KPIs of multiple apps in a single page! Dashboards will let you do that. By default, the dashboards can be viewed under the Home tab of Applications Manager. This week we will look at couple of tips related to the dashboard. Quick Tip 1:
Set dashboard as a tab
The tabs in Applications Man…