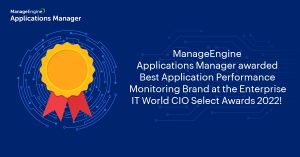 We are thrilled to announce that ManageEngine Applications Manager won Best Application Performance Monitoring Brand at Enterprise IT World's CIO Select Awards 2022, which took place in Bangalore along with Enterprise IT World's Hybrid Cloud Summit & Awards 2022.
Among many reputable organizations offering application performance monitoring (APM) tools, our product stole the show by having the most efficient and user-friendly features.
"Our product's uncompromising quality and promise of improved performance and efficiency for our customers' software are the two pedestals that lift Applications Manager to great heights," said Arun Balachandran, Senior Marketing Manager at ManageEngine Applications Manager, about the achievement.
While we work on making IT management easy for you, take a look at what all the hype is about.
A veteran in the industry: As a visionary player in the industry for over 15 years, Applications Manager has become one of the go-to brands for APM. We believe prioritizing the customer experience and continuous reinvention has helped us stay ahead of the competition.
A single-stop solution: Applications Manager supports monitoring for more than 150 technologies, including application servers, databases, virtual machines, cloud applications, containers, big data, ERP software, web servers, and services, in both cloud and on-premises environments—all from a single console.
A multitude of features: Applications Manager provides a wide range of features that allow admins to monitor software from multiple vendors without any hassles or collisions of contrasting KPIs. Report generation and alerting are done from the same console, eliminating the need for multiple native monitoring tools for firms that work with complex IT infrastructures.
Affordable pricing: Our pricing model is transparent, with no hidden costs, and is available on our website. Our products are not only affordable but also scalable from startup to enterprise business.
Fascinating? Totally. Schedule a personalized demo and learn how Applications Manager can meet your business requirements. Get hands-on experience with our tool by downloading our free, 30-day trial.