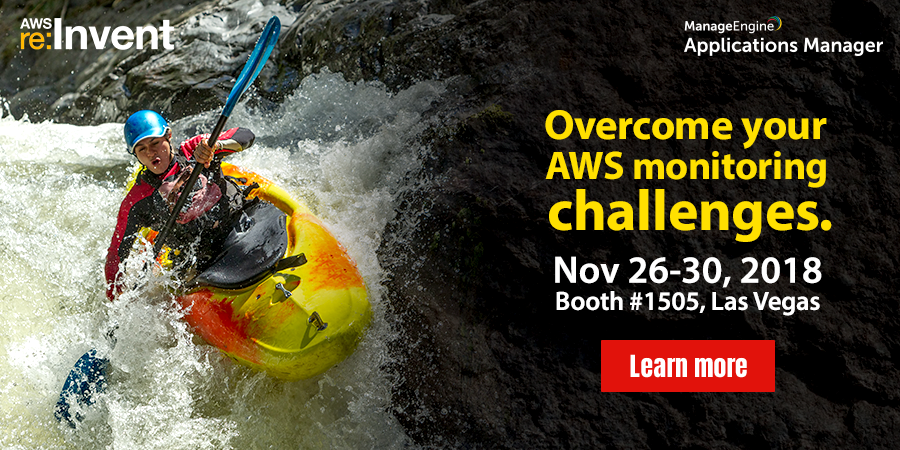 Get ready for the most happening event of the year! AWS' flagship event AWS re:Invent is all set to take place from November 26-30 in the beautiful city of Las Vegas. Whether you're interested in sessions, hackathons, networking, technical content, or all the fun activities, we can assure you that the AWS folks have got you covered.
AWS is undoubtedly the largest cloud computing platform. Amazon CloudWatch is the default service that provides visibility into AWS resources and customer applications running on AWS infrastructure. However, the lack of capabilities like dynamic alerting, event correlation, and data retention may prove to be a hinderance while implementing Cloudwatch.
That is exactly why you need to use CloudWatch in conjunction with an industry standard monitoring solution such as Applications Manager. Applications Manager's advanced monitoring, alerting, and event correlation capabilities—as well as its longer data retention cycles—provide you with deeper visibility and help you cut costs when you scale.
If you're in Las Vegas this coming week for AWS re:Invent, be sure to swing by booth #1505 and say hi to the team behind Applications Manager.
Our team will help you learn how to:
Guage the limitations of Amazon CloudWatch and will show you how to go beyond CloudWatch to get full visibility into the health and performance of your AWS resources.

Track the key performance metrics of EC2 and RDS instances in production, EBS volumes, SNS, S3, DynamoDB, Amazon Aurora, and other AWS services.

Use Applications Manager to monitor multiple cloud platforms, such as Azure and OpenStack, alongside AWS.

Monitor the health of your physical and virtual infrastructure along with your cloud resources.

Identify and remediate application issues, such as slow response times, out of memory errors, and unexplained CPU spikes, then take corrective action before your end users are affected.
With just a few hours left until the event, the Applications Manager team is looking forward to a jam-packed week of learning, fun, and networking. See you there!