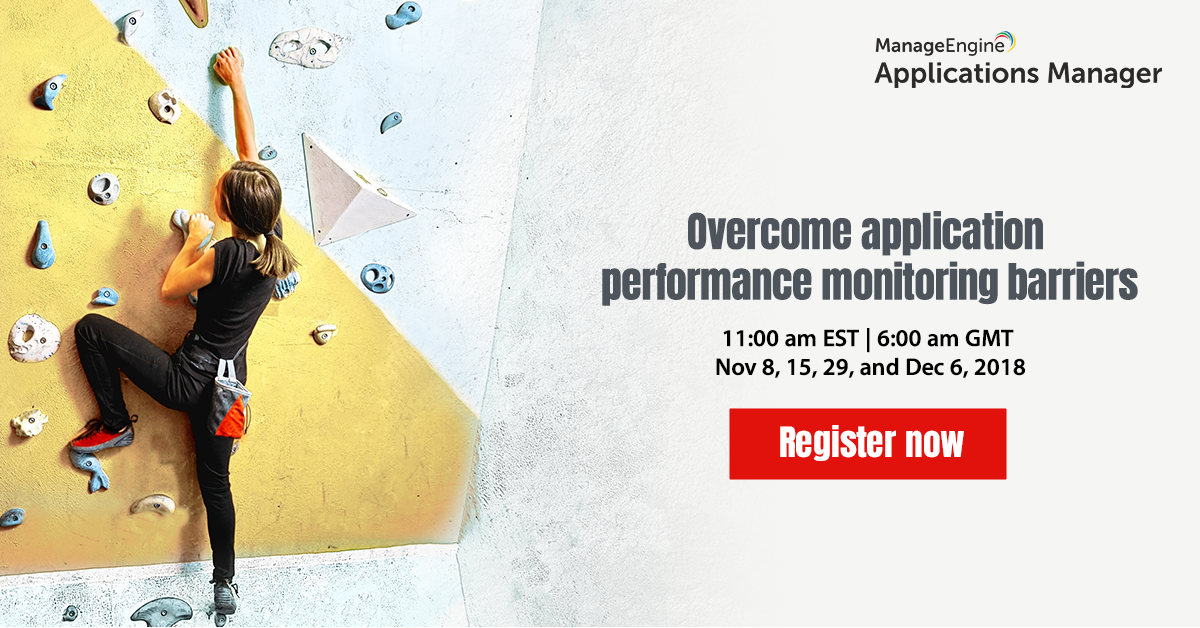 One of the greatest challenges of monitoring applications is the lack of holistic, actionable insights for key application components. For example, assume you own an e-commerce website. To power it all, you rely on both a hybrid cloud infrastructure to help deliver the site's IT infrastructure, and an application monitoring tool to support reliable, scalable application delivery on top of that infrastructure. However, this setup leaves you in the dark about the cause of downtime, so you also need to track key metrics like availability, health, and capacity.
You need deep visibility into your application so you can quickly identify and address issues that might cause performance problems down the road. This is exactly why we've come up with the four-part Applications Manager training series. Our free training will teach you how to:
Isolate and eliminate performance bottlenecks faster.

Configure systematic alerts for issues causing performance degradation.

Plan for effective capacity using several strategies.

Gain deep visibility into key metrics of your business-critical applications.
What and when:
Time:         11am EST (Europe, USA, Canada, Mexico)
                    6am GMT (Middle East, Asia, Africa, Australia)
Duration:   1 hour each
Nov 8th:    IBM Db2 and System i monitoring (includes AS400)
Nov 15th:  Cloud monitoring tips for your digital transformation plans
Nov 29th:  End-to-end ERP performance monitoring
Dec 6th:    Why you should monitor your middleware
See you at the training!