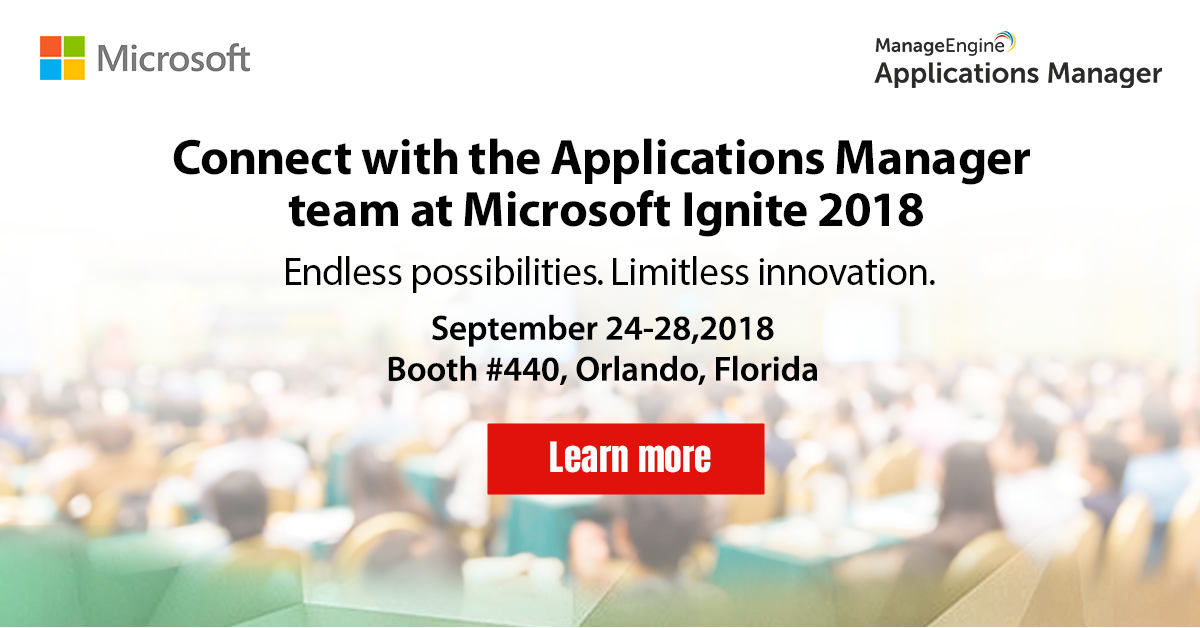 It's time again for Microsoft Ignite!
Thousands of the tech industry's brightest minds will descend on Orlando next week, looking for conversations on trending topics and seeking solutions to some of their most complex IT challenges.
One of the most critical challenges that will be discussed is making sure Microsoft-based applications and services work as expected in production environments. For most organizations, Microsoft applications form the core of their IT infrastructure, and that's why it's critical to focus on monitoring the entire Microsoft stack, from virtual and cloud environments, to business-critical apps.
Whether you're an IT admin looking to ensure high availability of Microsoft technologies or a DevOps team member looking to detect bugs in applications developed on .NET Framework, application monitoring should be a top priority. Here's where Applications Manager comes into the picture: Applications Manager is an end-to-end application performance monitoring solution that gives you insights into your Microsoft and non-Microsoft applications.
Here's a glimpse into what you can do with Applications Manager:
Use a single platform to monitor your Microsoft infrastructure. Monitor the health, performance, availability, and configuration of your servers (Window Server), databases (MS SQL), on-premises apps (.NET, SharePoint, Exchange, Lync, Dynamics CRM/AX, BizTalk), cloud applications (Azure, Office 365, Hyper-V, etc.), services (Active Directory, IIS, etc.), and more.

Automatically discover application topologies and visualize application dependencies with ease. Easily drill-down IT relationships and map them effortlessly.

Track key metrics of your Microsoft applications like memory utilization, HTTP requests, data receive/transfer rate, offloaded connections, outbound packet errors, traffic utilization, and much more.

Detect and resolve unplanned outages across your Microsoft infrastructure and applications faster with the help of root-cause analysis and code-level analysis.
Analyze performance trends with over 250 pre-built reports and dashboards.
Apart from providing in-depth monitoring for Microsoft applications, Applications Manager supports other non-Microsoft technologies such as Oracle, Apache, IBM, VMware, and so on.
We're looking forward to insightful conversations with customers, partners, and community enthusiasts at Ignite 2018. Come join the Applications Manager team this year at Booth #440—we'd love to meet you there!