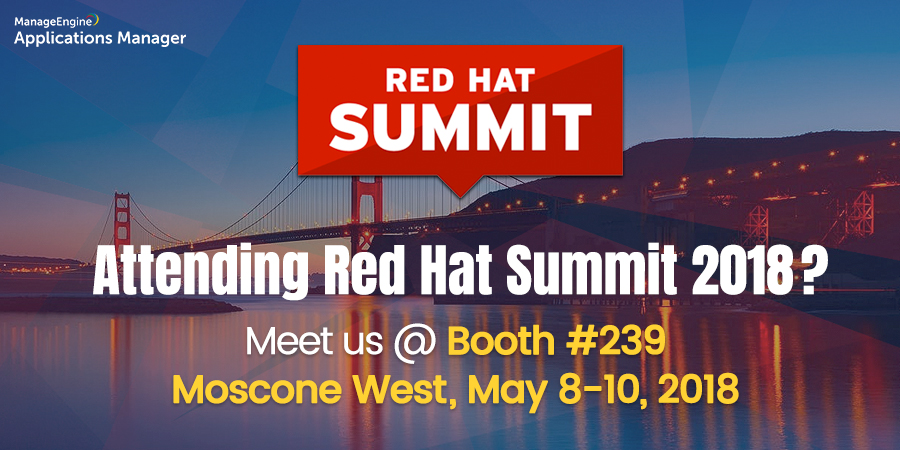 Are you a total technophile? Are you perpetually curious about the endless possibilities of open-source software? If you answered yes to either of these questions, then the Red Hat Summit is the event for you.
The summit kicks off on May 8th and runs until May 10th, featuring presentations, networking sessions, training, certification opportunities, as well as hands-on labs held by subject experts on everything from API management to software storage. If you're planning on attending, drop by and say "hi" to the Applications Manager team at booth 239.
We've always valued the Red Hat Summit. In fact, we've been using Red Hat products—specifically JBoss, Linux, and Ceph storage—for over a decade.
Come visit our booth and:
Get a quick preview of industry trends in the areas of application monitoring, hybrid cloud infrastructure, Docker containers, cloud platforms, and much more.
Get your questions answered by our product experts, and learn what Applications Manager, our application monitoring solution, can do for your business.
Learn how open-source software is driving innovation in mobility, optimization, virtualization, middleware, storage, monitoring, and many other areas.
Apart from booths, the summit offers various sessions like Birds-of-a-Feather, Breakout, and Discovery, as well as instructor-led labs and many other activities where you can interact with fellow Red Hat enthusiasts.
We're looking forward to insightful conversations with customers, partners, and community enthusiasts. So come join us this year at the Red Hat Summit—we'd love to meet you there!