Minimal investment on infrastructure and the promise of less maintenance are luring many organizations away from Exchange Server and towards Office 365. After spending considerable time choosing a suitable Office 365 plan, your next question might be, How do I migrate my mailboxes? This is where personal storage table (PST) files come in.
PST files store all your mailbox contents including emails, email attachments, contacts, and calendars. PST files are primarily used for storing emails locally and transferring mailbox contents to a new mailbox or to the cloud (Office 365, in this case).
Migrating your mailboxes with the Office 365 admin center
Migration using the Office 365 admin center involves the Exchange Admin Center (EAC) and Exchange Management Shell (EMS), a command-line interface. Mailbox export requests should be made in the EAC or EMS. However, mailbox requests can be modified, suspended, resumed, or removed only through the EMS.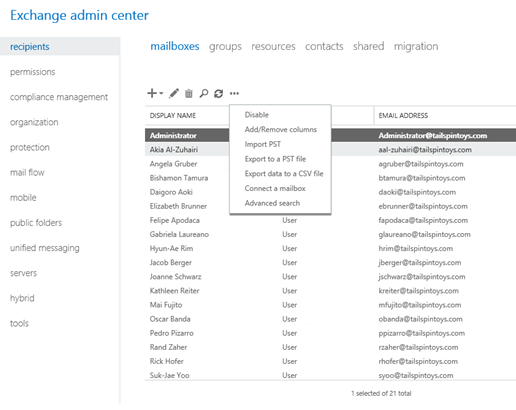 Another setback in using the EAC is that it doesn't allow you to export mailboxes to PST files in bulk. You need to rely on the EMS, which requires expertise in scripting. This means you need to use PowerShell scripts in the EMS to export or import mailboxes in bulk.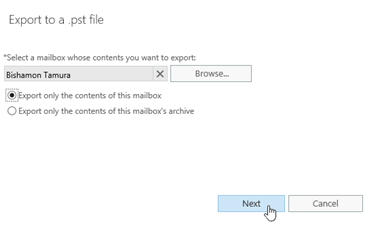 Migrating mailboxes with our PST Migration Tool
The complexity of using the EAC and EMS is compelling IT administrators to go for a third-party solution like our PST Migration Tool. With this free tool, you can:
Export mailboxes in Exchange Server and Exchange Online to PST files.
Import PST files in bulk to Exchange Online mailboxes.
You don't have to search through help documents to learn how to use it. Just configure your Exchange Server account and Exchange Online tenants and you're ready to go. It's as simple as that. No scripting, and no toggling through consoles!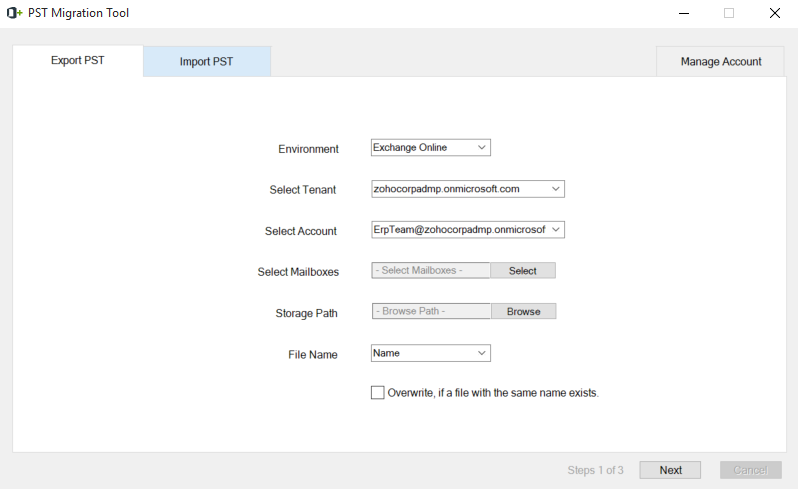 The PST Migration Tool is only one of the tools in ManageEngine's free tool suite.  Download the PST Migration Tool and get access to nineteen other free tools. Click here to learn all about them.
Other uses of the PST Migration Tool 
PST files are not restricted to mailbox migration alone; they cover many other purposes, including:
Overcoming mailbox size restrictions: Email storage is at a premium. Email administrators have historically restricted the amount of storage available to users on the mail server to improve performance, reduce backup times, and ensure overall smooth operation. As a result, PST files provide end users with a means of expanding their email storage by creating and maintaining one or more local archives.
Backup and recovery: If you don't have an email administrator who regularly backs up your email server, then exporting your emails to a PST file is a fast and easy method to ensure you can recover your mailbox data in case of any mishaps.
Portability: PST files make email portable. You can move email from one mailbox to another, or keep your personal and work emails with you at all times by storing them on a USB drive.
Get ready to migrate
The PST Migration Tool saves you the time spent on figuring out how to use the admin center, and in finding a tool that can help you script expertly. Experience hassle-free migration with this free tool. And now that you are into Office 365, you might also want to take a look at our Office 365 administration tool, O365 Manager Plus.