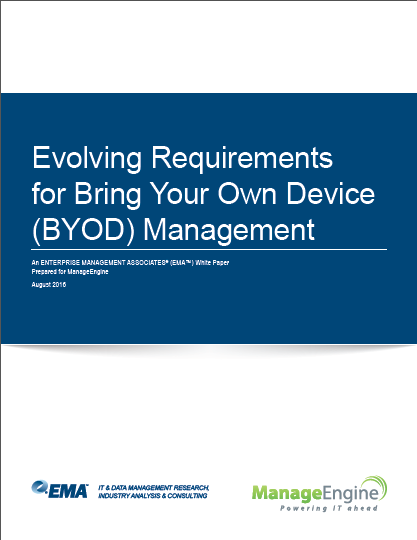 While the bring your own device (BYOD) trend helps organizations reduces infrastructure costs, only a fraction of those organizations
— 16 percent — are fully equipped to support BYOD programs.
That's one of the many findings revealed in
Evolving Requirements for Bring Your Own Device (BYOD) Management
,
  a new white paper
by leading IT research firm EMA and ManageEngine. 
  Written for IT managers charged with managing mobile devices, the white paper offers valuable advice to anyone struggling to handle the diverse array of devices coming into their company while ensuring business information
remains secure.
Evolving Requi
…
READ MORE
This
week's five
is a weekly column on five recent reads from all over the web. This week, we'll talk about
IT security
.
"The computer is a moron."
– Peter F. Drucker
An eminent thinker, Drucker's intention wasn't to undermine the amazing capabilities of computers. He merely underlined the fact that computers don't make their own decisions—they just follow orders, regardless of who's giving the
m.
As long as the command syntax is correct, computers do what they are told.
And unfortunately, all our advances, including those in IT, depend
on these digital morons. No wonder IT is never safe.
"There are only two types of companies: Those that have been
…
READ MORE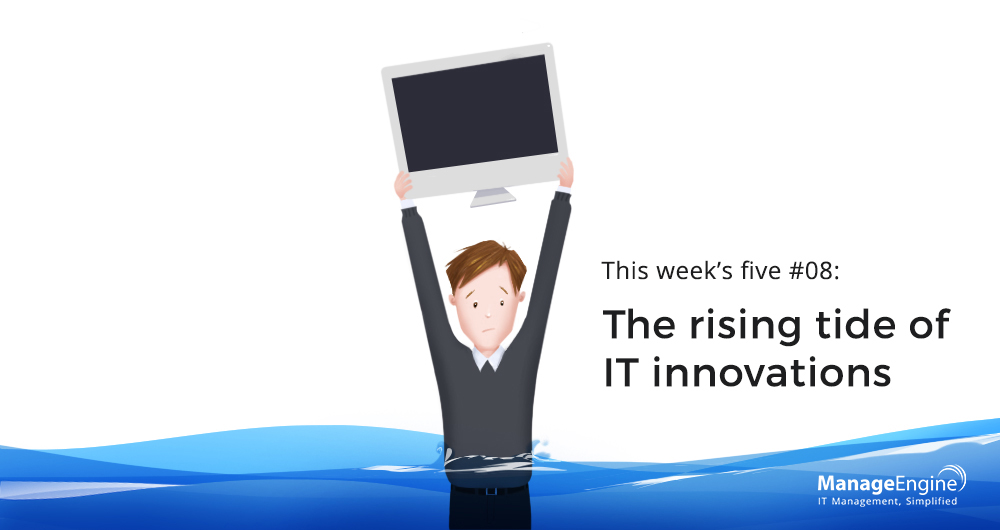 This week's five
is a weekly column on five recent reads from all over the web. This week, we'll talk
about the
risks and challenges involved with IT innovations
.
Digital transformation has taken many shapes over time. There was a time when installing a room-sized mainframe was
the
big step for digital transformation. Today, there's no one big step. Instead, there are several. The cloud could be called
a big step. Mobility could be called a big step. E
ven
IoT
could be called a big step. All these technologies are like
waves. And the rising
tide
, whether good or bad, always brings something extra along with it. In short, digital transformation doesn't come without risks and challenges.
Compared
to the cl
…
READ MORE
This week's five
is a weekly column on five recent reads from all over the web. This week, we'll talk about some facts and figures
on
digital transformation
.
IoT, cognitive computing, cloud, machine learning, wearable tech. Big names, huh! These are the names
of technologies you should be acquainted with. There's
a set of interconnected
mainframes and devices
— whether hardwired, wireless, or virtual– that your business depends upon. It's called the IT, the nervous system
of your business. And these technologies are going to have
a huge impact on your IT, and thus your business, whether you like it or not. So, you better be prepared.
Digital transformation is buzzing everywh
…
READ MORE
This week's five
is a weekly column on five recent reads from all over the web. This week, we'll talk about the
chief information o
fficers.
"More and more, every company is becoming a technology company. We
CIO
s are the leaders and stewards of this new economy."  
– Rob Meilen, 
CIO, Hunter Douglas
Chief information officers. Who do you think they are?
They are senior business executives who handle a company's IT strategy, implementation, and operation
s.
With companies beginning to use multiple and new technologies, the role of a CIO has only become more pronounced. According to a recent
survey
, in the UK alone, a tech company is born every hour. Such an exponential growth fu
…
READ MORE
This Week's five
is a weekly column on five recent reads from all over the web. This week, we'll talk about
IT security
.
"I get hired by companies to hack into their systems and break into their physical facilities to find security holes. Our success rate is 100%; we've always found a hole."
–
Kevin Mitnick
How do you feel when you go back to your
workplace
after a weekend, switch on your computer, go through your accounts, and find out that nothing bad has happened? Lucky? Well, probably not. It might be just another day at work for you. But
, trust me when I say this, you should definitely feel lucky. There are many not-so-
lucky ones out there.
Anthem wasn't so lucky when its
datab
…
READ MORE
What is mobile-first, and how can enterprises be mobile-first? Enterprises that realize that mobile devices are primary tools for employees to get work done are referred to as mobile-first enterprises. Enterprises are slowly but surely opening up to the idea of their employees using mobile devices for work. A research study by Juniper even suggests that there will be one billion employee-owned devices by 2018. It is imperative that enterprises start preparing their monitoring capabilities to withstand the barrage of mobile devices that will come into their environment over the next few years. While the mobile transition is happening, another transition that enterprises are making is the move to a hybr…
READ MORE
Email
is an indispensable business communication medium. It's fast,
targeted, and makes it simple for the recipient to respond. With mobile devices transforming workplaces,
email communication has become
more pervasive and valuable
. Unfortunately, this transformation has a dangerous
side effect: data leakage due to the vulnerability of the mobile devices.
Clearly,
email security is the need of the hour. With the
arrival
of mobility management tools, one practical way of securing email is by managing the mobile devices that access
email. You can do just that with
Exchange ActiveSync's
conditional email access
for mobile devices.
READ MORE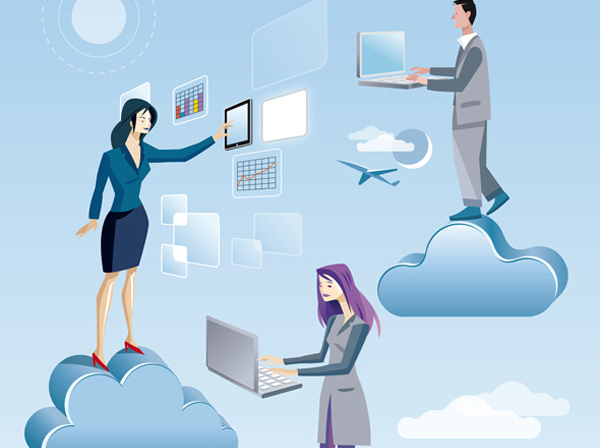 The cloud is a game changer for the IT industry, optimizing data storage and operations. As
Mobile Device Manager Plus
embraces the SaaS model with the launch of its cloud edition, here's a highlight of the top five benefits of a cloud-hosted MDM suite.
#1 Reduced infrastructure expenditure.
The cloud edition of Mobile Device Manager Plus doesn't require anything more than a good computer with a functional
operating system  and a browser. This means you don't need to purchase any additional hardware or software
solutions to run the MDM suite. Small businesses with little  capital investment will find this aspect particularly beneficial.
#2
Streamlin
…
READ MORE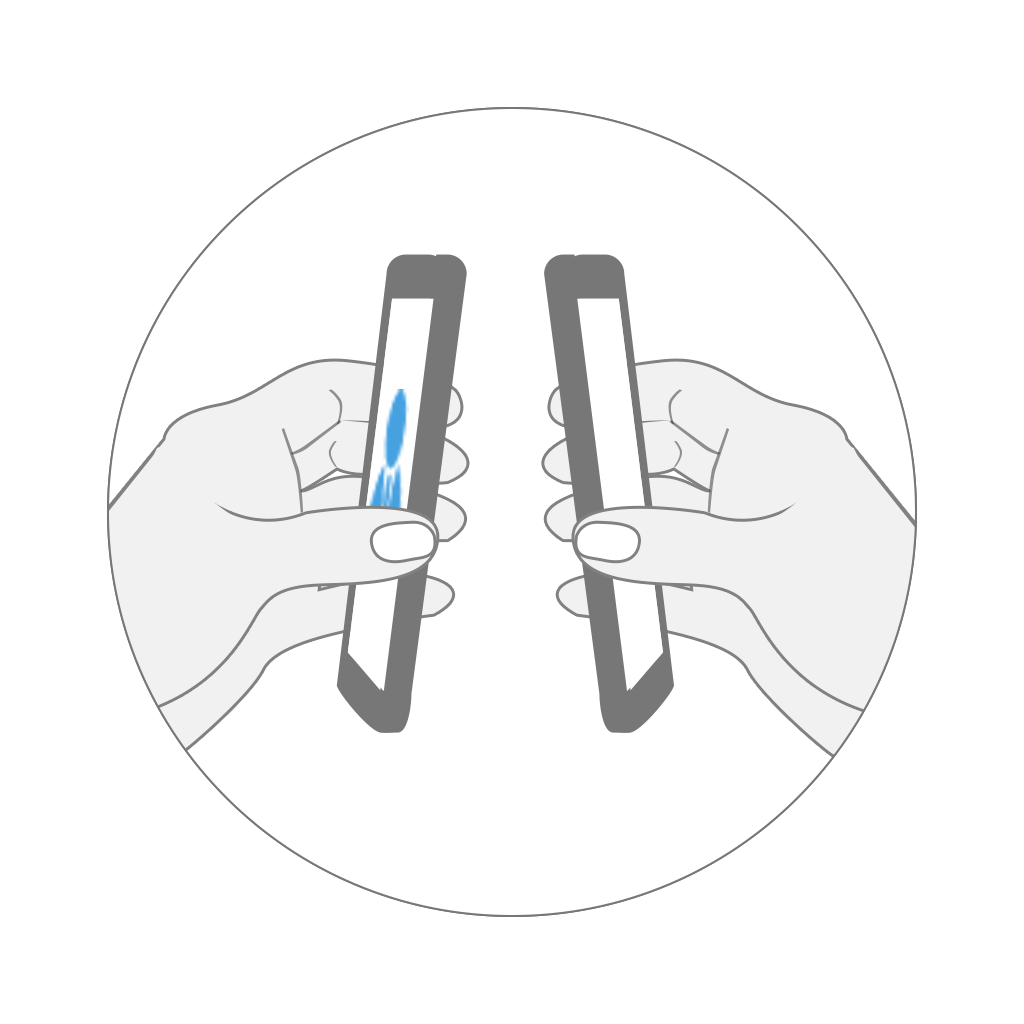 Bulk enrollment of corporate devices has always been a tedious task for
mobile device management (MDM) IT administrators
. As a silver lining for Android devices,
ManageEngine Mobile Device Manager Plus now comes
with an innovative method that will make bulk Android device enrollment easier than ever.
  This novel feature
simplifies the process to a bare minimum of just
bumping
devices to enroll, which saves both time and effort.
Piqued your curiosity? Read on.
What it's about.
This feature is called Android NFC Enrollment. Near Field Communication (NFC)
enables data exchange for Android devices within a short range of up to
four
centimeters. It enables quick file transfers by lightly bumping
or pla
…