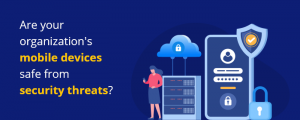 In 2021, the number of unique mobile device users globally was estimated at around 5.22 billion with users in the US spending 243 minutes daily on these devices. Corporate workplaces are no exception to this trend. In fact, 36% of employees claim their mobile device usage at the workplace has increased compared to previous years.
This can be rather beneficial as 60% of surveyed employees believe mobile devices like smartphones and tablets boost productivity. Use of mobile devices for work has increased following the remote work era, keeping workforces operational and ensuring they stay connected wherever they might be working from.
However, these devices can be just as, if not more, vulnerable to security threats as any other endpoint on the organization's network.
How exactly are mobile devices vulnerable to security threats?
Mobile devices come loaded with additional functions like cameras, microphones, and the ability to easily share files with contacts. Along with these, mobile device users often have the options to skip app and OS updates, install apps from third-party sources, and connect to personal and public Wi-Fi networks. While these features can enhance a user's experience, they put the data on these devices at serious risk of being leaked or stolen by bad actors.
These security vulnerabilities become more concerning when smartphones, tablets, and laptops are used by employees to access and share sensitive organization data without the IT team's approval. A single leak could lead to the organization breaching industry compliance standards and having to pay hefty fines.
Wondering how mobile devices are threatening the security of your corporate data? Read our free e-book to find out. In this e-book you'll learn about:
The security threat landscape during hybrid work.
The security risks and threats that can make IT admins reconsider the use of mobile devices for work.
Overcoming these security threats with the help of a mobile device management tool.
Grab your free copy to find out the most critical mobile device security threats and how you can overcome them with MDM.